Birmingham's first Black police officer has died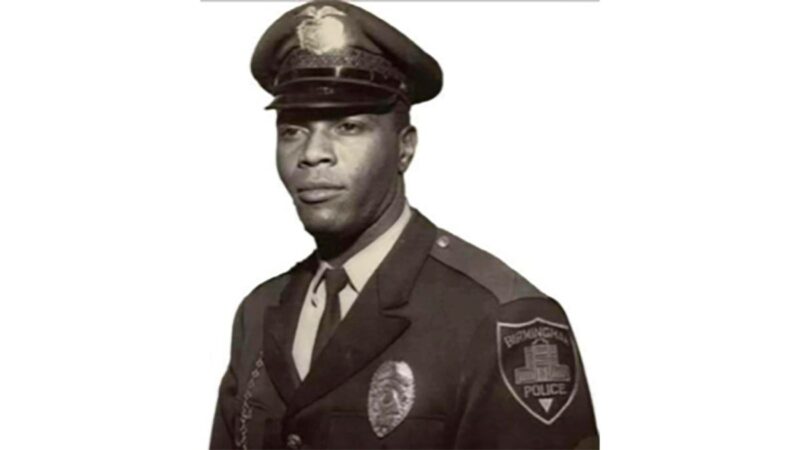 By Kelsey Shelton, Reflect Alabama Fellow
Birmingham's first black police officer, Leroy Stover, has died. He died Thursday. He was 90
"Today our hearts are heavy as we mourn the loss of former Deputy Chief Leroy Stover," the Birmingham Police Department wrote on X, formerly known as Twitter. "As the first black officer to integrate the Birmingham force his legacy and work at the Birmingham police department paved a way for others to follow in his footsteps."
Stover was the valedictorian of his graduating class at Shiloh High School in Selma in 1952. Stover became an officer in March 1966 at 33 years old and moved up the ranks. By 1992, he was promoted to deputy chief in charge of field operations.
In an interview with WBHM in 2013, he said he was never burned out by the job.
"That was a time when we didn't even want to go home because playing was too exciting. When quitting time comes we'd work over in order to complete what we'd started," he said.
The racism he faced was frustrating, but it didn't discourage him. His feelings towards white officers were mixed.
"There were a lot of good police officers. There were some who treated me nice when we were together. But when they got around their peer groups they shied off. I can understand that," he said.
Stover didn't believe his title as the first Black officer was special. He said he didn't feel more important than any Black police officers that came after him. His focus was on what he believed to be God's wish – integrating Birmingham's police department.
"God uses whomever he chooses for his purposes. And I think his purpose was to integrate the Birmingham Police Department," he said, "I was just a vessel being used by God for that purpose," he said.
Stover knew Black officers were held to a higher standard. He wanted to be an example for them.
"I would like for them to realize that you can be an example for your ethnic group, your race, whatever, by doing what is right. Treating people right," he said.
Stover retired from the force in 1998 after 32 years on the job.