Birmingham students take trip back in time for lesson on 16th Street Baptist Church bombing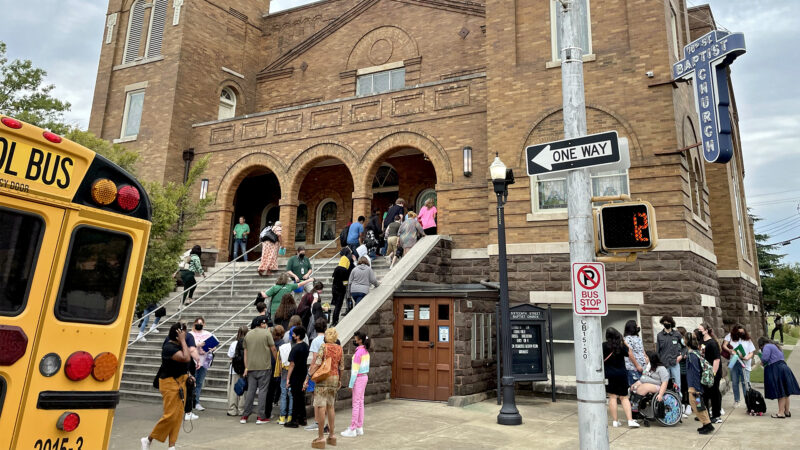 On Thursday, students from Birmingham middle schools swarmed the streets outside the 16th Street Baptist Church and the Birmingham Civil Rights Institute for a memorable field trip centered around Christopher Paul Curtis' famed 1995 historical fiction novel, "The Watsons Go to Birmingham."
The book centers on the Watson family's summer road trip from Michigan to the Magic City in 1963. For the event, the block was transported back to that time, with vintage cars lined up on one side of the street and a number of 1960s hit songs playing. Students played jacks and hopscotch, and some even attempted to dial out on a rotary phone set up nearby.
Curtis attended the event and spoke to the students about the book's depiction of the racial injustices the Watsons encountered during their trip, including their encounter with the real-life bombing of the 16th Street Baptist Church on September 15, 1963.
The bombing killed four young girls — 11-year-old Denise McNair and 14-year-olds Cynthia Wesley, Carole Robertson and Addie Mae Collins. Their deaths, and the subsequent outrage, added fuel to the Civil Rights Movement.
This event was one of many this week, marking the 60th anniversary of the historic tragedy.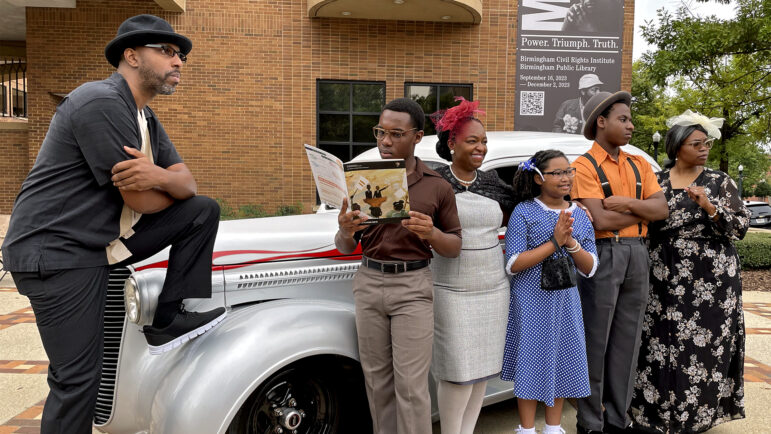 Corliss Datcher, the diversity equity and inclusion coordinator for Advent Episcopal School, helped to teach her students about the violence of that day. She said teaching about race with sensitivity – and in an age-appropriate way – can be difficult. But, living in Alabama gives her plenty of historical injustices to point to.
"Being here in Birmingham, we don't always understand how powerful or how impactful our city is because we're always around it," Datcher said. "We don't often get the experience of being able to be in the moment of what happened with our parents, their grandparents and aunts and uncles."
She said she reminds her students of how times have changed while also giving them the chance to imagine what their lives would have looked like pre-Civil Rights Movement.
"You have an opportunity to learn with a group of students that weren't able to learn together 60 years ago," she said. "We have to be able to explain to those students that this is how it was. You may not be able to fully understand it, but I guarantee you there's something in there that is a part of this history that you can relate to."
Jodie Bratley, a teacher at Alabama Waldorf School, said she owes it to her students to be honest with them about the history of Alabama.
"I look at my children, and I look at their faces and I know that they are just now about the same age as those four little girls," she said. "It really makes me know that, as Mr. Curtis was saying, we're still working. We still have so far to go, but we have to do it. They deserve it. Those children in front of me deserve it."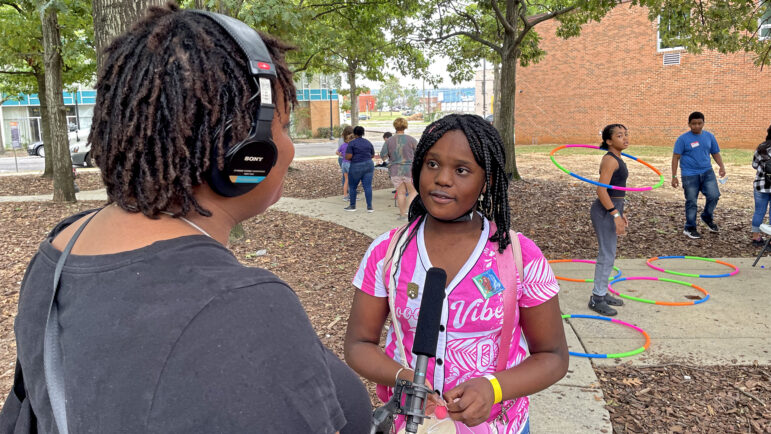 Students from all grade levels offered their thoughts on both The Watsons Go to Birmingham and the 16th Street Baptist Church bombing at the event.
Here is what they said:
"Just because of our skin, we should not be judged differently, just like those four girls. Think about it. If there were four non-Black women in that building, would the same thing have happened to them?"

— Khari
"I feel a little sad. I didn't want that to happen, even though I wasn't born at that time. Every time I come to see history, it's like I've been there before, but I haven't. It's important to learn the history of what happened so you can be prepared on what to do if it happens again."

— Gabriella
"I think life back then was probably way more upsetting, especially since this beautiful town, Birmingham, used to be called Bombingham."

— Christabella
"I feel like all people should be treated the same. The same equals in all of that. I really didn't like it, because what's different? Just one thing. Just the color doesn't mean a thing. I feel like everybody is equal."

— Ar'Shae
"I just feel like they have done so much for us to get us to the point where we are today and segregation and how Black, white, whoever can be together in the same room, and they don't have to be separated."

— Rubie
"It's to remember the four little girls and to remember the atrocious thing that happened. But it's also because it helped the Civil Rights Movement a lot. Because of that, a lot of people in America were outraged that four little girls were killed and that such bad things were happening in our country. They really wanted to change it."

— Ian
"I feel like what we're doing today was just to come to the church and honor what has happened in the past, because the death of these girls was tragic, and we need to remember this."

— Colin