At the Magic City Classic, what you wear is just as important as who you cheer for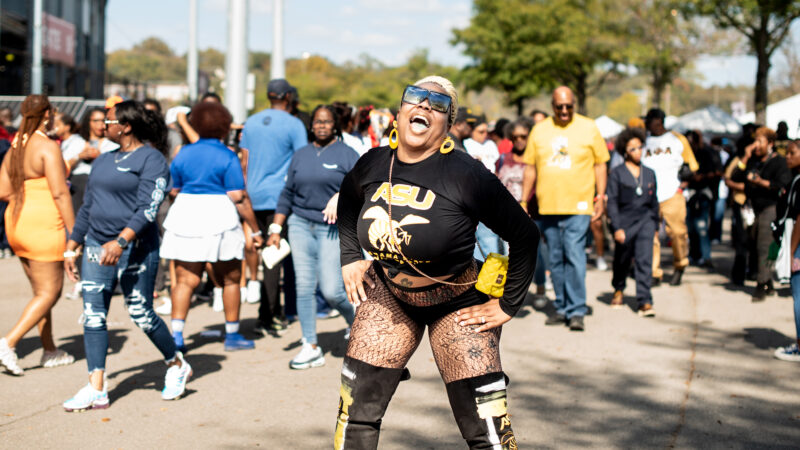 It's Wednesday afternoon at The Birmingham Botanical Gardens when Norris Wood walks inside. He's got on a coordination of brown and cream, along with a pair of brown Cartier sunglasses, layers of gold jewelry and coffee-colored boots.
How he's dressed might sound like someone with a larger-than-life personality, but Wood says he's pretty reserved. Instead, he uses his wardrobe to do the talking for him.
"I like the novelty of outfits because I'm naturally shy and introverted," Wood said. "How I dress is kind of exuberant so it eases me into communicating and connecting with people."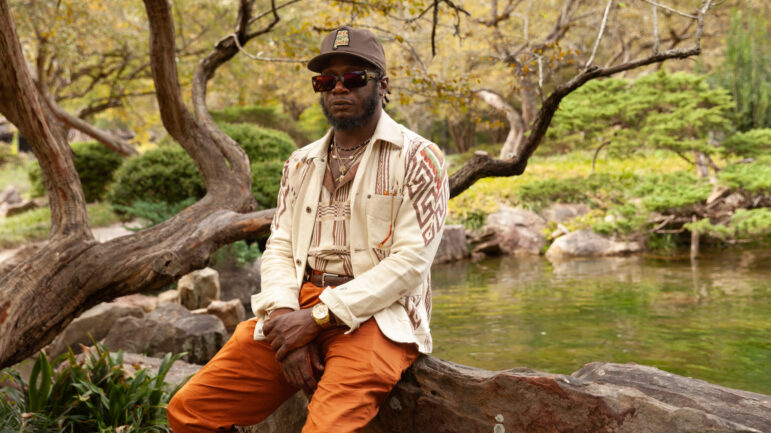 In Birmingham, there's no better place for people like Wood to flex his fashion sense and engage with others in his community than at the Magic City Classic.
"The Classic," as it's often called, refers to the football game played by in-state rivals Alabama State University and Alabama A&M University at Legion Field. Though the two historically Black universities played each other for the first time in 1924, the contest wasn't made an annual event until 1945.
Since then, the football game has become arguably the largest HBCU "Classic" game in the U.S., bringing in an average of 60,000 fans to Birmingham each year during the last weekend of October.
But "The Classic" has become much more than a football game. The week leading up to the game and the scene at Legion Field on game day has become a celebration of HBCU culture and Black culture in general. This includes a host of events and parties, tailgates, live music, celebrity appearances and — for fans like Wood — fashion.
"My passion for fashion came from those times when I was a little boy sitting on my mama's lap," Wood said. "I'm seeing all of these people come into the game with the nice haircut… the Gumby with the parts and the dye on the top. Like they got on the BKs, the Nike Air Force Ones, and Jordans. Just always having to be fly and just using my imagination and using what was passed down to me."
History told through fashion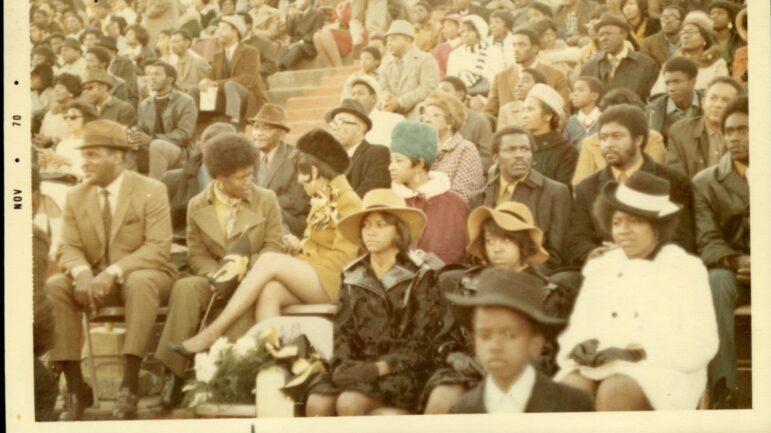 The fashion culture at games like the Magic City Classic is a way of fellowship and communication. From a simple smirk and head nod of approval, to dapping someone up and saying "I'm trying to get like you."
Wood is a Birmingham native and an Alabama A&M alumnus, just like many in his family. He recalls stories his grandfather would tell him as a young boy of how men and women would show up to the game in its early years in nice cars — like Cadillacs and candy-painted Lincoln Continentals — wearing mink coats and suits to match.
Today, the fashion trends look a little different. You're more likely to see jeans, nice sneakers and the latest streetwear trends on fans, but Wood says the spirit of showing up and showing out remains the same.
From time to time, he'll still see older people pull up to the game, dressed in the style of the early days.
"[I saw] an older lady, probably about three or four years ago, in a full-length mink and she was in maroon from head to toe underneath it. It was some type of velour tracksuit. She had the matching sparkly silver shoes. She had the glasses and everything," he said.
All of this helps tell the story of more than a century of fashion culture — and history — at HBCUs.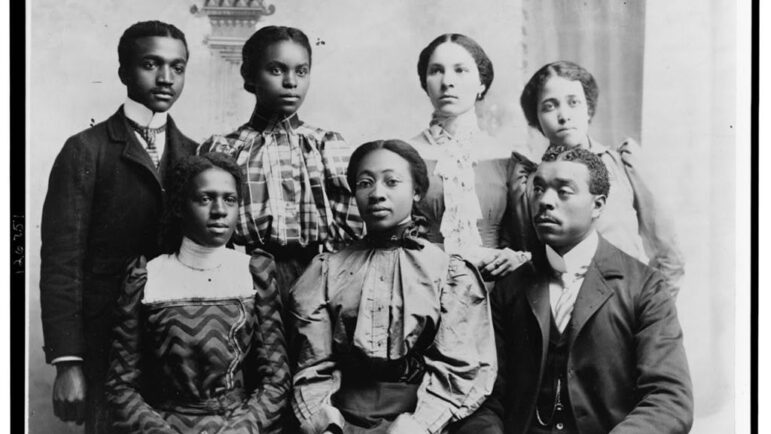 At the 1900 Paris Exposition, W.E.B. DuBois' "The American Negro" exhibit used images of Black students wearing elegant skirts, dresses and suits. HBCUs like Hampton, Howard and Tuskegee instituted dress codes that are still practiced today.
Historians write that these practices — in many cases — were used so that Black people would be seen as "respectable" citizens to white America and combat racist stereotypes. But Wood says these fashion choices made by Black people weren't just about what the rest of America thought of them — it was also about taking pride in what they were wearing, and in their Blackness.
"I think it has something to do with self-pride," Wood said. "No matter what the conditions are in this society, I can still look the part. I can still put myself together. It don't matter what the controlling society has on me."
Preparing your best outfit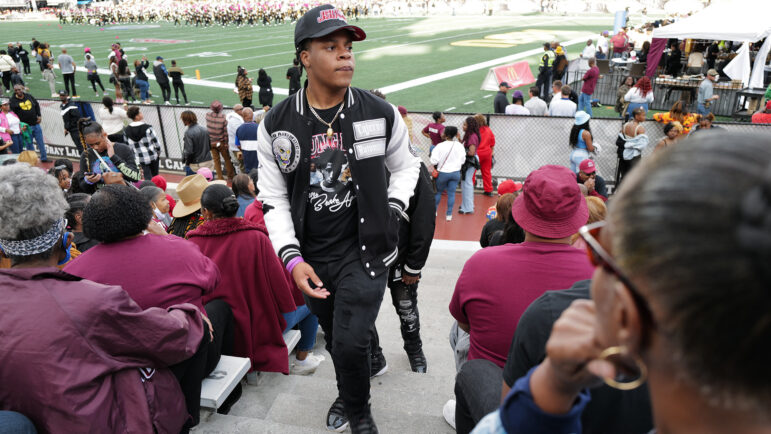 This year, Wood said he plans on wearing a denim ensemble and spending his time at "The Classic" making his rounds throughout Legion Field Stadium and at tailgates watching people strut their stuff.
"I'm just going to be a humble spectator with my plate of fish, bake beans with the meat in it ya hear me," he said.
People prepare what they are going to wear for the 'Classic' weeks, and maybe even months, ahead and no one knows that better than Marshaun Brown.
Brown is a hatmaker in Birmingham and has had a list of commissions for custom pieces to be worn specifically at the big game.
Brown is a self-taught hatter and milliner, learning from trial and error, watching YouTube videos and studying fashion design while attending Morris Brown College — an HBCU in Atlanta. He began his Life on Mars hatmaking business in 2020 after wanting an expensive hat and realizing he could make his own instead.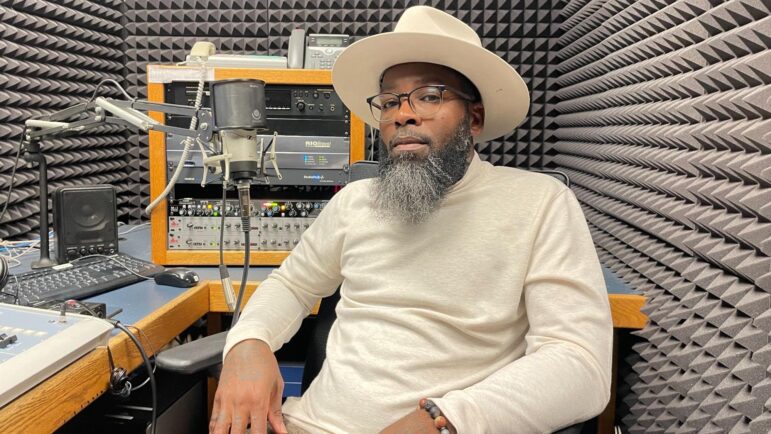 "My price point is for the everyday working man. Because I work a 9-5 just like everybody else and I feel like even a 9-5 man or woman should be able to afford a nice, timeless headpiece," he said.
Although his business is relatively young he has seen some success. Birmingham native and comedian Rickey Smiley has even bought one of his custom hats.
Brown is originally from Chicago but has a family history in Birmingham, where his grandparents and mother were born. He got his first taste of "The Classic" as a teenager. After moving to Georgia, he joined his high school marching band's drumline, where his school was invited to march in the Magic City Classic Parade.
His memories of battling local high schools like Jackson Olin and Carver High came back to him one day while standing under the bridge near the City Walk in downtown Birmingham.
"It was an experience man," Brown said reminiscently. "I had never seen that many Black people together at one time."
Check out some of the best outfits from the 2023 Magic City Classic
Tony Lykes, 60, wears an coral leisure suit with a zebra-print scarf, boots and belt: "It took me five minutes [to put together]. I'm kind of used to it, you feel me? I walked in my closet and picked something out and — BAM! — here I go."

Leah Harrison wears a red t-shirt with camouflage bellbottom pants: "This is my first time [at the Magic City Classic]. I've always wanted to come. My mother and father were born and raised here, and I'm from the West Coast. I decided to come in to be part of the culture."

India Hairston, an Alabama A&M student, wears a leather skirt, a shirt with a classical painting on it and black boots: "I come to The Classic every year — my dad's an alumni and I go to Alabama A&M. I like thrifting a lot, I like fashion from anywhere. I got my shirt from Ross — actually both my shirt and skirt."

Phillip Brown, a Tuskegee alumnus, wears a Chrome Hearts trucker hat, a black t-shirt, gray sweatshorts and a black book bag: "[My outfit] is pretty simple, man. It's kind of hot outside, so we go sweats when it's hot … plain black tee and some walking shoes. Usually, I like to have some shades, a hat … and a book bag with all my essentials in it."

Len Gadson, 65, wears a golden leisure suit and gold watch: "I've always dressed in a way that's going to be natural and let me feel comfortable."

Kelsie Njuguna wears a denim dress with white boots: "My parents are from Kenya. We had always heard about this and wanted to come and experience it. This is my first time, so I wanted to come and show out my outfit. I had gone to the store and I was like, 'OK, I need a standout, but not too much.' So I just paired it with the classic jean dress and then some boots."

Laquentin Malone shows off his gold teeth: "I like it. This is what I do. I like to stand out like that. I don't look like everybody else."

Felicia Bowman wears a black blouse, camouflage pants and a red handbag: "Family and friends (brought me out to The Classic). One of my homegirls from back in the day introduced me to The Classic, and she was a student at Alabama State. It's been over 20 years and we've been coming ever since."

Chas Jones, a Georgia Southern University alumna wears a graphic t-shirt, leather pants and green sunglasses: "I really pull it all out every time I go out anywhere. But today, I wanted to go with a simple black with a pop of color."

Felicia Perry, 50, wears a long-sleeve Alabama State t-shirt tied into a crop top, black shorts, fishnet stockings and black thigh-high boots customized with the ASU logo on them: "[The Classic] means everything in the world to me, baby! It's when the Black people come together, have a good time and represent our favorite team — ASU!"

Deborah Jones wears a western-inspired outfit in different bronze hues while holding a sign that says "Jesus wants no one to perish": "The Classic means, to me, a lot of people coming together in the name of Jesus, showing love and showing that we can get along and love each other."

Cedric Myrick, Sr. steps out in style sporting a brown brim hat and a classic sport coat and jeans look: "I love my hat … so I wanted to tone myself to it. Not to be all the way out with a straight suit, straight boot, but to give me my relaxing feeling at the same time."

Treva Killian, 65, sports a white blouse with a matching Chanel sweater and pants set: "Today, it is all about the outfit and beauty. There are so many beautiful women out here, so you got to slay. It's got to be the bling — bling is the thing — and you're talking to Treva the Diva!"

Jalen McWhite, a Miles College alumnus, represents his fraternity, Omega Psi Phi, Inc., by wearing a graphic t-shirt and purple shorts with his fraternity's Greek letter in gold: "I think The Classic means just being out here having fun, grooving, meeting new people and watching a good football game."

Kamari Bell wears designer jeans and Air Jordans to top off his Magic City Classic outfit: "[The Classic means] just having fun and hanging out with some folks."

Tawanya Brown, an Alabama A&M alumna, and her sister, Lantanya Brown, represent their school by wearing Alabama A&M t-shirts and carrying Alabama A&M fans: "As long as it has the A&M logo on it, I'll put it on and just go from there," Tawanya Brown said.

Reagan Brown, a graduate student at the University of Alabama, wears a black dress with fringe, black boots, a black cap and black sunglasses: "This is what I call the Black Super Bowl. I mean, at least in Alabama, so you got to come hard or don't come at all."

An overhead view of crowds tailgating near Legion Field Stadium at the Magic City Classic in Birmingham, Alabama, on Saturday, Oct. 28, 2023.

Crowd tailgate while waiting to enter Legion Field Stadium at the Magic City Classic in Birmingham, Alabama, on Saturday, Oct. 28, 2023.

Members of Alpha Kappa Alpha Sorority, Inc. and friends tailgate at the Magic City Classic in Birmingham, Alabama, on Saturday, Oct. 28, 2023.

Members of Omega Psi Phi Fraternity, Inc dazzle the crowd with a march while tailgating at the Magic City Classic in Birmingham, Alabama, on Saturday, Oct. 28, 2023.

Members of Omega Psi Phi Fraternity, Inc dazzle the crowd with a march while tailgating at the Magic City Classic in Birmingham, Alabama, on Saturday, Oct. 28, 2023.

Alabama A&M University Band performs during halftime at the Magic City Classic in Birmingham, Alabama, on Saturday, Oct. 28, 2023.

Alabama State University Band performs during halftime at the Magic City Classic in Birmingham, Alabama, on Saturday, Oct. 28, 2023.
This story was produced by the Gulf States Newsroom, a collaboration between Mississippi Public Broadcasting, WBHM in Alabama, WWNO and WRKF in Louisiana and NPR.