As the peak of hurricane season nears, Southwest Louisiana is still recovering from 2020 storms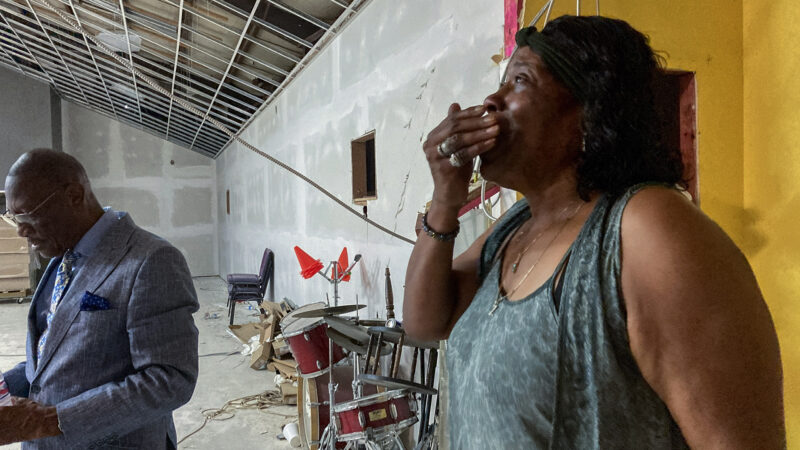 Even with temperatures hovering around 100 degrees in Lake Charles, Louisiana this summer, Braylon Harris is not wishing for rain.
"When it rains there's a tangible anxiety," Harris, the director of Southwest Louisiana Responds, said. "Give us dry and hot any day rather than the anxiety and the concerns."
The anxiety comes from Lake Charles' history of natural disasters over the last few years. The city was ravaged by Hurricane Laura, one of the strongest storms in Louisiana's history, in August 2020. Six weeks later in October, Hurricane Delta, a Category 2 storm, also made landfall in this corner of southwest Louisiana. A severe winter storm followed in February 2021, freezing pipes and prompting a boil water advisory for multiple days. In May 2021, a deluge of more than a foot of rain caused widespread flooding.
Now, anxiety hangs over the city like rainclouds as hurricane season approaches its peak time frame for activity — even as Lake Charles residents are still picking up the pieces from these events years later.
Beyond the blue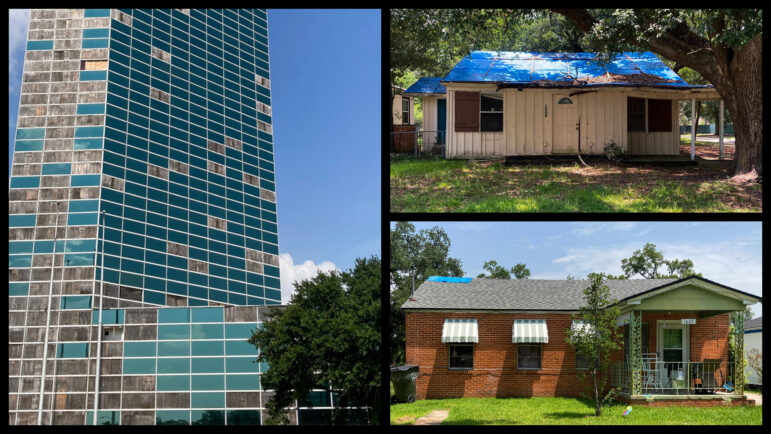 There's one simple way to measure Lake Charles recovery — look for the blue roofs.
After a storm, blue tarps act like temporary bandages, covering damaged roofs that would otherwise let in rain. Today, some blocks have just one tiny patch of blue on a single home. Others have houses entirely covered, flanked by houses with unobstructed shingles. Another street has enough tarps that it would be easy to think the storm was just three weeks ago rather than three years.
But Harris said that's just a surface-level look at the work still needed. During a tour of the city's recovery efforts, he pointed out three blocks of homes with new roofs. Despite the outside repairs, no cars sat in the driveways. The houses appeared empty, still waiting for their storm-rotted insides to be scraped clean.
"And if they have been gutted, no sheetrock's been put back," Harris said.
Recovery here mirrors the damage those disasters caused — drawn-out and unequal. Chemical plants and downtown restaurants are back, while many homes remain unlivable. Residents are still waiting and fighting for insurance payments, and contractors remain scarce.
Hannah Sober, director of case management for Southwest Louisiana Responds, said many in Lake Charles feel forgotten — by the government, by the media and by other Americans unaware of the continued need for assistance.
"Many people felt somewhat abandoned," Sober said. "As a community, we realized very quickly that we had to rely on each other just to survive," Sober said.
The national response to disasters like Hurricane Laura — from the Federal Emergency Management Agency to nonprofit aid groups — stumbled here in part due to COVID-19 precautions. That left homes vulnerable when Hurricane Delta arrived six weeks later. The storm wasn't nearly as bad in Lake Charles as Laura, but the already damaged homes were left vulnerable to Delta's rains. On top of that, the region's heat and humidity are the perfect ingredients to allow mold to set in after a few short days.
In 2021, Louisiana launched a federally funded voluntary buyout program in the Greinwich Terrace neighborhood on the east side of town. This neighborhood flooded three times over four years, according to the state, so $30 million was set aside to buy people's homes and help them get relocated. But that wasn't enough to cover all the houses in the neighborhood, even with the highest-risk homes prioritized.
Harris said Lake Charles' recovery is like New Orleans after Katrina — a tale of two cities. In the case of this neighborhood, it's the tale of two sides of the road, with one side bought out with the other not so lucky. A "for sale" sign sits in front of one house on the wrong end.
'It makes you want to not buy a home'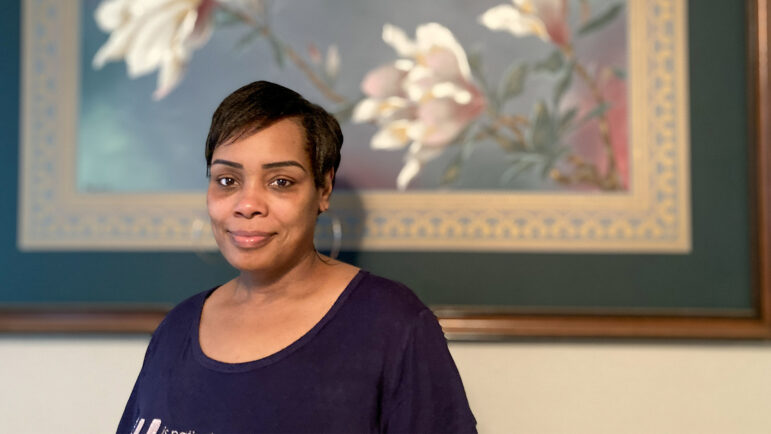 Vanessa Beloney's one-story home is easy to drive past and assume all the post-Laura work has finished.
"You pull up at this house, it looks good," Beloney said. "The outside looks pretty."
During Hurricane Laura, a tree from two houses down landed on her roof. While she was still out of town after evacuating, a neighbor noticed that rain was dripping down onto her porch. Fearing that might mean the water was entering the home's interior, too, Beloney called the Army Corps of Engineers, who nailed a blue tarp over her roof.
Luckily, Beloney ended up being spared the worst of the storm's damages. The tree only laid on top of her roof rather than puncturing it, and the leaks seemed isolated to the porch and her bedroom closet, which mold had settled into. She, however, wasn't spared from the long, frustrating post-storm recovery — it may have even made it worse.
Because she could still live in her home, Beloney said FEMA denied her aid. That rejection kept her out of the Restore Louisiana program as well. Instead of insurance, she had a home warranty that carried over when she bought her house from the last owner — which the company voided because of the blue tarp placed on her roof.
"It makes you want to not buy a home, not deal with having a home," Baloney said. "Not have to go through all the heartache and pain to have to deal with all the stuff again."
But those with insurance aren't necessarily better off.
Many residents say they're still waiting on insurance payments. Beloney works as a legal assistant at a law firm fighting every day with the insurance companies for the firm's clients. Nationwide, the cost of home insurance is rising and big companies are pulling out of disaster-prone states — like Louisiana. Other insurers have collapsed.
Beloney's since received aid from faith groups with the help of Southwest Louisiana Responds. Volunteers repaired her roof and recently fixed that moldy closet. They started to fix part of her floor that was detached from her living room wall but were unable to finish due to the floor shifting from moisture trapped under the home. Beloney said her home needs to be raised, but she's not sure how she could afford that.
Her heart sinks knowing she's back in another hurricane season with her home still unfinished three years later.
"It just feels like I'm in a hurricane all over again," Beloney said. "We just feel like we're in the same predicament."
False Help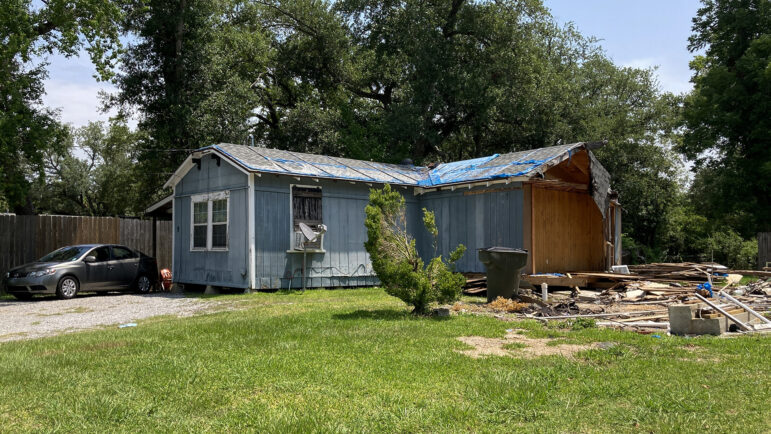 Beyond the rain, wind and mold, hurricane survivors also have to worry about fraudsters.
At one point, Southwest Louisiana Responds received a minimum of 10 phone calls a day from residents dealing with fraud. Often, the deception comes from fake contractors.
"I wouldn't be surprised if I've heard of over half a million dollars worth of contractor fraud," Sober said. "There's literally a group of people who follow disasters across the country just to rip people off."
FEMA has a few tips for protecting yourself, including asking for references from previous customers and not signing away your insurance claims. But even those most aware of contractor fraud can fall victim to it. Harris said he was scammed out of $70,000.
"If I was 'taken advantage of,' you can imagine the grandmothers, the grandfathers, the elderly aunts and uncles that were taken advantage of," Harris said. "The morale, the psyche and the spirit of Southwest Louisiana — that takes a lot of hits."
Faith in recovery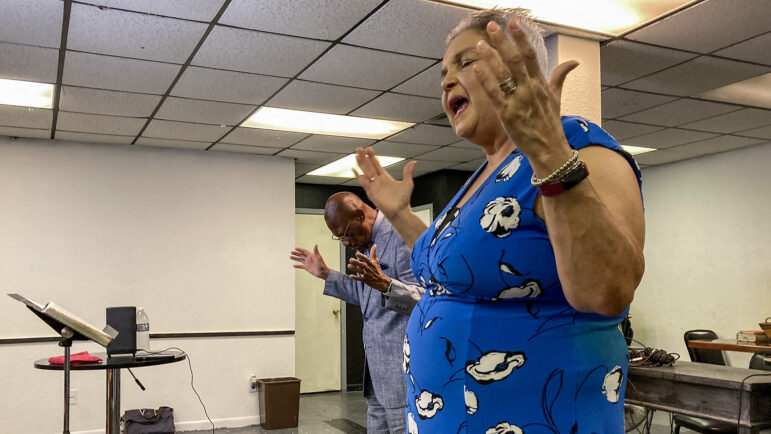 Harris and others in the city rely on their faith to get them through. But the physical centers of that faith are also still recovering.
The Breath of Life Praise and Worship Center never had a large congregation. Before Hurricane Laura, the sanctuary might sit about 50 members on a Sunday. But during a recent Sunday service in July, only four congregants gathered in a room formerly used as a gym.
The sanctuary remains destroyed three years after Laura. A blue tarp covered the window by the front entrance, heaving and deflating like a wounded lung. Zina Siverand, who's attended this church for about 25 years, said some worshipers still haven't moved back since the storm.
"When one or two are gathered, it's still OK 'cause God is in the presence," Siverand said. "But we are used to having a larger church family… it hurts."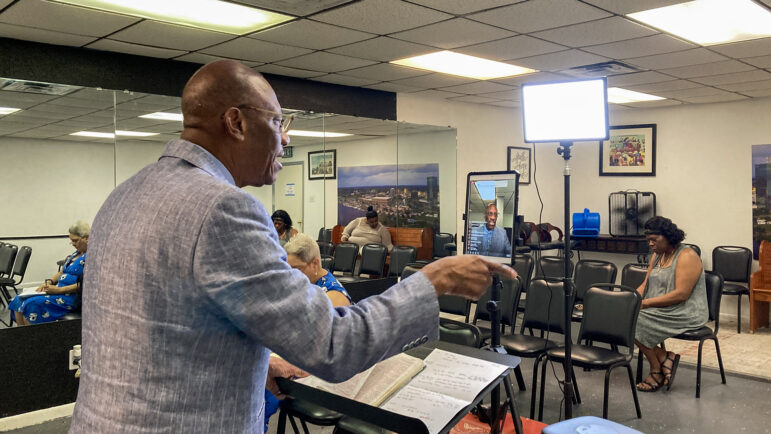 Pastor Mike Robinson, however, doesn't dwell on the low attendance. He streams his services online and is content with preaching to a core, dedicated few. But, he's excited with repairs on the sanctuary finally underway, it will draw worshipers back to the church.
The building now has its new roof and its rotted sheet rock's been removed. In July, it still needs an interior ceiling, flooring, lighting, pews and fresh paint. But when Siverand toured the work already done, she teared up and her voice shook.
"This place was destroyed just like my home," Siverand said. "It's been so long I didn't think it was ever going to come about for the church. So right now, it's such a blessing when I see progress — God is amazing."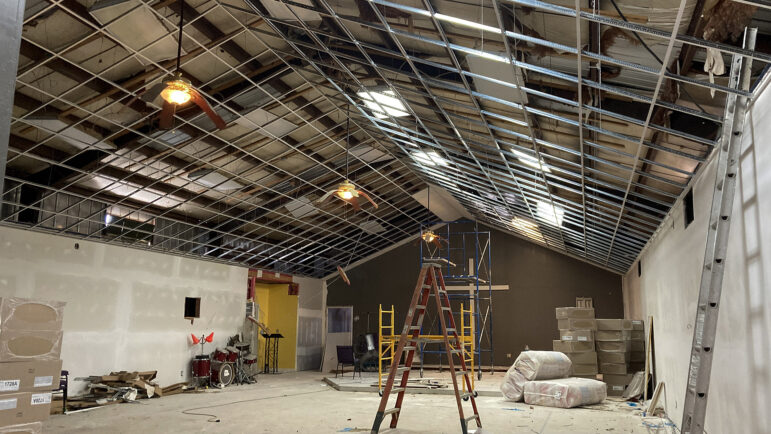 After having gone through Hurricane Laura and the other disasters, Zina said she's more aware and attentive. She pays more attention to the signs and tornado warnings, is ready to leave when she's told and knows what to bring. The seriousness of hurricane season can't be denied anymore. It's terrifying.
"It's still taking two to three years to get ourselves back to where we were," Siverand said. "And now it's hurricane season again."
Editor's note: This story has been updated to correct the spelling of Braylon Harris' name.
This story was produced by the Gulf States Newsroom, a collaboration between Mississippi Public Broadcasting, WBHM in Alabama, WWNO and WRKF in Louisiana and NPR.