Arms are open again for infant cuddling after pandemic pause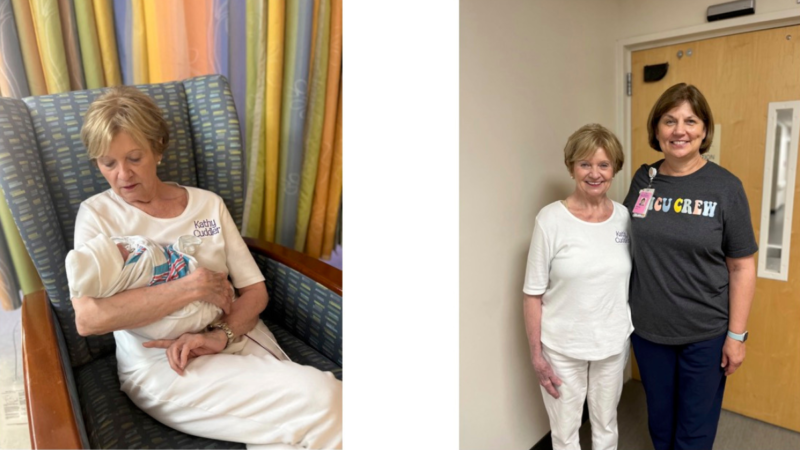 By Ritika Samant, WBHM Reflect Alabama Fellow
Most Mondays at Ascension St. Vincent's Hospital in Birmingham, 80-year-old Kathy Miller wears a set of scrubs and gently cradles a swaddled bundle, an infant from the neonatal intensive care unit (NICU).
"My name legally is Kathy Miller. But up here in the NICU, I'm Kathy Cuddler," Miller said.
With her custom monogrammed "Kathy Cuddler" shirt, parents can see right away their baby is in good hands. The program provides NICU babies with something essential to their care – therapeutic human touch.
"All babies need to feel touch. People need to feel touch," said nurse Tammy Tucker, who, along with Miller, was part of the team that brought hospital's infant cuddling program to life in 2017.
Ongoing research shows these programs generally decrease how long babies stay in the NICU and help increase much-needed weight gain in the infants.
Having volunteers helps nurses as they attend to the babies. Which is why it was such a setback when the pandemic put the program on pause in March 2020.
COVID-19 affected volunteering across Alabama and the country. According to the U.S. Census Bureau, the percentage of people involved in formal volunteering dropped from 30.3% in 2017 to 23.2% in 2021. In Alabama, formal volunteering fell from 27.4% to 19.5% over the same time period.
Rock-a-"bye" baby
Under pandemic restrictions, only hospital staff were allowed in the wards. Infant cuddlers couldn't re-enter the NICU until being fully vaccinated and after the hospital lightened COVID-19 regulations. That was just four months ago.
Miller immediately returned.
"We really missed them during COVID," Tucker said. "I don't know how many times Kathy reached out to me. 'How are you all doing?' And we're like, 'Oh, you have no idea how much we miss you.' So it's all getting better and we're very thrilled"
Though the cuddlers are back in the NICU helping both nurses and babies, the numbers aren't back to pre-pandemic levels. The program used to have nearly 30 volunteers.
It could take a while to increase those numbers. Only those who have volunteered at St. Vincent's for six months, undergo therapeutic touch training and take part in a shadowing process may bear the title "infant cuddler."
"This is not just they come in and they're snuggling babies. They're knowing what to look for. And that's why people have to be trained and know those things, because if you're not trained, you don't need to be doing it" Tucker said.
The NICU largely cares for premature infants but has a number of babies born to mothers with substance use disorders. Some of these babies have neonatal opiate withdrawal syndrome (NOWS). The regular touch and attention from the cuddlers seems to help the babies as they wean off their addictions. The hope is to set children up for a better future
"This really is more than just cuddling a baby. We want to make sure that they have the best start possible," Miller said.
The return to normalcy in the NICU has been a gift which Miller looks forward to every week. While she's volunteered with St. Vincent's for 41 years, she said this program is something special.
"We take more home with us than we bring." Miller said. "My husband will say, 'Are you cuddling today?' and I'll say, 'Yes.' He'll say, 'Oh, good. We'll have a good afternoon.'"
With St. Vincent's infant cuddling program growing again, there can be many good afternoons ahead for Miller.