Any school can get you a diploma. This school might get you a house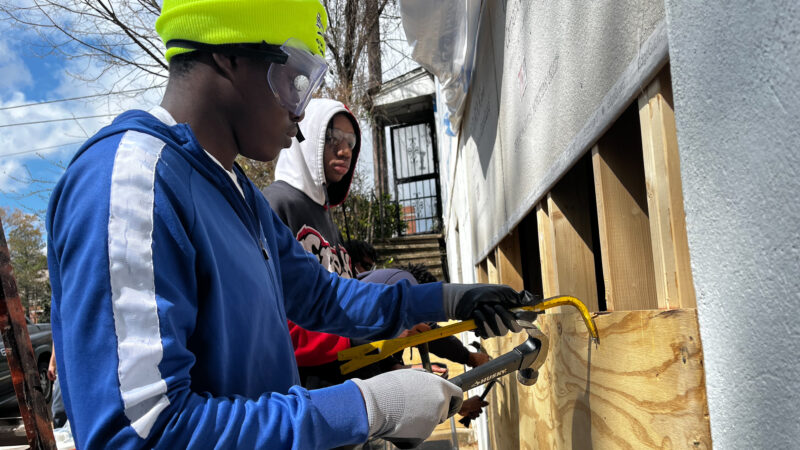 If you opened a locker at Build Up Community School, you'd see the standard books and papers but also steel-toe boots and hard hats. Students don't just learn science and reading, they learn construction, HVAC and electrical engineering. At the school in Birmingham's Titusville neighborhood, the sounds of hammers and buzz saws pierce the hallway where woodshop dominates the curriculum.
Build Up is a private school that started five years ago with the mission to give low-income students in Jefferson County tools for a stable career with a focus on trade education.
Empowering students
Trades and vocational careers were a completely new concept for freshman Erika Perryman.
"I've never worked with construction tools in my life. But since I've been here, I've worked with a lot of tools, like a miter saw, sawzall, all of those," Erika said.
The 13-year-old is one of 45 students at the school. She said she wants to build her own home one day and figures that, along with her other goals, Build Up would be the best place for her to achieve that dream.
Junior Ke'Mya Grant chose Build Up because she wanted to be able to have more one-on-one instruction, but the school has also taught her to be more independent.
"I just learn a lot of stuff that I could do myself," Ke'Mya said. "Now when I go out in the real world, I won't have to call somebody like 'Can you come fix this?' Because I already know how to do it because of the school."
At 16 years old, Ke'Mya is on track to graduate with her associates degree and high school diploma at the same time. She said this school is empowering.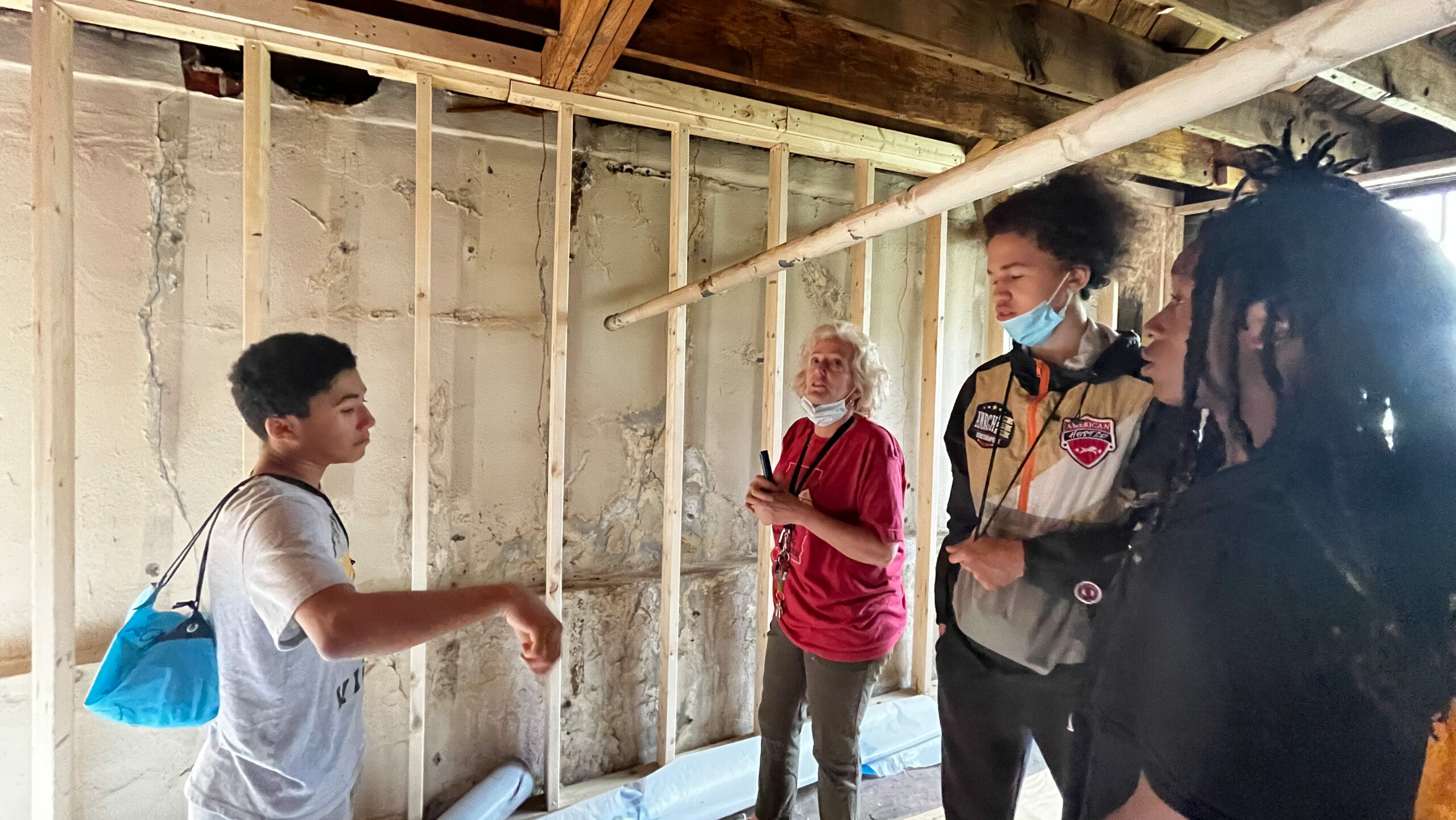 That's what Build Up executive director James Sutton likes to hear.
"A huge part of the goal for Build Up is to not only try to lay a foundation for education, but we know that a high school diploma really won't get you that far in today's economy," Sutton said. "You're going to need some additional skills, you're gonna need some credentials."
One reason Build Up started was to give students options outside of traditional higher education. Sutton argues for a lot of the students the school serves, college means debt and no guarantee of a job. Sutton said the school does not push students away from college. The school offers dual enrollment and takes students on college tours as field trips. But he said trade jobs are part of the bedrock of a community.
"We're hopefully setting our students up to avoid being saddled with a lot of debt at such an early age, but also to have a real skill in a real trade that they're going to be able to use and employ for a very, very long time because plumbing is not going anywhere. Electrical work is not going anywhere," he said.
During the first two years at Build Up students discover what they're interested in and set goals. The next two build on that foundation through an internship or apprenticeship in Jefferson County. But Build Up's mission is bigger than the city. It aims to be part of the solution to a national problem.
Not enough workers
"The age of the trade worker is getting older and older," said Tony Lovelady, superintendent at Hoar Construction.
Hoar Construction is one of Build Up's community partners and hosts interns from the school. Lovelady said he knew he wanted to build things for a living since he was 12, but not all young people are exposed to this career path.
Data from recruiting platform Handshake showed that Generation Z, or people aged 25 or younger, applied for technical jobs at half the rate in 2022 compared to 2020.
"A lot of times young people in school, they get college pushed on them saying, 'Hey, you got to go to college,' which some people are not cut out for college."
As more skilled trade workers retire, the nationwide labor shortage gets worse. Another challenge Lovelady sees to getting more young people interested in technical or vocational jobs is the stigma. For a long time, these kinds of jobs were seen as second-class options.
"I mean, if you want something built, you have to have the workers to do it," Lovelady said.
Despite the challenges, Lovelady said in recent years he has seen more young people take an interest in construction in Birmingham, in part thanks to schools like Build Up.
By junior year, each Build Up student gets an internship with a local business. Some intern in the medical field and others apprentice with construction companies where students can get into the real nitty gritty of construction work. As part of the practical curriculum, students spend time every week building and renovating houses in Birmingham to resell.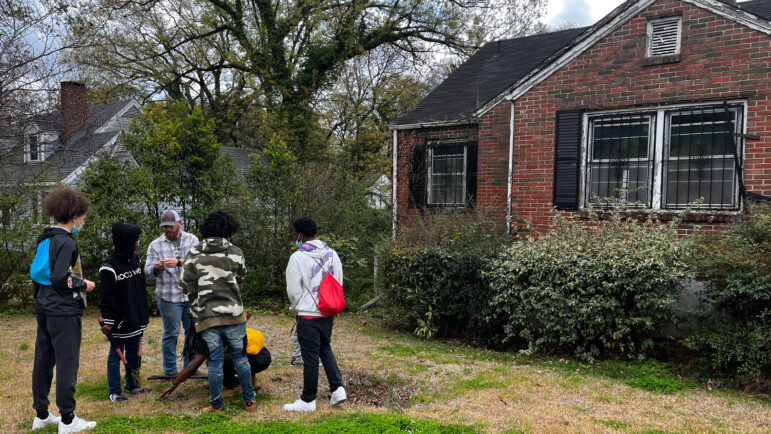 Senior Olympia "OC" Rudolph already knows he wants to do HVAC work after graduation. He takes nightly trade classes to boost his certifications before he graduates.
"The important things that I have learned are carpentry skills, like fixing houses and stuff like that, because you never know," Rudolph said. "I never wanted to do stuff like that up until I got here. And now I love it. I love working with tools and stuff like that because when I get older, I feel like when I get my own home, I need skills to do repairs around the house."
Setting students up for the future
Build Up teachers are committed to serving the whole student. For some Build Up students the next step is college. For others it's going right into the workforce. Regardless, Sutton knows they'll need support.
"All of our students are on some level living and dealing with poverty issues, dealing with traditional issues and setbacks that you might see from an urban context," Sutton said. "So one of the goals for us is to try to meet them where they are academically and try to bring them up to the level that they need to be."
Torrey Washington, a 2021 graduate of Build Up who now works full time as an HVAC technician with BLOX in Bessemer, said he probably wouldn't have gotten into a trade if it weren't for Build Up. He's already making at least $40,000 a year in an entry-level position.
"Trade jobs, you can make some serious money," Washington said. "The more knowledge you get about trades, the more money you can make."
The majority of Build Up students are Black — a group that has historically had harder times gaining generational wealth. So a part of the schools mission is to build that generational wealth for students and their families.
After graduation, Build Up students have the opportunity to buy a house through the school — and Washington is doing just that.
"It's a big change because out of all my mom's children, I'll be the first one to be a homeowner. It's a big step for me," Washington said.
To qualify, students have to have 2 years of full-time work experience under their belt and make at least $40,000 a year to become eligible for an low-interest home loan through the school's program.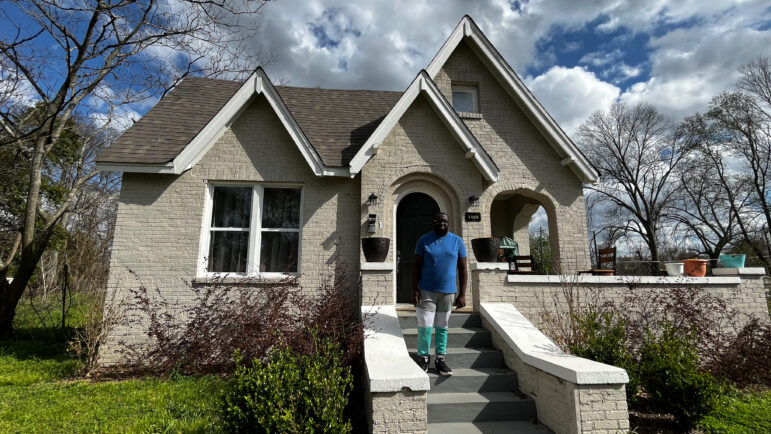 For Washington, the same house he worked on when he was a high school student he now owns. He said that always seemed like a fantasy when he was a kid.
"Our house burned down and then we kept hopping from house to house. After that we stayed in an apartment and it was a struggle from there on," Washington said. "We never really owned a property. We were just focused on the rent and trying to get through each day."
Now at 21 years old, that fantasy has become a reality.
"If you asked me five years ago about owning a house at this age, I would have looked at you like you was crazy. But here I am now."
Kyra Miles is a Report for America corps member covering education for WBHM.
Editor's Note: Updated to correct the type of school, number of years open and type of loan offered to students.