An Alabama program helps residents stormproof their homes. Louisiana wants to copy it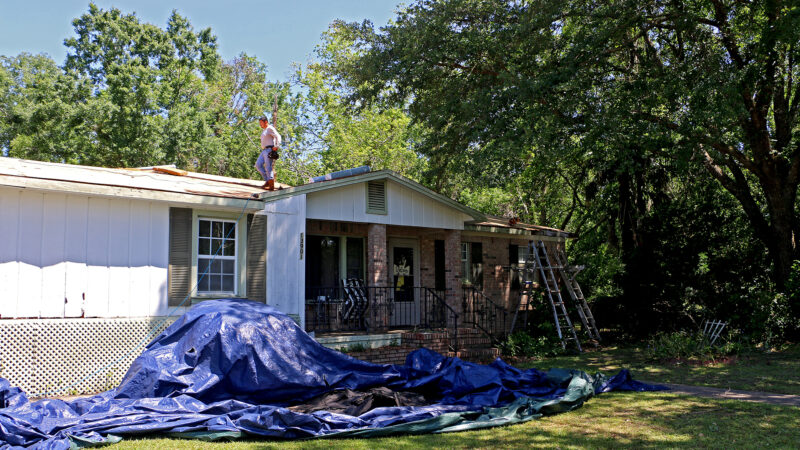 By Carly Berlin, WWNO
Karen Ellis grew up on a quiet, rural road in Loxley, Alabama, a small town near Mobile Bay. Her family built a brick ranch house there in the 1960s and, to Ellis, it always felt solid.
But in 2020, a few years after Ellis moved back in to take care of her elderly mom, Hurricane Sally blew through. It ripped a hole in the roof, and rain started leaking into the kitchen and Ellis' bedroom. Shingles blew across the yard. Her insurance kicked in some money, but it wasn't enough to replace the roof.
"I knew then we was gonna need a roof, but right at the time I couldn't afford it," Ellis said.
So, a tarp went up on the roof and sat over it for more than two years until one morning in April, when a construction crew arrived. They took the old, damaged roof off, and put on a new, heartier one — one less likely to blow away next time.
That's because the Ellis' new roof is built to the FORTIFIED standard: a set of construction guidelines for building houses that can better withstand severe weather. Alabama leads the United States in this kind of construction, hosting about 80% of the nation's 50,000 FORTIFIED homes. Most are concentrated in its two coastal counties, Mobile and Baldwin. Alabama has achieved this benchmark thanks, in part, to a state program called Strengthen Alabama Homes. It gives people grants — up to $10,000 each — to help retrofit their homes to the FORTIFIED standard. Other states, like Louisiana, have begun looking to it as a model for incentivizing homeowners to stormproof their homes.
For the Ellis family, the program was a godsend: the grant covered almost the entire cost of replacing their roof.
"That was a blessing right there," Ellis said.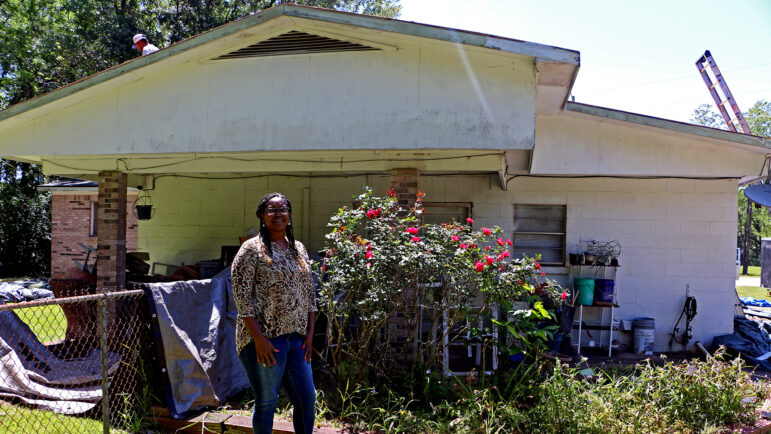 Demand for these storm-proofing grants — or, in technical terms, "wind mitigation" — has soared since Alabama began doling them out in 2016. The state doesn't consider need, but awards grants on a first-come, first-served basis. When it accepts new applications — just four times a year, at midnight — the spots go fast.
"We have seen our grant funds accounted for in as little as eight minutes," said Brian Powell, director of the Mitigation Resources Division at the Alabama Department of Insurance, who oversees the Strengthen Alabama Homes program.
The goal of the program stretches beyond replacing old, damaged roofs, and avoiding the ubiquity of blue tarps after hurricanes. Powell said he crafted it to address a crisis: the teetering coastal insurance industry.
A fix for a faltering insurance industry
When Alabama got hit by Hurricane Ivan in 2004 — and then Katrina the year after — property insurance companies paid out thousands of claims all at once. As those damages piled up, the industry began to falter and companies saw their profit margins evaporate.
Climate change poses a huge existential threat for the insurance industry, everywhere. That's because an insurance company's job is to place a price tag on risk. When they look into their crystal balls, they're looking for, and now seeing, the mounting risks from climate change. More destruction from storms equals more profit lost, and another strain on customers — who now have to bear the brunt of the loss.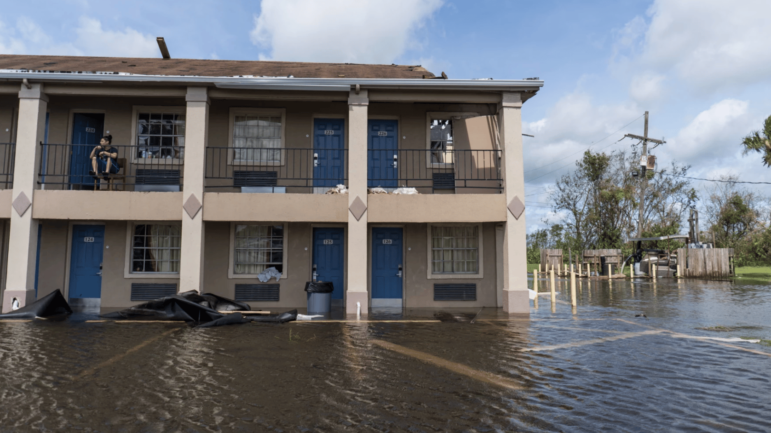 In coastal Alabama, in the mid-2000s, this meant insurance companies started raising their prices to reflect that higher, future risk. Some companies stopped renewing policies, limiting people's options, and insurance premiums started getting significantly more expensive. Faced with that bigger price tag, some homeowners dropped their wind insurance altogether, leaving them even more vulnerable if a storm hit.
Powell was tasked with finding a solution to this growing crisis — a way to reduce the risk of loss in the first place, before companies got stressed and homeowners were made to pay for it. He said he had one place to start: with the homes themselves.
"The way to do that is to put in place some mechanism so that the homes are kept intact as these storms come through," he said.
He scoured the country searching for that mechanism and found the Insurance Institute for Building and Home Safety, or IBHS. The research group is funded by insurance companies and its mandate is to find ways to drive down the risk of property loss — or, the risk of buildings getting damaged or destroyed by severe weather.
To do that, the group built a huge research facility in South Carolina where they recreate climate disasters. It includes an airplane hangar with 105 gigantic fans that can simulate hurricanes and other kinds of storms, and test a house's ability to hold up against them.
What makes a home FORTIFIED?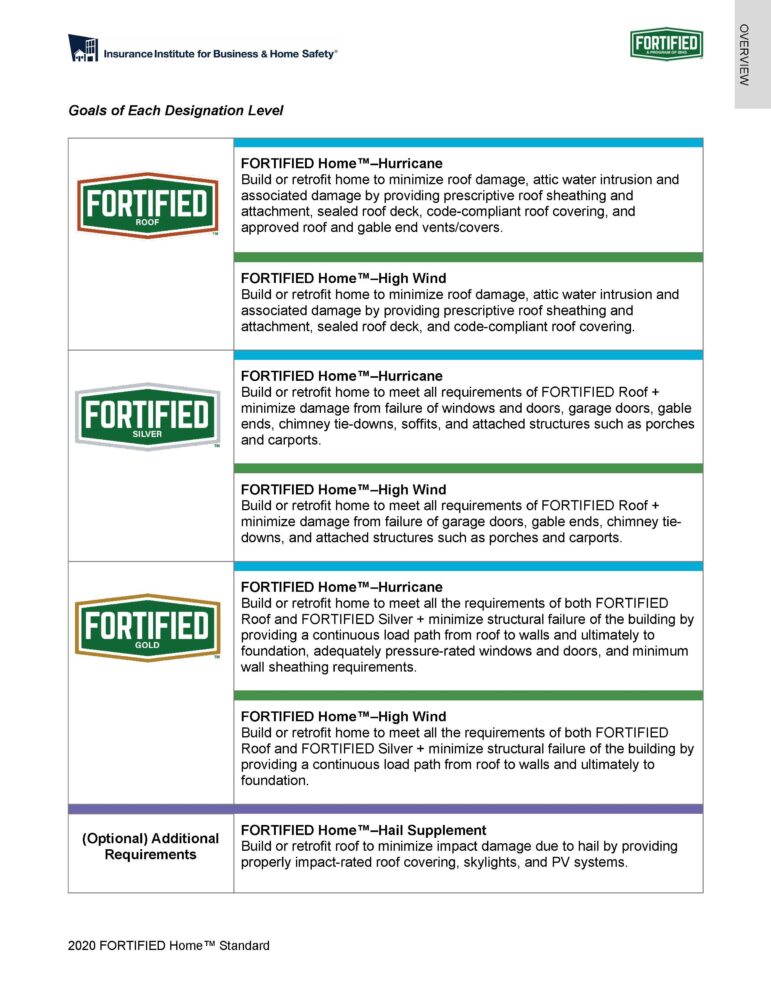 Through its research, IBHS developed the FORTIFIED standards. The highest FORTIFIED level — the "Gold" standard — protects houses from Category 3 hurricanes and is usually reserved for new constructions. It involves requirements like making sure a roof is anchored to a house's wall, and the walls to the foundation, in an extra secure way. Other retrofits can involve strengthening windows, doors and garages on existing homes, and addressing the openings where wind and water can get in.
But the lowest FORTIFIED level — and the most accessible for most people — begins with reinforcing just one part of the house, said Fred Malik, managing director of the FORTIFIED program at IBHS. That's because IBHS has found that the worst destruction — and most insurance claims — start at just one spot.
"The damage almost always starts with the roof," Malik said. "Most claims have roof damage. And once the roof damage starts, then the claim just gets bigger and bigger and bigger."
Back at the Ellis' home, contractor Harry Crump said there are a few things that set a FORTIFIED roof apart from a regular one. The first is a set of special nails, called ring shank nails. They look almost like screws, and Crump said the ridges of the nail lock it into the wood, helping keep the roof deck attached to the rest of the house.
The crew at the Ellis' put upwards of 700 nails in the roof to keep it anchored down. After that, they put on a protective layer called an ice and water shield, which Crump said will help keep water out.
"If you blow a few shingles off, you still have the ice and water shield which'll protect you from the rain," he said.
Then, the crew secured the edges — the spots where the pressure from the wind tends to lift the roof off. They installed some heavy-duty shingles, and the Ellis' roof was good to go.
A model for the rest of the Gulf South
When Strengthen Alabama Homes first got started, it served the state's two coastal counties. Now, the program has expanded inland. About half of the program's grants go to homeowners along the coast, and the rest go to residents in the central and northern parts of the state where tornadoes are common.
The grants are funded by fees paid by the insurance industry, not from the state's general budget — a move state lawmakers approved back in 2015. Powell said it's a win for the insurance companies too, because houses built to withstand severe weather mean fewer post-storm payouts.
And in recent years, Powell said the insurance market on the coast has rebounded.
"The market's becoming very healthy down there. So it's been an overwhelming success," he said.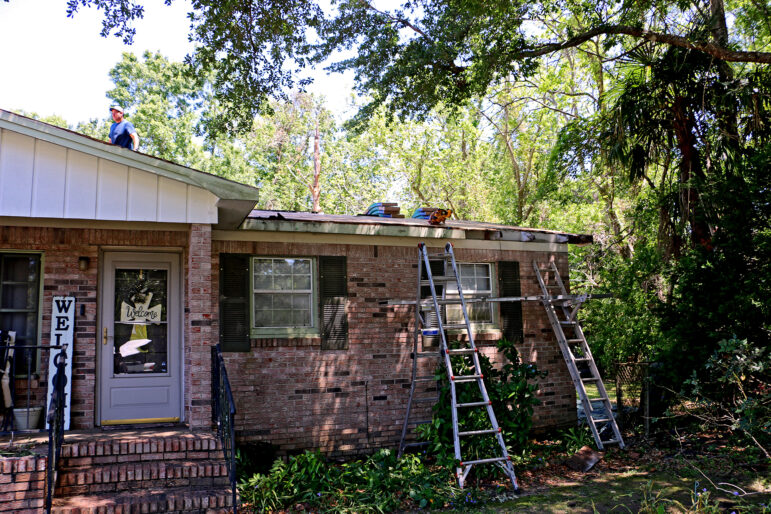 It's been such a success that other states have taken notice. Last year, Louisiana lawmakers passed a bill creating the Louisiana Fortify Homes Program, modeled after Strengthen Alabama Homes.
But legislators still need to nail down funding before the state can begin giving out grants. Before this spring's legislative session kicked off, Louisiana Insurance Commissioner Jim Donelon's office told the Louisiana Illuminator in March that it planned to ask lawmakers for $20 million to fund it in this year's budget. The Louisiana House did not include funding for the program in its budget proposal, which still needs to pass the Senate before June 8.
Addressing Louisiana's property insurance crisis after the record-breaking hurricane seasons of 2020 and 2021 will be a tall task. Over the last few years, 11 insurers have gone broke in the state, and more have stopped writing policies in some areas. The state has a much larger coastline than Alabama, and most of its large-population centers are close to it.
And the reach of Strengthen Alabama Homes is somewhat limited: only single-family homes where the owner lives onsite are eligible for funds. Powell said the program has provided grants for around 6,000 homes to date. Though that pales in comparison to the number of FORTIFIED homes in the state: upwards of 40,000.
That difference can be accounted for in other ways the state has embraced this way of stormproof building, Powell said. Some cities and towns in coastal Alabama have baked the FORTIFIED standards into their municipal building codes — so when new houses go up, they're all FORTIFIED. Many insurance policies also offer an endorsement that allows a homeowner to upgrade to a FORTIFIED roof if theirs is being replaced because of damage.
There's also an added incentive for homeowners — the icing on the cake. Once the FORTIFIED work is done, they get a discount on their insurance premium: upwards of 20% off, depending on the type of FORTIFIED work done.
Now, with a stronger roof over her head, Ellis said she feels more secure heading into another hurricane season.
"I feel like I'm gonna be protected this time," she said.
Editor's Note: This story originates from a segment of the latest episode of WWNO's podcast "Sea Change," which dives deep into the environmental issues facing coastal communities on the Gulf Coast and beyond. You can learn more about "Sea Change" here, and listen to the full episode below.
This story was produced by the Gulf States Newsroom, a collaboration between Mississippi Public Broadcasting, WBHM in Alabama, WWNO and WRKF in Louisiana and NPR.