Alabama senator says white nationalists are racists after weeks of declining to say so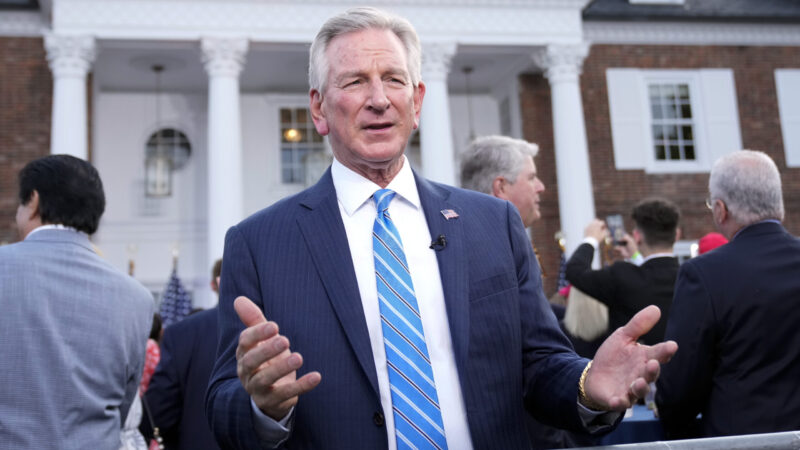 By Mary Clare Jalonick
WASHINGTON (AP) — Alabama Sen. Tommy Tuberville on Tuesday backed off his defense of white nationalists, telling reporters in the Capitol that white nationalists "are racists."
Tuberville's brief comment in the hallway, after a regular weekly lunch with his GOP Senate colleagues, follows several media interviews in which he has repeatedly declined to describe white nationalists as racist. And it comes as the Alabama Republican is also receiving criticism from both Republicans and Democrats for his monthslong blockade on the confirmation of all senior military officers in protest of a Defense Department abortion policy.
In a May interview, Tuberville suggested that the Biden administration's efforts to expand diversity in the military were weakening the force and hampering recruitment, though the Army has said that the real problem is that many young people do not see enlistment as safe or a good career path.
"We are losing in the military so fast. Our readiness in terms of recruitment," Tuberville told the Alabama radio station WBHM. "And why? I'll tell you why. Because the Democrats are attacking our military, saying we need to get out the white extremists, the white nationalists, people that don't believe in our agenda."
When asked if he believed white nationalists should be allowed in the U.S. military, Tuberville responded: "Well, they call them that. I call them Americans."
After that interview, Tuberville said his comments had been misinterpreted. His office said he had been expressing skepticism at the idea that white nationalists were in the armed services.
"Democrats portray all Trump people as white nationalists. That's what I was saying," Tuberville said.
He added: "There's a lot of good people that are Trump supporters that for some reason my Democratic colleagues want to portray as white nationalists. That's not true."
But he continued to equivocate on the issue. In an interview Monday, Tuberville told CNN's Kaitlin Collins that white nationalists "have different beliefs. But if racism is one of those beliefs, I'm totally against it. I am totally against racism."
Collins said white nationalists are racist. "That's your opinion," he responded.
On Tuesday, Tuberville was asked if he wanted to clarify those remarks. "White nationalists are racist," he responded, without elaborating.
The Southern Poverty Law Center, which tracks hate groups, says that white nationalist groups focus on the inferiority of non-white people and that their primary goal is to create "a white ethnostate." The group says the number of white nationalist groups reached a historic high in 2019, during Donald Trump's presidency.
Senate Majority Leader Chuck Schumer, D-N.Y., said on the Senate floor Tuesday morning that Tuberville should apologize.
"The definition of white nationalism is not a matter of opinion," Schumer said. "White nationalism — the ideology that one race is inherently superior to others, that people of color should be segregated, subjected and relegated to second-class citizenship — is racist down to its rotten core."
Hours after Schumer's speech, when Tuberville told reporters that he believes white nationalists are racist, he also declined to apologize for his earlier comments. "No, he needs to apologize," Tuberville said of Schumer.
Senate Republican Leader Mitch McConnell also denounced the ideology.
"White supremacy is simply unacceptable in the military and in our whole country," McConnell said Tuesday when asked about Tuberville's comments.