Alabama rushes to adopt new congressional map amid disagreement on what district should look like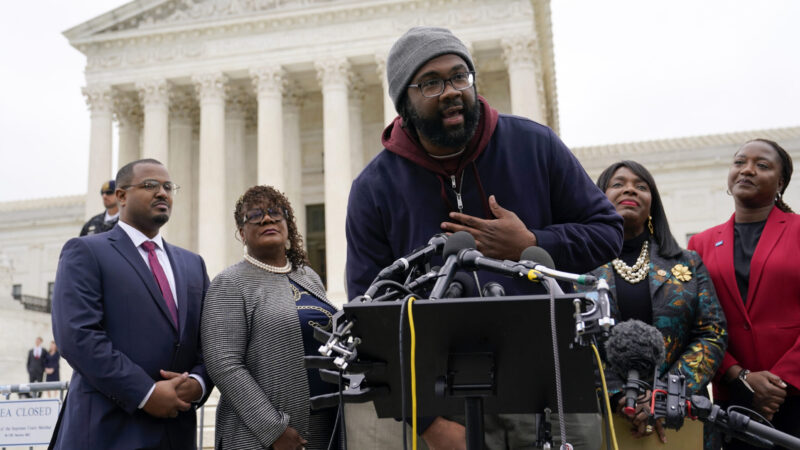 MONTGOMERY, Ala. (AP) — Federal judges that ordered Alabama to draw new congressional lines said the state should have a second district where Black voters are the majority "or something quite close to it" and have an opportunity to elect a representative of their choice.
What exactly that map should look like is in dispute as lawmakers rush to draw new lines.
Alabama lawmakers convene in special session Monday tasked by the court with adopting a new map by the end of the week. The directive comes after a surprise U.S. Supreme Court ruling that affirmed the lower court's ruling that Alabama's existing congressional map — with a single Black district — likely violated the Voting Rights Act.
The group of voters who sued the state and won before the Supreme Court have proposed the creation of a second district where Black residents are 50.5% of the population. But Alabama Republicans, who hold a lopsided majority in the Alabama Legislature and will control the redistricting process, have not ceded they must create a second majority-Black district and have pointed to proposals with lower percentages of Black voters. The GOP majority will release their proposed map on Monday.
"Even among the plaintiffs suing the state, the meaning of an equal opportunity to elect candidates of choice is in dispute," House Speaker Pro Tempore Chris Pringle, who serves as co-chairman of the state redistricting committee, said during a public hearing Thursday.
The U.S. Supreme Court last month affirmed a lower-court ruling finding Alabama likely violated the Voting Rights Act with a congressional map that had only one majority Black district out of seven in a state where more than one in four residents is Black. The three-judge panel gave Alabama until Friday to adopt a new map and submit it for review.
"The appropriate remedy is a congressional redistricting plan that includes either an additional majority-Black congressional district, or an additional district in which Black voters otherwise have an opportunity to elect a representative of their choice," the three-judge panel wrote in its 2022 ruling, adding that it will need to include two districts in which "Black voters either comprise a voting-age majority or something quite close to it."
The Supreme Court decision was cheered by voting rights groups who said it would give Black voters a greater voice in the Deep South state.
"The eyes of the nation are looking at you. I know it's hard. I know you have people that you answer to," Evan Milligan, the lead plaintiff in the case that went to the U.S. Supreme Court, told lawmakers. "But if you can cut out the noise, look within, you can look to history. You can make a mark in history that will that will set a standard for this country."
Milligan, a longtime resident of Montgomery, said he is six generations removed from slavery.
"My son and daughter are the seventh generation. When I look at them, I want to commit to them inheriting an Alabama that allows them an opportunity to lead, to dream and to make contributions to the community, the same that you want for your children and your grandchildren," Milligan said.
The Supreme Court decision sets up Alabama's first significant revamp of its congressional districts since 1992, when Alabama was ordered by the courts to create its first majority-Black district. That led to the state electing its first Black member of Congress since Reconstruction. The district has been represented by a Black Democrat ever since.
Partisan politics underlies the looming redistricting fight. Republicans who dominate elective office in Alabama have been resistant to creating a second district with a Democratic-leaning Black majority, or close to one, that could send another Democrat to Congress. Democrats cheered the possibility of gaining a seat or at least a swing district in the GOP-dominated state.
Alabama Attorney General Steve Marshall, who represents the state in the redistricting lawsuit, wrote in a letter to the committee that plaintiffs had initially argued for a "fair chance" to compete but now want more.
"Now they demand a plan that provides not just a 'fair chance' to compete, but instead a guarantee of Democratic victories in at least two districts," Marshall wrote. Marshall said the plaintiffs' proposed map divides voters based on "stereotypes about how voters of certain races will vote."
Joe Reed, chairman of the Alabama Democratic Conference — the state's oldest Black political organization — urged lawmakers to compromise with plaintiffs on a plan. He said state lawmakers can either draw a plan that the court will approve or the court will draw it for them.
"We know there will be two majority Black districts," Reed said.