Alabama lawmakers refuse to create 2nd majority-Black congressional district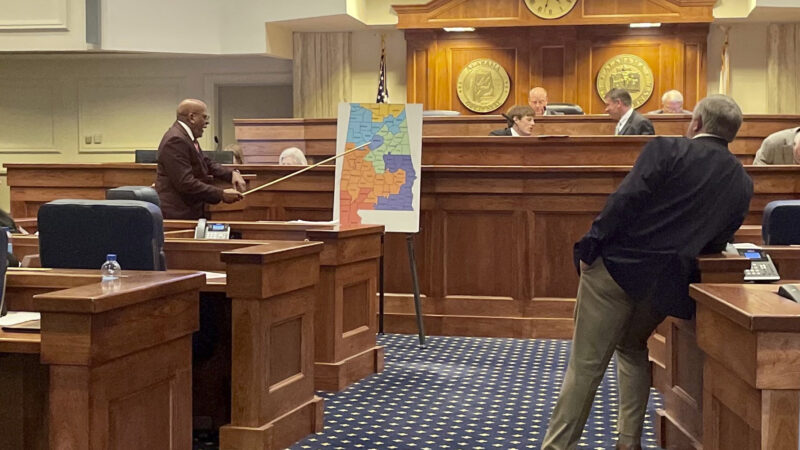 By Kim Chandler and Jeff Amy
MONTGOMERY, Ala. (AP) — Alabama lawmakers on Friday refused to create a second majority-Black congressional district, a move that could defy a recent order from the U.S. Supreme Court to give minority voters a greater voice in elections and trigger a renewed battle over the state's political map.
The legislation now goes to Alabama Gov. Kay Ivey, who is expected to sign it.
Lawmakers in the Republican-dominated House and Senate instead passed a plan that would increase the percentage of Black voters from about 31% to 40% in the state's 2nd District. A conference committee proposed the map as a compromise between plans that had percentages of 42% and 38%, respectively for the southeast Alabama district.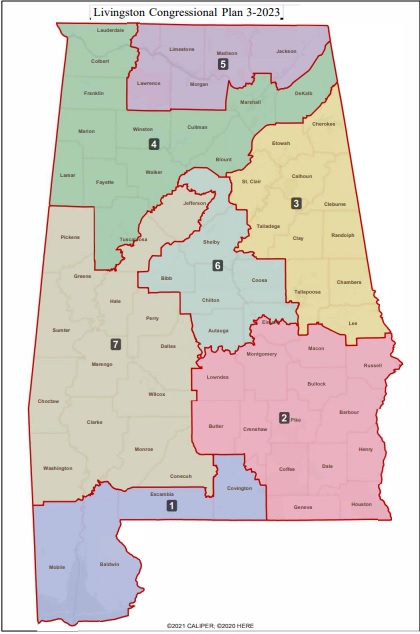 Republicans argued that the proposal complies with a court order to create a district where Black voters could influence the outcome of congressional elections. But Black lawmakers said the new map invoked the state's Jim Crow history of treating Black voters unfairly and flouted a directive from a three-judge panel to create a second majority-Black district or "something quite close to it" so that Black voters "have an opportunity to elect a representative of their choice."
"There's no opportunity there for anybody other than a white Republican to win that district. It will never, ever elect a Democrat. They won't elect a Black. They won't elect a minority," said Sen. Rodger Smitherman, a Democrat from Birmingham.
Republicans have been reluctant to create a Democratic-leaning district and are engaging in a high-stakes wager that the panel will accept their proposal or that the state will prevail in a second round of appeals. Republicans argued that the map meets the court's directive and draws compact districts that comply with redistricting guidelines.
"We also took into consideration not racially gerrymandering our maps," House Speaker Pro Tempore Chris Pringle said.
The debate in Alabama is being closely watched across the nation, and could be mirrored in fights in Louisiana, Georgia, Texas and other states.
The three-judge panel ruled in 2022 that the current legislative map likely violates the federal Voting Rights Act and said any map should include two districts where "Black voters either comprise a voting-age majority" or something close. The Supreme Court upheld that decision.
Now that the plan has passed, the fight will shift quickly back to the federal court. The plaintiffs who won the Supreme Court case have vowed to fight the proposal if enacted.
"Let's be clear: The Alabama Legislature believes it is above the law. What we are dealing with is a group of lawmakers who are blatantly disregarding not just the Voting Rights Act, but a decision from the U.S. Supreme Court and a court order from the three-judge district court," plaintiffs in case said Friday in a statement.
Approval of the plan is almost sure to trigger a renewed legal battle over whether Alabama's congressional districts comply with federal law and offer a fair opportunity to Black voters and candidates in a political landscape dominated by white Republicans. Smitherman said Republicans appear to be hoping that one of the justices will "flip the script" and rule for the state in round two.
Black Alabama lawmakers say it's crucial that their constituents have a better chance of electing their choices.
"I have people in my district saying their vote doesn't count, and I understand why they say that," Rep. Thomas Jackson, a Thomasville Democrat, said during debate Friday. "The person they want to elect can never get elected because they are in the minority all the time."
An analysis by The Associated Press, using redistricting software, shows that the 2nd District proposed Friday has mostly voted for Republicans in recent statewide elections. Donald Trump won the district by nearly 10 percentage points in his 2020 reelection bid.
Experts have said the GOP proposals fall short of what the Supreme Court said last month is required.
"They have pretended as though the court didn't say what it said," said Kareem Crayton, senior director for voting and representation at New York University's Brennan Center for Justice. The Brennan Center filed a brief supporting the plaintiffs before the Supreme Court.
Those who study redistricting say that's simply not enough, considering how sharply Alabama voters divide along racial lines. White people mostly vote for Republicans, and Black people mostly vote for Democrats. That split is also reflected among elected officials. There are 33 Black lawmakers in the 140-seat Alabama Legislature. All but one are Democrats.
Republican lawmakers hope to showcase the issues of compact districts and unified communities in court. They're hoping a second round of litigation, or even another trip to the Supreme Court, will let them avoid creating a map that gives a second of Alabama's seven congressional districts to a Democrat.
Crayton was skeptical that the high court would immediately backtrack on its ruling and said federal courts discount compactness and preserving communities in redistricting.
"It can't take a front seat to matters that are entrenched in federal law," Crayton said, calling those arguments "silly."