Alabama has escaped the worst of climate change. Is our luck about to run out?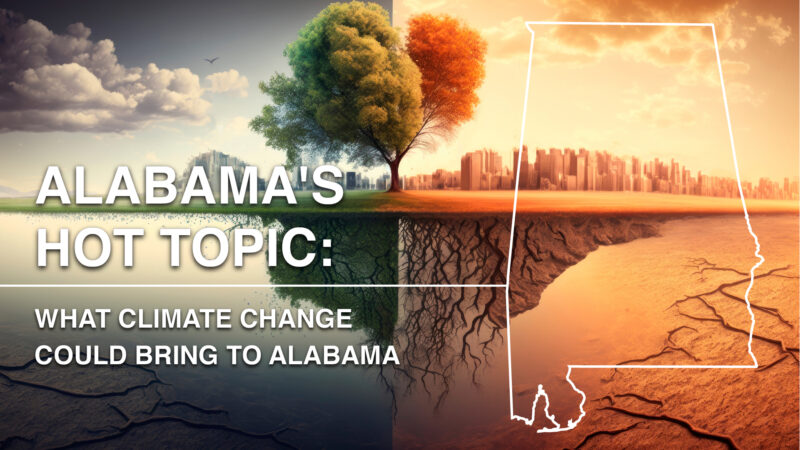 This story is part of a series "Alabama's Hot Topic: What Climate Change Could Bring." Read additional stories in the series.
The smell of peaches stretched to the parking lot at Mountain View Farms in Jemison. Early summer is prime season for Alabama's signature stone fruit, and the breezeway that serves as the farmstand is packed full.
One customer said she makes the one-hour drive from Trussville at least once a week, when peaches are in the offing. On this day, though, when she heard the harvest was a lot smaller than most years, she said she better double what she buys.
"They are so good here," she says of the peaches, and as she's leaving, weighted down with multiple bags hanging off her arms, she's asked by an employee of the farm if she got what she needed.
"No," she said emphatically. "But, I'll be back … maybe tomorrow."
Put the hurting on them
Andy Millard has helped run the farm with other members of his family for about three decades. When asked about the size of this year's harvest, he shrugged.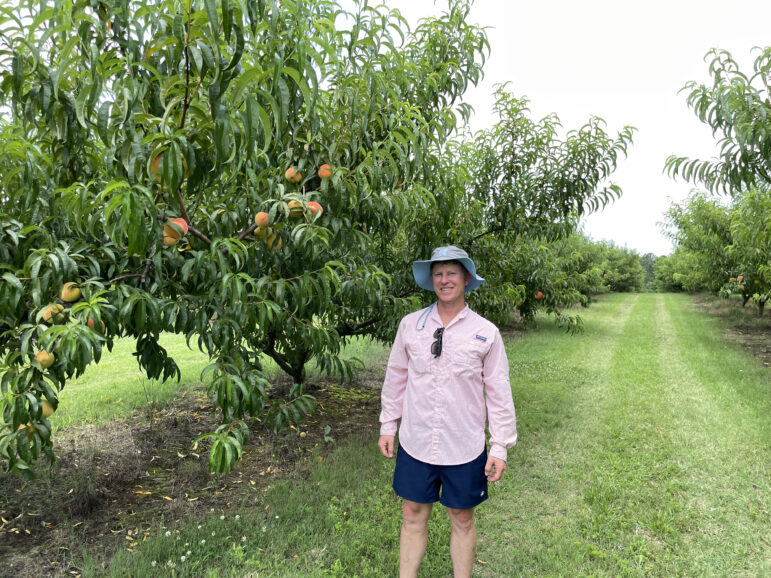 "Not great," he said. "This year was unlike many others that we've had, when we've lost peaches or had damage."
What stood out was the erratic behavior of the weather — a one-two punch of record-breaking heat in February, followed by a cold snap in mid-March.
The heat signaled to his peach trees to start producing fruit that were then damaged by the cold.
"We get to March," he said, "and we have some peaches on the tree about the size of a dime, a nickel. And they're very vulnerable at that stage. And when it dropped down to 24 or 25, it put a hurting on them."
The result he said was an estimated loss, up to a whopping 80% of his crop.
When asked if the climate has changed, Millard said he and other growers believe they get fewer "chill hours," which are basically temperatures under 45 degrees. That's important in raising peaches and affects what varieties they plant.
As to whether the climate has changed due to human-caused activity, Millard said with a smile, "that's above my pay grade. But," he added, mentioning activities like driving and using air-conditioning, "I think we do affect the environment based on how we live our lives."
NASA: "Clearly the result of human activities"
An overwhelming majority of climate researchers agree that average global temperatures are now warmer than before the industrial revolution. They also believe that human activities, such as the burning of fossil fuels, are the most significant contributing factors to a quickly warming planet.
NASA offers a primer on climate change and lists some of the evidence for it. Basically, researchers have found "unequivocal evidence that Earth is warming at an unprecedented rate." And it states, "Human activity is the principal cause."
The evidence extends well beyond the record humans have been keeping. Most of that data only goes back to the latter half of the 19th century. To go back further, researchers have used tree rings, lake and ocean sediment, ice cores, fossils and other things to develop what they believe is a credible set of records going as far back as 125,000 years.
"The current warming trend is clearly the result of human activities since the mid-1800s," the NASA document stated. "It is undeniable that human activities have produced the atmospheric gases that have trapped more of the sun's energy in the Earth system."
Those heat-trapping gasses are primarily emissions from burning fossil fuels, such as coal and crude oil products, and are raising the temperature at an alarmingly fast pace. The result is not only a warmer planet, but a climate that produces weather in the extreme.
For instance, heat waves are hotter, last longer, and they're more frequent. Extreme rains — those during which a lot of rain falls in a short amount of time — are also more intense and frequent; on the other hand, so are droughts.
Some, especially those aligned with fossil fuel industries, have been vocal in saying there is no climate crisis. The point remains, however, mainstream climate science now believes climate change is no longer a theory but is now established fact.
Both the National Oceanic and Atmospheric Administration (NOAA) and NASA cite a survey that showed 97% of actively publishing climate scientists agree that humans are causing global warming and climate change.
Climate change exacerbates extreme weather
Weather is never really "normal." In Alabama, as well as elsewhere, swings in temperature and precipitation, even sunshine and storms, happen. But what's different now, say climate researchers, is that those swings are getting wilder and more frequent.
"Here in Alabama, we're seeing colder colds and hotter hots. We are seeing heavier rainfall that results in flooding. We're seeing more extreme events that are unprecedented," said Jim McClintock, a climate scientist and professor of polar and marine biology at the University of Alabama at Birmingham
"Climate change is loading the weather dice against us" Katherine Hayhoe said.
Hayhoe, a climate scientist and professor at Texas Tech, said the effects of climate change go beyond just weather-related damage. Housing prices are being affected, as are insurance rates for those who live in vulnerable areas. Fuel prices often increase after a climate disaster — intensified by climate change — hits along the Gulf. And increased heat, flooding, and other climate disasters are impacting our health.
"Inflation is already increasing measurably, because of climate change, and the inflation rate on food is increasing twice as much because of climate fueled disasters," she said.
Returning to the weather that "put a hurting" on Andy Millard's peach harvest this year, by some reports, 90% of the Alabama peach crop was affected, maybe even lost. In neighboring Georgia, roughly 90% of the peaches this year were destroyed. As a result, wholesale prices doubled, even tripled.
Gulf states in the crosshairs
The latest report from the Intergovernmental Panel on Climate Change, the gold standard for global research on the topic, was published in March of this year. The study stated that human activities — mainly the emission of huge amounts of greenhouse gasses, like carbon dioxide — have already altered the planet at a pace and scale unequaled in recorded history.
"The IPCC report said to me that we are very close to reaching a point where we are going to pay a price, if we don't radically decrease the amount of CO2 that we're putting in the atmosphere," McClintock said.
Hayhoe said climate change has a particularly dangerous effect on states along the Gulf of Mexico. Data shows water temperatures and seas are rising to more and more dangerous levels, possibly making hurricanes and land-based storms stronger, much more damaging, even more deadly.
Playing catch up
These impacts notwithstanding, Alabama is one of the few places on the planet that has not seen an increase in average temperatures since the late 1800s. Data shows that's because it was so hot here at the beginning of the 20th century around the time of the Dust Bowl and, conversely, relatively cool in the 1960s and '70s.
Ironically, one theory for that downturn in temperatures is because particulate pollution in the atmosphere produced by coal burning power plants blocked sunlight. Basically the stuff that belched forth from smokestacks shielded us for a time.
However, Alabama may be playing "catch up" to the rest of the world, with temperatures on the increase in recent years. And looking ahead, the Gulf and Southeastern Atlantic regions will face the country's highest probability and longest duration of days hotter than 100 degrees Fahrenheit over the next three decades, according to a study by the First Street Foundation, a climate research nonprofit
It adds up to a hotter, stormier future.
"I have serious concerns about the future of the Gulf States," says Texas Tech's Katherine Hayhoe. "If you look at the … impacts of climate change, they affect us all, but they don't affect us all equally. And the Gulf states are in the crosshairs."
Hayhoe said we can still prevent further damage. We just need to act now, because climate change appears to be on a fast track.