Alabama GOP proposals for second Black district are unlikely to win court approval experts warn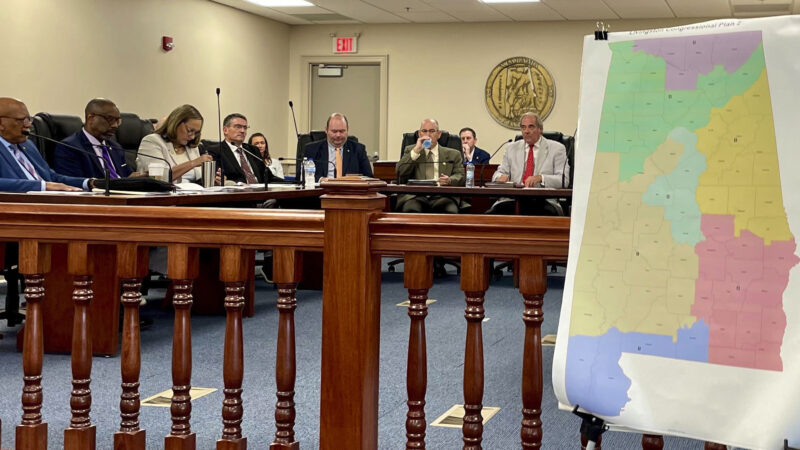 By Jeff Amy and Kim Chandler
MONTGOMERY, Ala. (AP) — Alabama lawmakers say they're trying to satisfy a landmark Supreme Court order to draw a new district giving a voice to Black voters, but with hours to go before a court-ordered deadline Friday, experts say Republican proposals fall far short of what the law requires.
The Republican-controlled state House and Senate will meet Friday and could advance separate plans increasing the share of Black voters in Alabama's 2nd Congressional District. Legislative leaders say they intend to meet the deadline, meaning the two chambers must compromise on one plan.
Both plans preserve the current Black majority of the 7th District. But neither plan comes close to creating a second Black majority district in a state that is 27% Black.
A three-judge panel ruled in 2022 that the current legislative map likely violates the federal Voting Rights Act and said any map should include two districts where "Black voters either comprise a voting-age majority or something quite close to it." This June, the Supreme Court upheld that decision.
"I think this is another good example, maybe the latest and perhaps the most brazen, of a legislature that didn't want to take the hint," said Kareem Crayton, senior director for voting and representation at New York University's Brennan Center for Justice.
"They have pretended as though the court didn't say what it said," Crayton said.
The Brennan Center filed a brief supporting the plaintiffs before the Supreme Court.
An analysis by The Associated Press, using redistricting software, shows the 2nd District proposed by state senators, with a Black voting-age population of 38%, has been routinely and easily won by Republicans in recent elections. The House proposal, with a Black voting-age population of 42%, is closely split between Democrats and Republicans, but could still shut out Black voter preferences.
The plaintiffs who won the Supreme Court case have vowed to fight either proposal if enacted. They say it's crucial that Blacks have more representation in Alabama and other states if their votes are to be meaningful.
The debate in Alabama could be mirrored in fights in Louisiana, Georgia, Texas and other states.
Republican leaders on Thursday emphasized that they are trying to draw districts that are compact in size and keep together communities of interest. One issue has been whether to carve up the Mobile and Dothan areas to add their Black voters to a second Black-dominated district, as those who sued Alabama proposed.
Senate President Pro Tem Greg Reed, a Jasper Republican, said the Senate plan focuses more on keeping communities together and keeping districts as compact as possible, and less on Black voting-age population.
"How do we keep those communities together, how do they wind up being recognized as communities of interest? That's a big decision," Reed said.
Reed said the House's map, with 42% Black voters in a second district, is probably as high as lawmakers are willing to go.
But those who study redistricting say that's simply not enough, considering how sharply Alabama voters divide along racial lines.
"I would think at 38 or 42 that the court isn't going to sign off," said Charles Bullock, a University of Georgia political scientist who wrote a book about redistricting. He predicted the three-judge panel will end up drawing its own map.
Senate Minority Leader Bobby Singleton, a Greensboro Democrat, said the Senate's 2nd District "just doesn't work as an opportunity district that I believe that the court had in mind in terms of the numbers."
Republican lawmakers hope to showcase the issues of compactness and unified communities in court. They're hoping a second round of litigation, or even another trip to the Supreme Court, will let them avoid creating giving a second of Alabama's seven congressional districts to a Democrat.
Bullock and Crayton were skeptical that the high court would immediately backtrack on its ruling and said federal courts discount compactness and preserving communities in redistricting.
"It can't take a front seat to matters that are entrenched in federal law," Crayton said, calling those arguments "silly."
Bullock said appeal might not make it back to the Supreme Court in time for the 2024 election, and it could be that Republicans anticipate losing the case but won't vote for a plan that sacrifices a sitting Republican congressman.
"Another interpretation would be they couldn't bring themselves to do in one of their friends," Bullock said. "Let somebody else take the blame. Let the courts take the blame."
___
Associated Press receives support from several private foundations to enhance its explanatory coverage of elections and democracy. See more about AP's democracy initiative here. The AP is solely responsible for all content.