Alabama advocates urge treatment over punishment for pregnant women jailed for substance use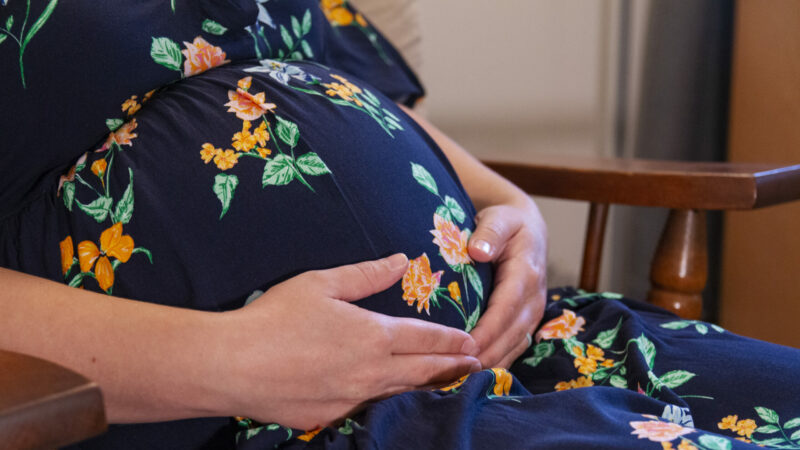 Last February, Stacey Freeman, a mother in Alabama, was arrested under the state's chemical endangerment law.
The law was created to protect children who were present near meth labs, but in 2013, Alabama's Supreme Court decided that child endangerment included fetuses. This allowed police to charge women more stringently if they were pregnant or had just given birth, and tested positive for controlled substances.
But Freeman's case was different. At the time of her arrest, she wasn't pregnant.
Freeman was under investigation by the Department of Human Services for alleged substance use after one of her children informed a social worker their mother was pregnant. Without a pregnancy test, the Etowah County Sheriff's Department arrested her, and she spent nearly two days in jail. Her lawyer, Martin Weinberg, said the charge was unconstitutional, but even after they were dropped, the damage was already done.
"You're criminalizing her for being pregnant. She's not," Weinberg said. "People will look at her differently and see it differently. It's a long-term thing that she's going to have to deal with."
Now, Freeman has filed a lawsuit against Etowah County, seeking damages for defamation, false imprisonment and negligence. In the suit, it states that Freeman wasn't allowed menstrual products, one clear sign that she wasn't pregnant during her time in jail.
Advocates and health providers believe Alabama should offer better alternatives to these strict laws on prenatal drug use. The charge can cost thousands of dollars, and leave a woman with a felony record and the prospect of giving birth in prison. Weinberg said that incarceration doesn't help women if they are pregnant. Imprisonment complicates and strains the mother-baby bond, and many facilities don't do their due diligence to care for moms.
"We've had issues of folks not being able to get to their doctor's appointments, not getting their prenatal vitamins," he said. "People develop all kinds of issues during pregnancy, and a lot of it is stress-related. That adds an element to it."
Those other elements include socioeconomic status. For most of the women arrested under the chemical endangerment law, this isn't their first experience with the legal system. Many can't afford a $10,000 cash bond, which meant they often waited in jail pre-trial and hoped for a spot to open up at a rehabilitation facility.
Pregnancy Justice, a nonprofit legal advocacy group, petitioned the courts on behalf of its clients. As a result, a new policy was implemented last fall which lowered bonds to $2,500 and any additional pre-trial monitoring fees, and the women must be drug-tested every 48-72 hours.
Emma Roth, a lawyer with Pregnancy Justice, said the chemical endangerment charge often comes with heftier consequences than a typical drug charge.
"If you are a woman who is pregnant, or in Stacey Freeman's case, who has the capacity for pregnancy, you face this additional felony charge that carries a much more severe set of potential penalties, post-conviction," Roth said.
Roth is Pregnancy Justice's lead attorney on pregnancy criminalization cases in Alabama. Of the 600 cases in the state the organization has examined, they've found that Etowah County was ranked first with more than 150 women imprisoned, she said.
No one from the Etowah County Sheriff's department would talk to the Gulf States Newsroom about this story — but in the past, county District Attorney Jody Willoughby told outlets that he would "continue to prosecute those who harm innocent life to the fullest extent of the law." Alabama Attorney General Steve Marshall recently said he would prosecute those who used abortion pills under the chemical endangerment law. He later walked back the statement, saying he didn't intend to target women who used those pills, but instead, the providers who wrote and filled prescriptions.
Roth said that criminal or punitive responses can have counterproductive effects on maternal health, leading mothers to not seek treatment or prenatal care out of fear of being arrested.
"We encourage states to use public health approaches to provide pregnant people with community-based support and access to treatment programs, to resources, to social welfare, safety net programs that ensure that they and their families can thrive," Roth said.
A few counties over from Etowah, a program at the University of Alabama at Birmingham hopes to do just that.
The Comprehensive Addiction in Pregnancy Program, or CAPP, is an integrated care program for women who are pregnant and have substance use disorders. Suzanne Muir, the associate director of psychiatry and neurobiology at UAB, said CAPP was created to address the various needs of pregnant women who interact with the legal system.
"It's a lot during pregnancy to be in active addiction," Muir, who also leads family and adolescent services at UAB, said. "A lot of our women have complex needs, so they also have family issues and housing instability and food insecurities."
Since its launch in 2017, CAPP has helped more than 230 hundred women — most of who have been court-ordered for treatment in Jefferson County. CAPP connects mothers with physicians and medical care, helps them navigate social services, and provides substance use treatment and rehabilitation.
"We hear stories all the time when women come in about how they've been treated in health care settings and feeling like they were invisible, feeling like people were talking about them, feeling like they weren't getting equitable care," Muir said.
Currently, incarcerated women who are pregnant are sent to Julia Tutwiler Prison for Women in Wetumpka, Alabama. The state has some standards for pregnancy care for incarcerated people, but few federal guidelines enforce just how much care they receive.
But CAPP allows women to undergo substance use disorder treatment with a peer system to help them feel supported. The mothers take courses together and have support up to six weeks after they give birth — when they can transition to another program.
"Having a baby is a really big turning point when looking at health behavior," Honour McDaniel, director of the March of Dimes' maternal and infant health initiatives in Alabama, said.
In her role, McDaniel connects CAPP and other organizations together to find ways toward improving birth outcomes in the state.
It's not clear if there's a direct link between getting pregnant and getting sober, but studies show that becoming pregnant can be a major motivator for mothers to seek treatment for substance use disorders. McDaniel said that's the point of these programs — to catch women during that narrow window of time when they're willing to ask for help.
"There is a possibility of mothers deciding to get treatment for substance use disorder. How do we make it as easy as possible for them to get into treatment as well as navigate the system?" McDaniel said. "How do we get them the resources to do so effectively and efficiently so that they don't have to remember every little detail?"
This story was produced by the Gulf States Newsroom, a collaboration between Mississippi Public Broadcasting, WBHM in Alabama, WWNO and WRKF in Louisiana and NPR. Support for reproductive health coverage comes from The Commonwealth Fund.