A Ukrainian dressmaker and his family find refuge and a new beginning in Vestavia Hills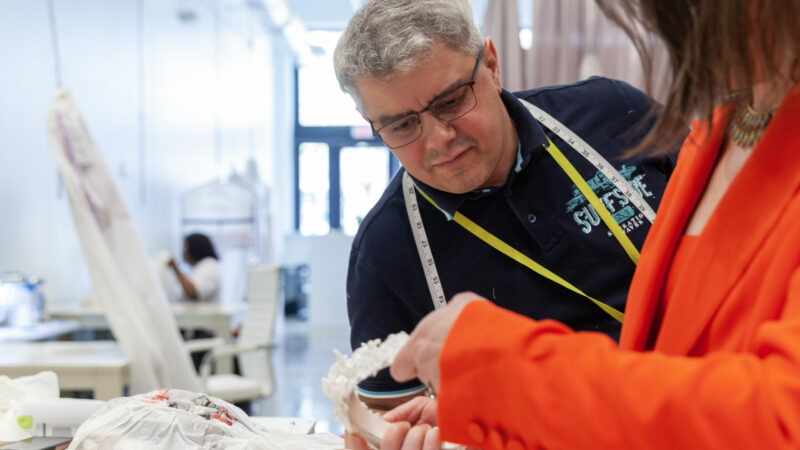 By Taylor Washington, Gulf States Newsroom, & Ritika Samant, WBHM Reflect Alabama Fellow
At a dress shop in downtown Birmingham, Mykola Vyshyvanyuk sits at a sewing machine, eyebrows pulled down in a deep frown of concentration as he squints through his glasses at tiny stitches.
"I make now alterations for this prom dress," Vyshyvanyuk said, holding up a satin gown.
Ashley Gootee, owner and head designer of Something You Couture, describes Mykola's work in one word.
"Perfect," Gootee said. "He's very skilled. He's a very skilled patterner and can look at something and know exactly what to do."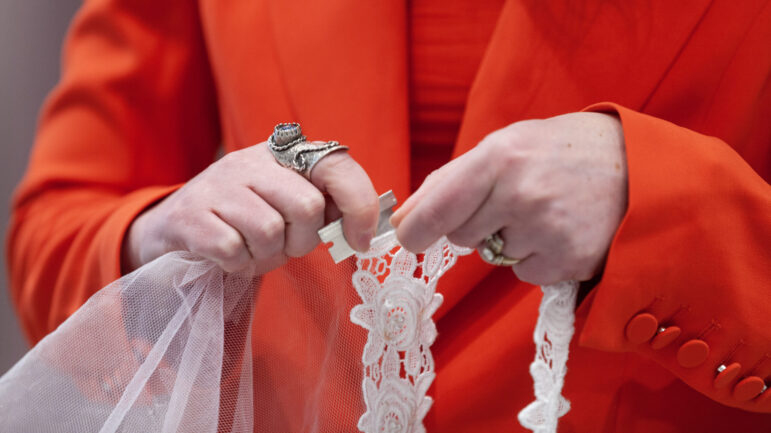 That skill comes from decades of running his own dress shop in Lviv, Ukraine.
Now, with a lot of help from Google Translate, Vyshyvanyuk has settled into Gootee's shop, and the two of them have been able to communicate despite a language barrier and different sewing styles. It has been a learning experience for both, and along the way, Vyshyvanyuk has been able to make himself feel right at home.
"It's very nice team, and Ashley, it's very nice atmosphere," he said.
Vyshyvanyuk said the peace and tranquility have been a welcome change. Because this time last year, Vyshyvanyuk and his wife, Olena, were sewing tactical gear for the Ukrainian army.
From altering dresses to sewing tactical gear
Back in Ukraine, the Vyshyvanyuks lived in what Olena calls their dream home with their three young daughters: 13-year-old Eva, 11-year-old Ioanna and 6-year-old Viktoriia. She sighs and tears up when she describes it.
"It was big enough, because we are a big family, and each kid had their own room," she said. "We had a big table. We could gather all of the family and the parents together at one table. It was my big dream all my life."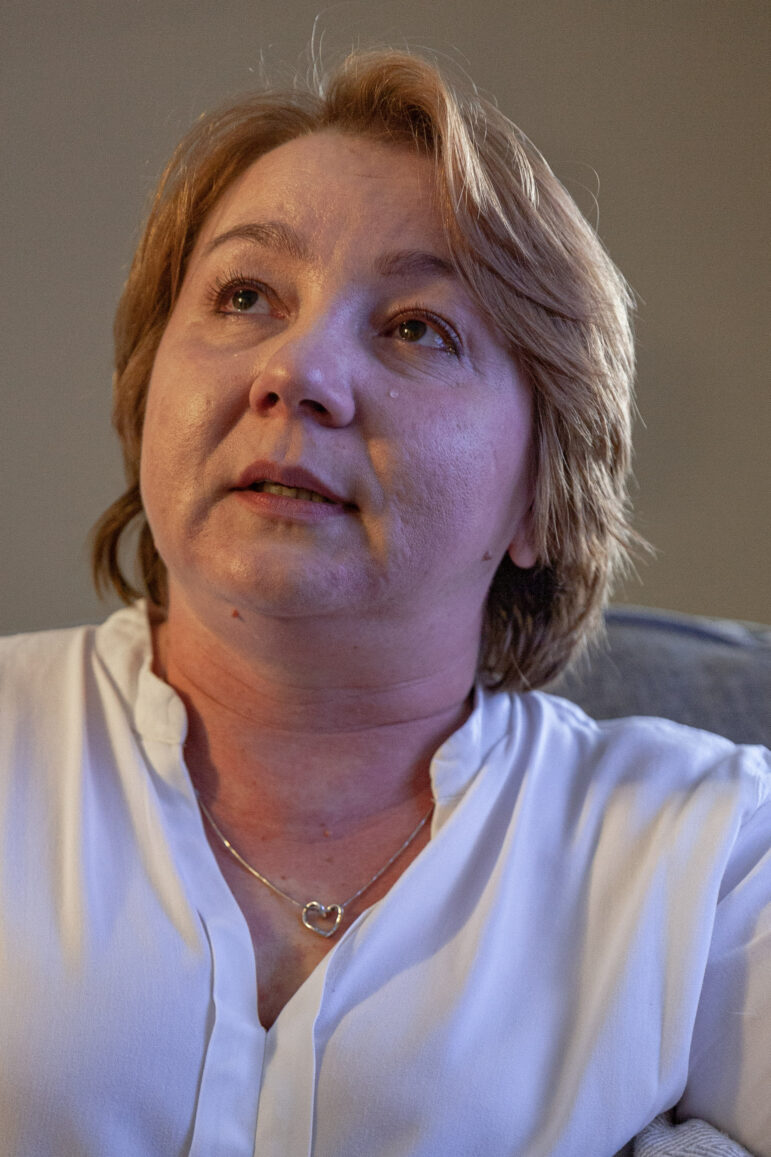 She said they also had great neighbors, with kids the same age.
"Our house was always full of kids. So, if someone new comes they always asked, 'How many kids do you have?!'," Olena said, laughing. "I just hope it will be there one day."
The Vyshyvanyuks planned on staying in Ukraine forever. But the war upended their lives, along with the lives of millions of other Ukrainians.
Russia has had troops in Ukraine since 2014 after it illegally annexed Crimea. However, this conflict has been largely confined to the eastern part of the country. Lviv is in western Ukraine, near the border with Poland.
Olena said she couldn't believe it when Russia launched a full-on invasion in February 2022.
"It was such a big shock the first day," she said. "And I know that all people were saying that war was going to start. But how can you believe that someone like your neighbor or your brother will attack this day?"
And this time, war was knocking on her front door; she could hear explosions.
Hundreds of thousands of people left their homes and fled to neighboring countries. The couple sent their daughters to live with their grandparents in Poland for their safety, while they stayed behind.
In a skilled feat of reverse engineering, Mykola learned how to make tactical vests by taking one apart, noting its construction, and modeling a design based on his findings.
"We started helping them because the very first months, it was too difficult," Olena said. "The soldiers had nothing. We weren't ready for this war."
The couple also took in refugees from the nearby train station.
"They were sleeping down on the floor and you couldn't step inside because there was all the people," she said. "A little bit of warm house, food or something — rest. Then sent them away."
For a short while, the attacks subsided and their daughters were able to return home. But it didn't take long for the missiles to return — the Russians bombed the local hospitals and the power stations, and the constant barrage wore the family down.
They slept with their clothes on.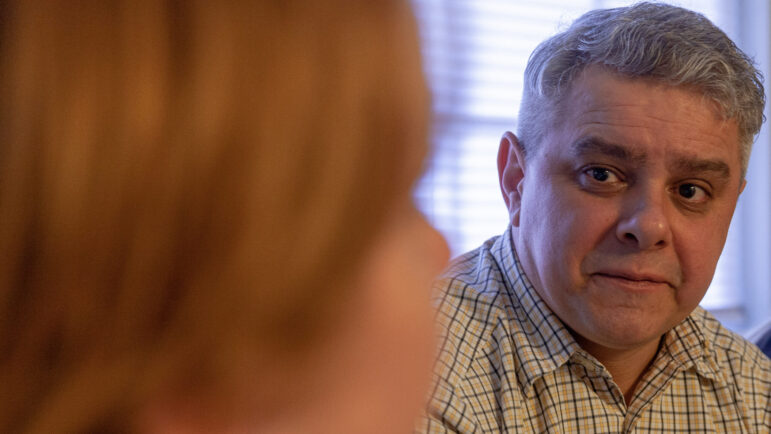 "We had no time to dress," Olena said, her eyes wide and teary. Mykola jumped in, searching for the right words. "Because you do not have time to…"
"Like 10 minutes to go away 'til the rocket can come to house," Olena said. "10 minutes."
The children would often cry and scream, the youngest begging not to be left behind.
At this point, the invasion had already set off a chain of difficult decisions for the Vyshyvanyuks. But now, they had to make what Olena said was the hardest decision of all: leaving Ukraine altogether.
"We needed to take kids away, but I wasn't trying anymore to stay without kids," she said. "And since we couldn't help anymore, just we decided to go."
Coming to America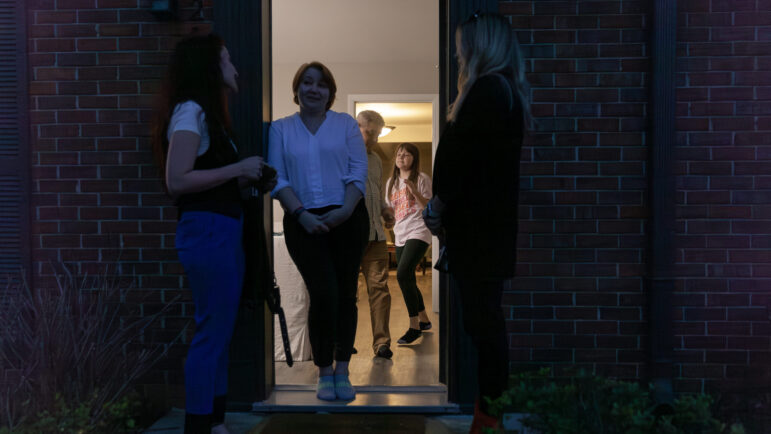 In their search for a new home, the Vyshyvanyuks found the United for Ukraine program, created by the U.S. government to allow American citizens to sponsor a Ukrainian family for up to two years.
While the family was creating their profile, so was Ed Cotter, a lawyer with Birmingham's Regions Bank headquarters. Cotter was reading a newspaper when he learned about the program and he said things snowballed from there.
"I'd never done anything like that before, obviously. I don't know. It was kind of a lark more than anything," Cotter said. "I didn't really even tell my wife. I just signed up for it."
And even though Cotter said he signed up on a whim, his commitment was very clear to Mykola, who remembers their first video meeting via WhatsApp. He met Cotter's wife and daughter.
"It's very important for me because I look at these people and they look as family and I trust," Mykola said.
It was a match.
Cotter rallied friends, family, neighbors and churches to raise more than $50,000 on GoFundMe for the Vyshyvanyuks.
People also donated cars, furniture and household appliances. Volunteers helped to enroll the family's children in school, and a couple of Cotter's coworkers — including Irina Pritchett and Kate Laminack — served as interpreters and handled travel.
Pritchett's family immigrated to the U.S. from the Soviet Union as political refugees during the 1980s and Laminack's family immigrated from Russia when she was a child.
Now, they're part of the Vyshyvanyuks' lives.
Planting new roots in Vestavia Hills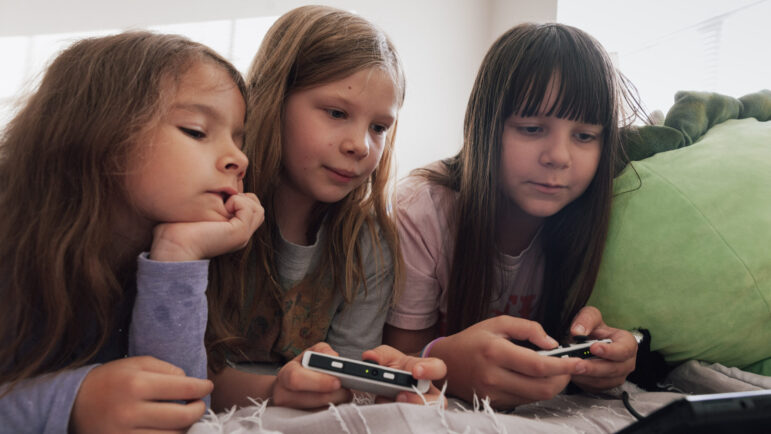 It has been five months since the Vyshyvanyuks arrived in Birmingham. They live in a cozy apartment in Vestavia Hills. Family photos line the walls.
The kids run up and down the stairs, and visitors are greeted with coffee and a table full of snacks. Inside the children's room are mounds of stuffed animals and stacks of games.
At the entrance of the apartment, Mykola has his own studio. Organza and satin communion dresses hang on a rack — a specialty of his. There's also a row of gowns he's altering, two sewing machines — he says someone donated them — and a drafting table where he has been sketching new designs.
It's here where Mykola keeps the first dress he made in America. It's white, covered in lace and has hand-embroidered flowers on the waistline.
"My girl Ioanna … go to some party. And I made this dress," he said.
He finished it in one day.
"I think I started at 3 p.m. and by midnight, I finish," he laughed.
Cotter said the goal was to help the Vyshyvanyuks become independent, and in less than a year they are.
"They have their own social lives, they have their own jobs, their kids have their own friends…They need us less and less, which, again, I think is a sign of success," he said.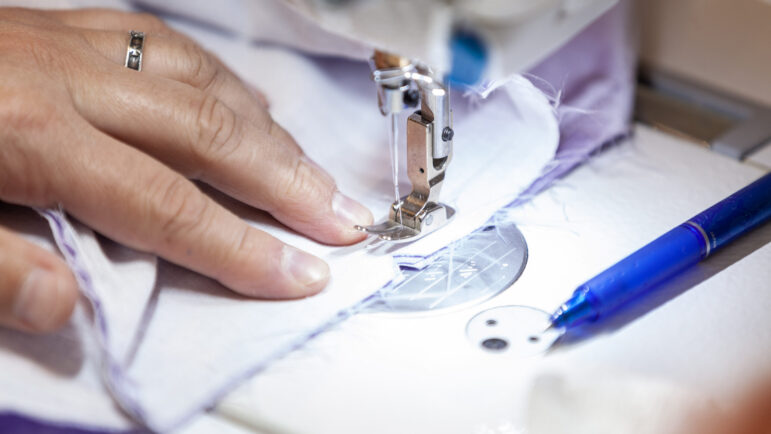 Mykola continues to do the job he loves. He wants to move beyond altering other people's dresses and into what he loves — designing and creating custom dresses.
"My dream is a shop in Vestavia," he said.
Olena has found a new calling as a case manager helping other Ukrainians move to the U.S.
"I'm making [other Ukrainians] believe that they can do all so they can find jobs," she said. "They can get documents here and they can be really successful people here."
But despite their successful transition, the couple said they are struggling with guilt. Each morning Olena gets up and checks her phone looking for news of the friends and family they left behind. She taps the screen. A good friend's twin sons have just turned 18 — now they're old enough to volunteer to fight in the war. She sighs.
But the Vyshyvanyuks have what they wanted the most: their children are happy again.
Viktoriia plays soccer for a local club. Ioanna loves her new school and said she teaches her new friends some Ukrainian. Eva is an artist. She spreads a portfolio of work across the coffee table — she's applied to a local art school — pulling out drawings of Mavka.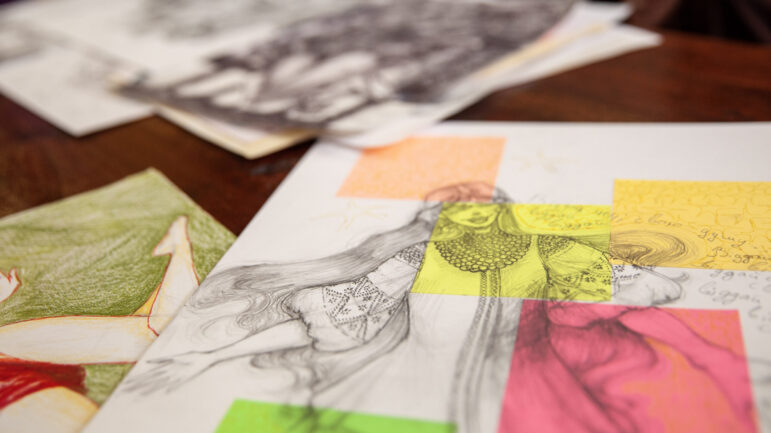 In Ukrainian folklore, Mavka is a legendary, beautiful female spirit who lures men into the woods and kills them. She protects the land.
Her father believes Eva has been channeling the effects of living through eight months of war through her art, and she wants to protect her home.
"She don't understand, but she draw what she feels," he said.
Olena said she knows the war impacted all of her daughters, but things are slowly changing.
"We had one moment when we arrived here, probably [after] two months. My kids started to laugh, to dance and to sing a song," she said. "We didn't realize it, that they stopped."
For now, the Vyshyvanyuks are taking things one day at a time. Since they're only given refuge in the U.S. for up to two years, they admit that they don't really know what's next.
All they know, for now, is that Alabama is safe. What they lost in the war can never be replaced, but for the first time in a long time, they don't have to survive. They can just live.
This story was produced by the Gulf States Newsroom, a collaboration between Mississippi Public Broadcasting, WBHM in Alabama, WWNO and WRKF in Louisiana and NPR.