What do Birmingham students think about race, college, even periods? Listen to these podcasts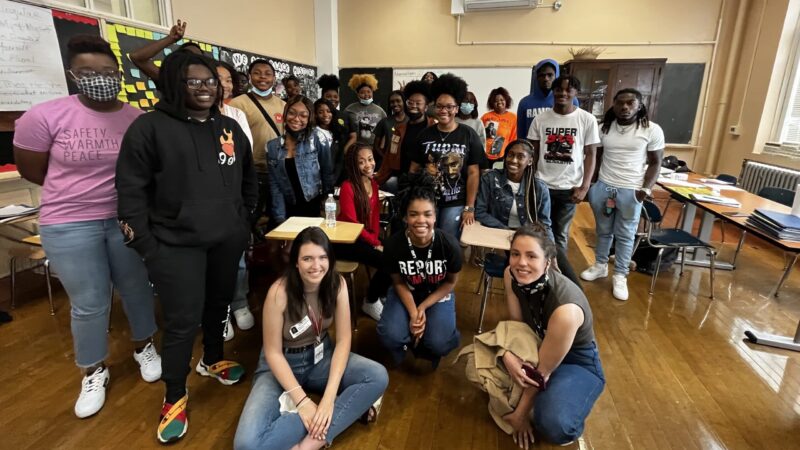 The average high schooler goes to class, does their homework and laments the occasional pop quiz. But they also care about the world around them. They talk with their friends about the news and current issues.
Over the course of seven months, WBHM's Kyra Miles and al.com's Rebecca Griesbach and Savannah Tryens-Fernandes, who are all Report for America corps members, teamed up with two classes at Birmingham's Ramsay High School for a service project.
The three corps members went to a ninth grade and a senior class once a week to hear what students thought was important. From those discussions, they worked with teens to develop podcasts. Podcast topics included mental health, racism, equity in sports and beauty standards for Black women. Miles, Griesbach and Tryens-Fernandes guided the students through pitching their ideas, interviewing, editing and producing their podcasts.
For the last class of the school year, each class held a listening session to recap what they learned and listen to the final product of their classmates' work. A total of 14 podcasts were produced. Here are the highlights.
The 9th Graders
Like many teens, the students from Tiona Chapman's freshman English class get most of their news from social media and not always from reputable news sources. But they had a long list of issues that directly affected them.
One group's podcast on feminine hygiene products in schools was voted the favorite from the class. Kamorah Reynolds, Faith Oden and Ciara Fells explored their experiences in getting access to period products in schools and connected it to the greater issue of menstrual equity. After Alabama's recent legislative session, there was a bill signed into law that provides free period products in Title I schools, which includes all of Birmingham City Schools. It'll go into effect next year. The students talked to their classmates and the head of an organization that donates menstrual products to low-income communities.
The podcast did make a few people in the class uncomfortable.
"That just shows how good they were at showing how uncomfortable it is to have your period and how schools can make that easier," Griesbach said.
Tryens-Fernandes added it's a story you don't hear openly talked about very often by high schoolers.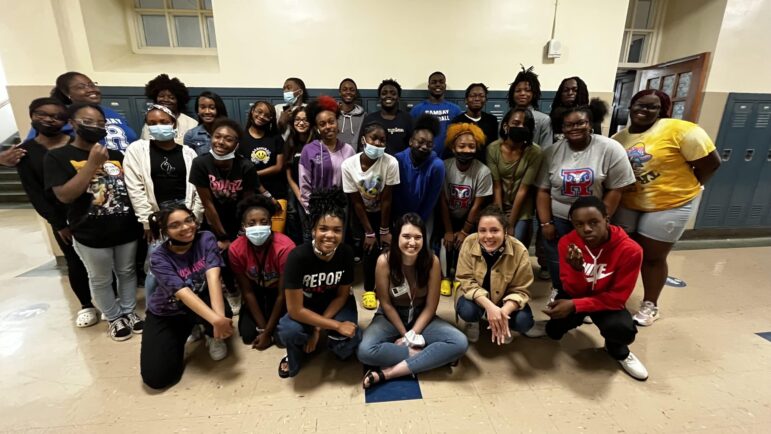 The Seniors
One group of seniors in Erica Jones' English class made their college decisions the subject of their podcast. Karlyn Hester, Blake Thomas, Nicholas Figures, and DeRenn Hollman talked about the different outcomes of going to a historically Black college or university or a predominately white institution for college. They talked to family members and teachers about their experiences.
"[At the end of the podcast] they announced where they were committed to go to college and how this podcast either reaffirmed their decision to go to an HBCU or made them reevaluate," said Miles, who edited the podcast. "These are graduating seniors and this project really helped them to reflect on their education."
After the project, some students in both classes said they have an interest in journalism now
Student Takeaways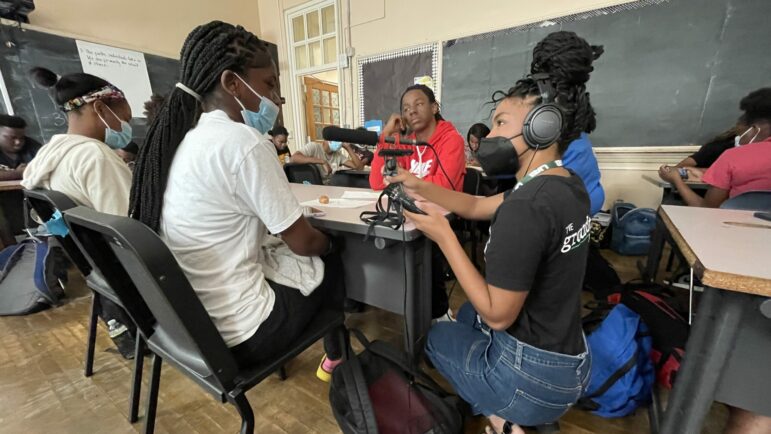 Ninth grader Seth Thomas worked on a podcast about racism in schools.
"What I took away from this little project was it really helped me improve socially," Seth said. "It made me become a better person socially and also I say that because it really forces you to communicate and go get these interviews from other people."
That response was a surprise to the RFA instructors because Seth was relatively quiet during class. He also said he's considering being a journalist after this project.
Another student, Destiny Cooke, worked on a podcast about the effects of going to a predominantly white school in K-12 education.
"This project, it taught me patience and how to adapt to people and what they wanted to do. And just like to put yourself aside, like, just for a couple of moments so you can get what you need," Destiny said.
Destiny summed up one of the goals of this project which was to show that lessons in journalism apply to all aspects of life. Students learned perseverance, persistence and skills in writing and editing.
Instructor Takeaways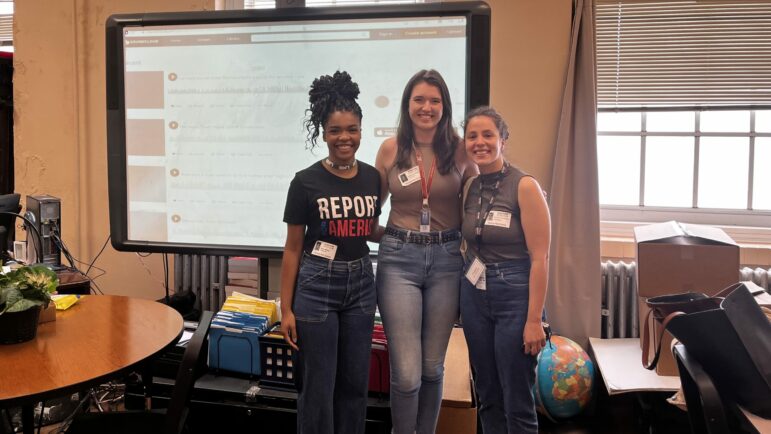 Savannah Tryens-Fernandes
This was a good reminder of how important student voices are and how well-placed they are to tell stories about their school and larger community. And it was clearly something the students were engaged in. This effort to equip students with the ability to tell the stories that are important to them can make education journalism as a whole more personal, more inclusive and more impactful.
Rebecca Griesbach
We're all education reporters, and so it was a cool way to engage with students on a regular basis and also see up close how the school was navigating COVID and other challenges. It was also really valuable to see how the students felt about their school's response and other topics they were passionate about.
Kyra Miles
Spending that much time with students was rewarding not just for this project but also informing us about what students care about in the news. I'm also really proud of this project because part of my goal was to get more young Black students interested in journalism. I always want more young Black voices in audio journalism and their ideas and concerns deserve to be uplifted. I'm happy we had this opportunity to explore that with them. This project was so fulfilling and makes me excited for the future of journalism.
Kyra Miles is a Report for America corps member at WBHM. Savannah Tryens-Fernandes and Rebecca Griesbach are corps members at al.com. They all cover education. The three would like to thank the teachers and students at Ramsay High School for making this project possible.