Teens say Birmingham's gun violence takes a heavy toll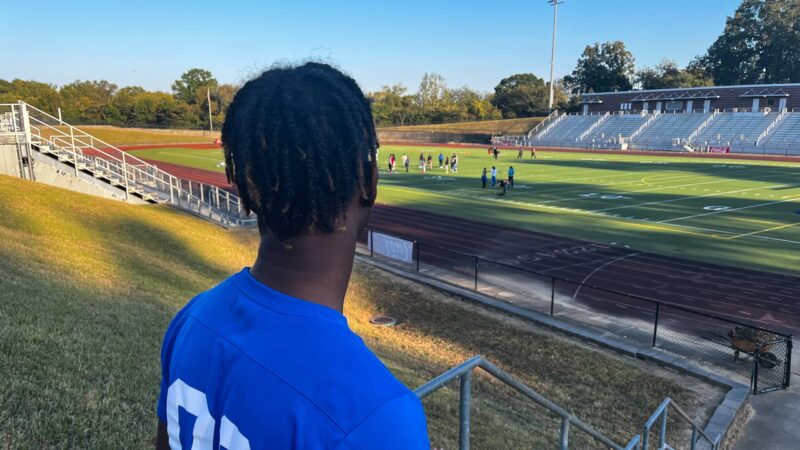 [This is the first part of a two-part story. Read and listen to the second part here.]
When students filed into the auditorium at George Washington Carver High School for an assembly, Jacob Woods sat towards the back.
This fall, the Birmingham Urban League launched a 100 Days of Non-violence Tour to help high school students process the current rise in gun violence in the city. Carver, where Jacob is a sophomore, was the first stop.
He and his peers looked on as different speakers told them about the importance of being safe and not getting involved in arguments — advice the teens had heard before — but one moment stuck out to Jacob.
One speaker asked students to close their eyes and stand up if the questions she asked applied to them. Her first question: Have you lost someone close to you due to violence?
About half of the students, including Jacob, stood up.
"To see there is so many other people that relate to me. Like people I see every day — and I might not even know that they deal with them things," Jacob said. "It's just so real."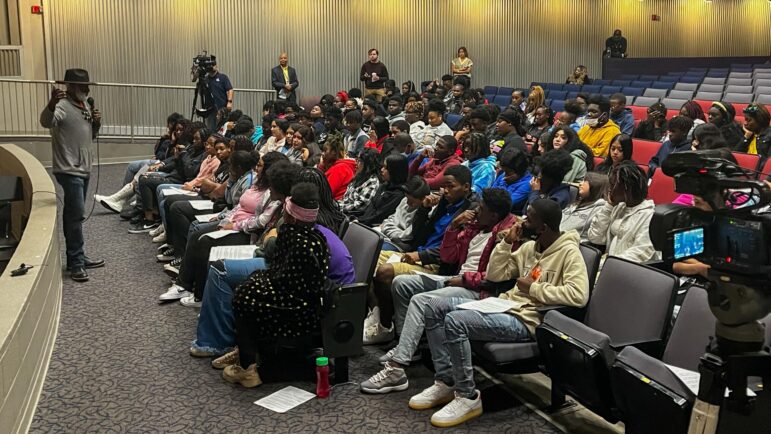 Jacob is at the top of his class, the sousaphone section leader in band, and a member of the superintendent's student advisory team. He said he's proud of himself and how far he's come. He credits the people in his life who've supported him, because he said it could have been different. He also lost his uncle to gun violence two years ago, and when Jacob was 4 years old, his mom was shot and killed. He said it changed his life.
"Not only did it change my life, it changed the life of the people around me," Jacob said. "It changed how me and my sister live. It changed how the people that now take care of us, take care of us. It just changed my whole lifestyle and it put me on a different path."
The speaker in Carver's auditorium continued to ask questions: Has anyone witnessed violence? Have they ever been a part of violence?
By the end, almost all of the students were standing, and they looked around at each other with varying levels of interest. Some stared straight ahead with their chin up while others stood with crossed arms and awkward sidelong glances.
An enduring problem
Birmingham leaders recognize that violence in the community is taking a toll on students even as they do their best to focus on school, but this year has been particularly challenging. Since January, at least 11 students in Birmingham have died due to gun violence and even more have been injured. Two of those students went to Carver High School — Javarius "Deno" Reid and Dwaine Thomas.
Carver lost students last year too.
Gustavo Garcia Perez is a senior at Carver, and he said mourning classmates doesn't feel real. He remembers them laughing in the hallways or at football games.
"One day the classmate is right there sitting next to you and then the other day he's gone and you don't see him no more," Gustavo said. "So it's just pretty sad and heartbreaking."
Gustavo says over his four years, there's been more security at school that's made him feel safe, and he's never personally had a problem with fighting, but fights still happen.
Ariyan Riggs is a junior at Carver. She said students aren't always fighting, but she's not surprised when it happens.
"At first it bothered me, but now that I'm a junior, my whole mentality is: 'You got a few more months, you got a few more months,'' Ariyan said. "It's sad that I've kind of normalized it, but I see no point in stressing over it if it just keeps repeating."
This stress has only been exacerbated by the pandemic. The Centers for Disease Control and Prevention found in 2021 that over a third of high school students reported feeling persistently sad and hopeless during the pandemic.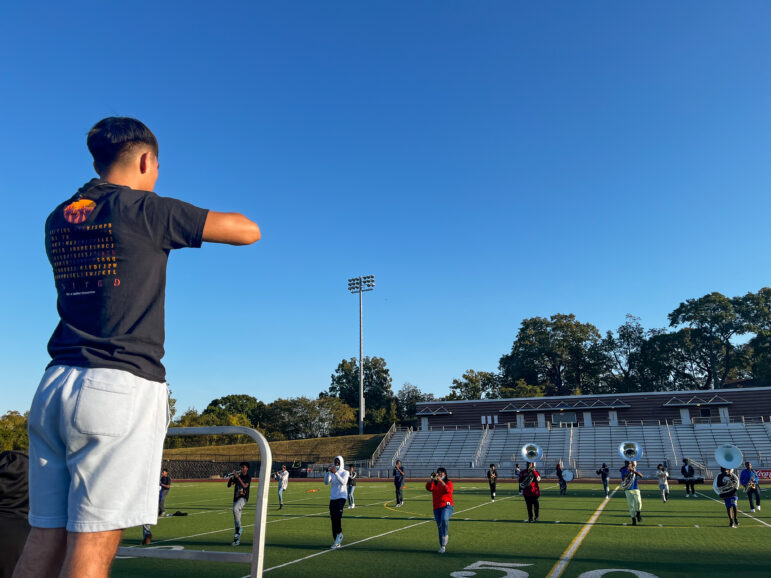 Violence and mental health
Jacob says he sometimes feels on edge when he's in large groups of people, especially other teens he doesn't know.
"You know, this generation really do take it to the next level for no reason," Jacob said.
Jacob said he's always aware of his surroundings.
"You just looking around, peeping your area, watching. Just being on edge, keeping your eyes glued to everybody. Making sure [there] ain't nothing. And if you see a little stuff pop out, you like, 'yeah, it's time to go,'" Jacob said. "It's a little stressful, but I done got so used to it."
All three students say they try to avoid conflict when they see it in school or in the community, but Tamika Holmes, the founder of the Community Care Development Network, thinks sometimes that conflict is unavoidable.
Holmes grew up in Birmingham. CCDN is a nonprofit that works with families when they're on hard times. It was partially born out of Holme's experiences in her own childhood.
"It wasn't anything for me to go outside my door and see people walking around with AK-47s," Holmes said.
In her work, she's seen how people have become numb to seeing loved ones die and said it's left a lot of the kids she serves with PTSD.
"Our young people in certain parts of our community, they're not planning for college," Holmes said. "They're basically planning for their funerals."
Holmes said this problem doesn't have an easy solution. Years of systemic racism and redlining in the city have left mostly Black people in desperate situations.
"The people in our community are angry. And whether they know why they're angry or not, they're angry," Holmes said. "That's one thing that we have to acknowledge. And then the second thing is to help get to the root causes as to why."
For the students at Carver High School, the non-violence tour assembly seems to be working so far. They had students sign a pledge for peace and Jacob said he's seen fewer fights in the hallway. He said he thinks he and his peers just need guidance, especially from adults.
"Adults that play some type of role in a child's life that has an influence on them should kind of talk to them about it," Jacob said. "They say knowledge is power and the more we inform our generation, the more we know and the more we can avoid those types of situations."

Kyra Miles a Report for America corp member covering education for WBHM.