Ahead of its Alabama debut, John Archibald gives an inside look at 'Pink Clouds'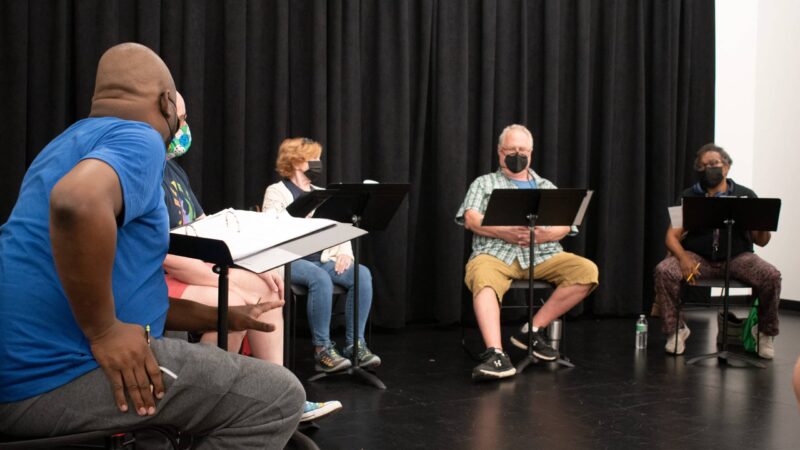 AL.com columnist John Archibald is reluctant to call himself a playwright, but he did write a play.
The play's title, Pink Clouds, comes from an old saying his mother used in lieu of "thoughts and prayers." In it, Archibald takes on heavy topics like abortion and capital punishment — topics that aren't usually part of a comedic production. And yet, the play is described as "part absurdist comedy and part prison tragedy."
But this is all part of the John Archibald brand.
"If I have one deep personal philosophy, it's that if you are going to bring people down, you need help to bring them up," he said.
Pink Clouds grew out of a fellowship Archibald did at Harvard's Nieman Foundation for Journalism in 2021, but he's bringing it back home for the first time this weekend at the Human Rights New Works Festival at Birmingham's Red Mountain Theatre.
Archibald says the play was inspired by everything from conversations he overheard while reporting to notes from his own family. The Gulf States Newsroom's Taylor Washington talked with Archibald about bringing his ideas to the stage.
The following conversation has been edited and condensed for clarity.
Pink Clouds grew out of your Nieman Foundation fellowship at Harvard. Could you talk more about how the play was developed?
When I was on my fellowship, I really wanted to learn how to write screenplays, right? So I tried to get into a screenwriting class and there wasn't any room. And the professor said, 'Well, hey, I teach this playwriting class, why don't you come to it?' So I was like, 'Playwriting? Okay.' And I took it and I just absolutely loved it and took another one. And it was, I mean, just so appealing, because you can take all these experiences from the real world and put them in this dramatic form that in this day and age, it seems like so much more convincing to people than writing. I write columns for a living and people immediately decide whether they're going to love you or hate you when they do that. But this medium of playwriting just seemed to open people up and you could kind of reach them in ways that I didn't have before.
What is Pink Clouds about?
Oh, my. Well, when people ask me what the play's about, I say death. It includes all my favorite topics: execution, abortion, chemical endangerment, personal failings, all sorts of related darkness. But I hope that there's also humor in it and that there's reason to feel and to think about the world around us.
Why was it important for you to find humor in darker topics?
Well, because if I have one deep personal philosophy, it's that if you are going to bring people down, you need to help to bring them up. And that it's a little bit easier to take some hard things if you do it with a little bit of humor and a little bit of lightness.
This play has very close ties to home. Could you talk about how Alabama's Alabama-ness inspired the play?
Yeah, it is inspired. It's fiction, but it's inspired by a lot of my experiences and a lot of the things that I have loved and loathed over the course of my time here. From the natural sort of beauty of it to the social, the good and bad things about life in the South, but also just sort of this very difficult time rationalizing sort of the hypocrisy of not just Alabama, but the South. In which we talk about life, but we don't talk about quality of life. We talk about being a pro-life state, but we kill people on the reg, and from my experience, when we used to have the electric chair. There's a lot of very, very complicated issues associated with some of these things. And we tend to choose sides and we don't always look at the complexity, the sheer complexity of the whole thing. And so it's all baked in that big, old squash casserole of whatever it is of Alabama. And it's both beautiful and it's really sad. And it's home.
What was the most challenging part about adapting the content from your columns into a play?
If I'm being completely honest, the most difficult part is reining myself in and letting the dialogue tell the story rather than me injecting my own stage setting. It's also part of the beautiful thing about a play, though, is because you don't have to tell people. You can just show them. And once I got out of the way, I think it just sort of came pretty natural. I hope it does. It's a scary sort of venture to try some new thing that we never do. But it's also really sort of stimulating to do that, to step outside of what's comfortable.
The first version of the play was performed at Harvard. How does it feel to bring the play back home where it's set?
Oh, it means a lot. And just, I'm not yet calling myself a playwright, I'll tell you that. But it's kind of a rush to see that something's happening with it.
Red Mountain Theatre is a program sponsor of WBHM, but our news and business departments operate independently.
This story was produced by the Gulf States Newsroom, a collaboration among Mississippi Public Broadcasting, WBHM in Alabama and WWNO and WRKF in Louisiana and NPR.