Officials see hurdles to putting out landfill fire near Moody as neighbors suffer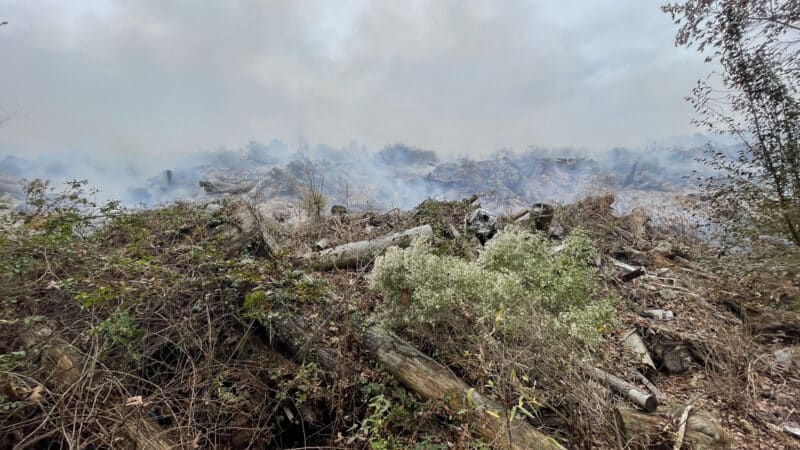 A homeowner who lives adjacent to an environmental landfill fire in St. Clair County says the blaze is taking a toll on his family.
Richard Harp is the pulpit pastor at Deerfoot Church of Christ near Trussville. He lives with his wife and two children near the landfill, which has been on fire for more than a month.
He said each member of his family has experienced ill effects from the smoke. His wife and two boys have had a steady cough and headaches. The effects on him have been worse — Harp said he's had bronchitis that his doctor blamed on smoke inhalation.
Just before Christmas, the family took advantage of a scheduled visit with out-of-state family to get away from the fire. But when it was time to go back home, the Harps decided to move into a short-term rental house.
"We paid for a month's Airbnb for January. I put that on my credit cards," Harp said. "We can't go back to the house. We cannot put our family back into it."
A dangerous and costly task
Harp is not sure when it will be safe to return to his home, and neither are local and state officials. They said they are looking into ways to manage the blaze and possibly extinguish it.
Moody Fire Inspector James Mulkey said he's been told by others that have experience fighting such fires the landfill will probably need to be dismantled.
"They all say the same thing," he said. "We need to unearth what's burning to put it out."
But, he said that will be a huge task.
He says the landfill is 15 to 20 acres and is as much as 200 feet deep — almost 20 stories tall. However, Mulkey said he believes the material that's burning may only be 20 feet deep.
The landfill is located on private land and operates as a disposal site for environmental waste. The business is registered as Environmental Landfill, Inc. A person who answered the phone at a number registered to the company refused to put a reporter in touch with someone associated with the landfill, and said they had "no comment."
Also, while only environmental materials, such as trees and leaves, were to be discarded at the landfill, Mulkey confirmed that he and other officials are concerned that tires and other items are buried there. They, too, could be burning and producing even more hazardous smoke than the natural materials.
In addition, the process of unearthing the landfill will be tricky. Uncovering the burning material will expose it to more oxygen, which could create a bigger fire.
"Using heavy machinery would also be dangerous," Mulkey said, "since the landfill could be unstable."
Known hazards
The Alabama Department of Environmental Management inspected the property in 2017 and determined that it contained illegal waste such as scrap tires, appliances, shingles and demolition materials.
In 2018, inspectors noted that the illegal waste had been covered with environmental waste, including tree cuttings. The reports also showed that inspectors suspected the presence of other unauthorized waste like "medical or infectious waste, industrial wastes, or hazardous waste."
The property has "fire hazard potential," according to the reports. But that was old news. A decade-old memo noted the property's potential fire hazard, "due to the presence of a smoldering area not far from regulated waste."
ADEM issued Notices of Violation to the site's owner in 2013 and 2017. Records show that the landowner's family responded to both violations, saying they had relocated the unauthorized waste to a nearby landfill and had put up signs saying what the environmental landfill could and could not accept.
Yet, Harp said he thought little was done to remove the waste or mitigate the fire hazard.
A memo from a 2020 inspection said that the "unauthorized dump site currently remains covered by tree cuttings and soil."
In August 2022, ADEM investigated the site again. The state's inspector, Craig Mangham, noted that very little construction demolition waste was piled on top of tree waste. However, he pointed to previous investigations that said construction waste had been buried on the site. Mangham also wrote that a person operating the site at the time planned to have the site remediated, particularly in the areas where there was buried construction waste.
During this investigation, the site was again determined to be a fire hazard. ADEM spokesperson Lynn Battle said that determination is "a normal part of inspections of this type."
In an email, she wrote that the Department "issued enforcement to address management and removal of any regulated material." Regulated material refers to waste that must be authorized by the state — like tires and demolition waste.
"It should be noted that the primary fuel for the fire at the site is the unregulated vegetative material," she wrote.
In a release on Dec. 29, ADEM said that they are working with the St. Clair County Commission, the St. Clair County Emergency Management Agency, and the Moody Fire Department in an advisory capacity and that they "will take appropriate enforcement actions" against the site's operator after the fire goes out. ADEM also said the Environmental Protection Agency had been consulted.
"Unless hazardous materials or regulated wastes are involved, neither the EPA nor ADEM have the authority to take action at this time, the EPA says. The operation of the site is governed solely by local authority," the release says.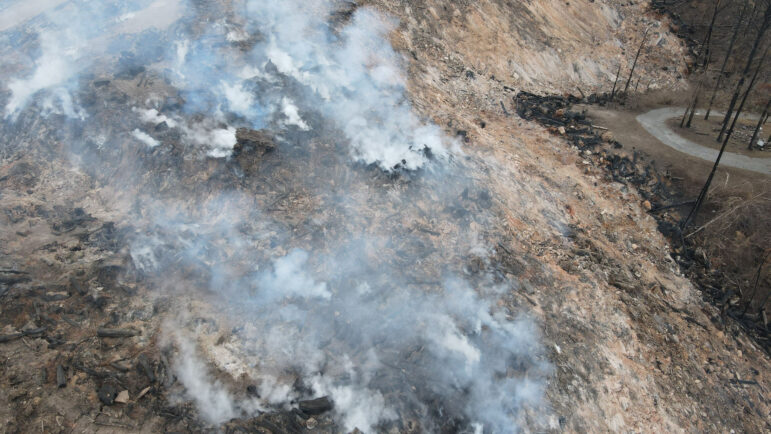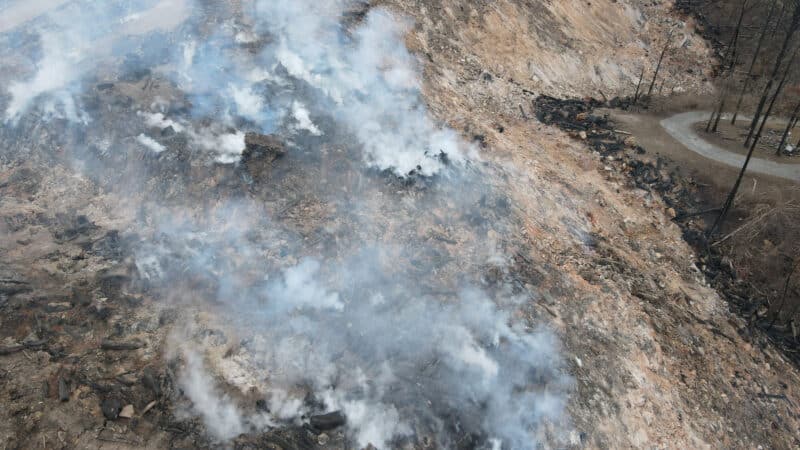 Cash and coal
Another factor making fighting the current fire more difficult is that the landfill is on private property. Mulkey said that creates a series of legal problems, even though the landowners have been cooperative.
But, because the fire is on private land — it's not clear who will pay for efforts to contain and extinguish the fire.
"It will cost millions of dollars," Mulkey said, "and no one has ponied up the money."
Harp has one more concern, and he says it's a big one: "There's coal all over our properties. So, it's very possible that there is a coal seam underneath that [fire]," he said.
He pointed to Centralia, Pennsylvania, where a fire in abandoned coal mines has been burning for more than 60 years. "If that happens we'll have bigger problems," Harp said.
Geological Survey of Alabama mapping shows that the Environmental Landfill facility is at the northern end of the Cahaba coal field and there are coal seams at the surface and underground in the immediate vicinity.
But a spokesperson from the state's surface mining commission said it's "highly unlikely," that there's coal there that could catch fire.
Since the start of the fire, people in Birmingham, Trussville, Moody and other nearby communities have complained about the air quality and the smell of smoke. An air quality monitor placed near the landfill has registered Air Quality Index levels above 600, which the EPA considers hazardous.
So, said Harp, the fire needs to be extinguished. "This is not something that we have luxury [to] just let burn out."
Mulkey agreed. "Letting it burn is a strategy, but it is not a good strategy. I hope we can put this thing out."
Zoe McDonald contributed reporting to this story.