New mental health crisis center aims to interrupt revolving door of jail and ER visits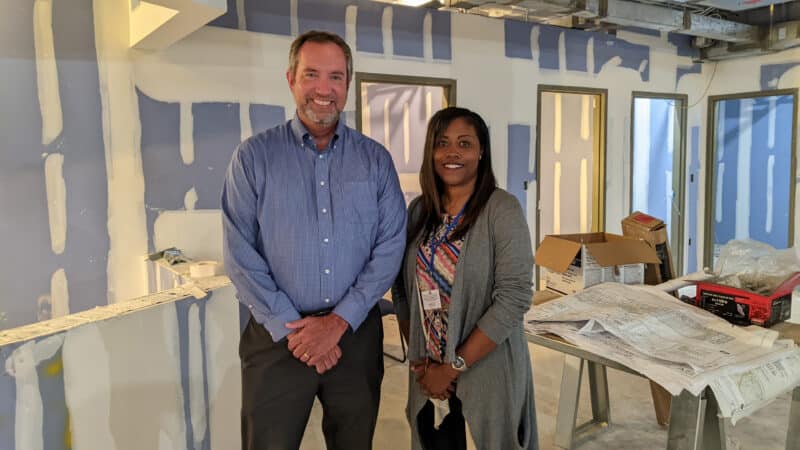 Roughly 20 years ago, Phil Pearson was diagnosed with bipolar 1 disorder, sparking a years-long search for the right treatment.
When medications caused unwelcome side effects, Pearson stopped taking them.
"Things would be fine for a while," he said. "And then I'd get under stress and have an episode and do crazy things."
When his symptoms worsened, Pearson had delusions and acted erratically. He often ended up at UAB Hospital — getting there on his own, with the help of a family member or accompanied by police.
In the emergency room, he regularly waited for hours to receive care. One time, he got so frustrated that he walked out of the ER and said UAB police found him in a garage wearing a hospital gown.
"They told me I better go back to the hospital or they'd take me to jail, and then I went back to the hospital and waited it out and got admitted," Pearson said.
Jefferson County providers hope a new crisis care center, set to open in November, will soon offer a better option for people like Pearson and interrupt the revolving door of visits to overcrowded jails and emergency rooms that aren't equipped to provide the necessary care.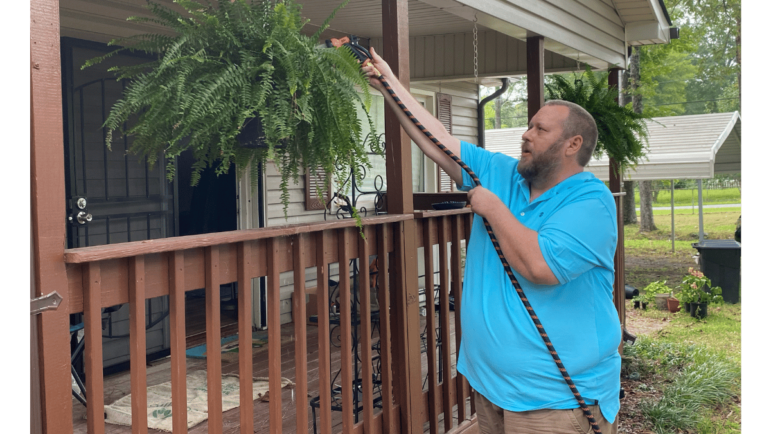 Gov. Kay Ivey awarded $7 million in funding last year to open the facility, which will be operated by the JBS Mental Health Authority. It's the first center of its kind in the area and one of six clinics across the state that will provide short-term mental health care and crisis stabilization.
Sabrina Scott, a licensed professional counselor and the center's director, said the new facility is designed to care for someone "who is clearly in distress" and who needs "immediate care for their own safety and the safety of others."
"It will provide an opportunity for people to get the proper treatment," Scott said.
The 'real place' for care
Located off of Beacon Parkway in Homewood, the center is a bus ride away from downtown Birmingham, near an existing addiction treatment facility.
Renovations are still underway. Officials are designing the space to care for patients as soon as they arrive. There's a designated entrance for police to drop people off with a warm handoff to nurses and counselors. Everyone will get a psychiatric evaluation and a nursing assessment, followed by a shower.
"Sometimes you have people and they haven't had a shower in a long time and if you don't feel good, you don't smell good, you're probably not going to be in the greatest mood," said Scott. "When you get a shower, when you get on some fresh clothes, it really makes a difference."
The center offers two levels of care and can treat up to 48 people at a time. Most of the capacity is geared towards lower-acuity patients who will be observed for up to 24 hours. These individuals will stay in a communal space equipped with 32 recliner chairs, where they can detox off of drugs or alcohol, rest and stabilize.
For people who need a higher level of mental health care, the center also has 16 individual rooms where they can receive therapy and case management. These patients can stay for up to five days.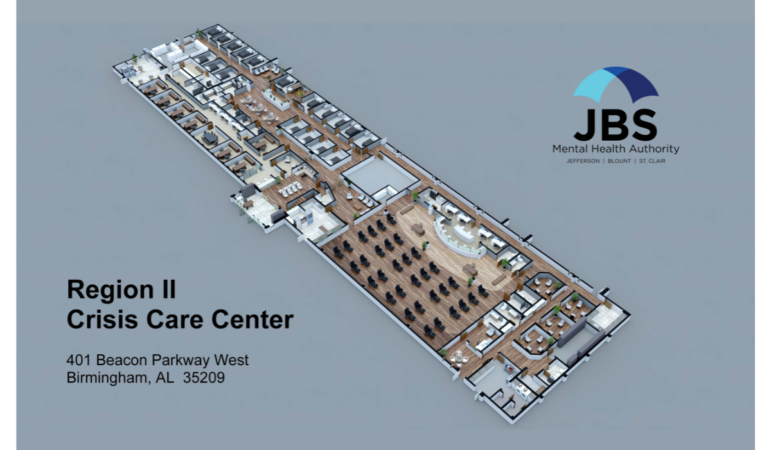 Pearson said the facility sounds a lot better than a hospital ER or jail.
"The crisis center is that real place where I know that when I have been in crisis, that was the place that I should have gone, if it had existed at the time," he said.
Jefferson County Probate Judge Sherri Friday, who oversees mental health commitment hearings in the county, said the center will help fill a desperate need for more treatment options.
"This is going to give us an opportunity to change the way we face mental health crisis in our community," she said.
Waiting at the ER
In the past two decades, UAB Hospital has seen a big increase in the number of patients visiting its emergency department in need of detox treatment and crisis stabilization. The hospital's north pavilion, which opened in 2004, was built to treat high-level trauma patients and cardiovascular emergencies. It's equipped with only two designated psychiatric rooms.
"It was never designed to take care of the number of psychiatric patients that we have now," said Dr. Brendhan Buckingham, the department's medical director.
He said not only is there a shortage of bed space in the ED, there are often no inpatient beds available in the hospital's designated psychiatric department.
"We just don't have the capacity to care for these individuals," Buckingham said. "And that's a citywide, countywide, statewide problem."
Alabama has among the nation's worst mental health care rankings — with higher rates of mental illness and lower rates of access to care.
The state only runs one inpatient psychiatric hospital for adults, Bryce Hospital in Tuscaloosa, which officials say is almost always full. There's also a shortage of outpatient providers and at-home care.
The lack of treatment options increases the risk that people will experience a mental health crisis and wind up in emergency rooms, where they sometimes stay for days.
"Often people with psychiatric problems are going to be triaged to a lower level of priority than somebody with a gunshot wound," said Dr. Jim Meador-Woodruff, a psychiatry professor and senior vice president for mental health services at UAB. "In addition, for somebody in a psychiatric crisis, probably the last place you want to be is in the middle of this noisy, busy, bustling ER with lights blinking and noises going off."
During his frequent visits to the hospital, Pearson said he would sometimes leave without the care he needed.
"More than once it happened that I'd get to the psychiatric resident and they'd ask me if I was suicidal and I wasn't, but I was delusional and clearly not in good mental health," Pearson said. "And I was told that they didn't have a bed because I wasn't suicidal. And then I'd either go home and keep doing crazy things, or I'd go to jail."
It's a similar experience for people across Jefferson County. As a result, the county jail now provides much of the area's mental health care.
Care behind bars
Officials estimate that about 25% of the people booked into the Jefferson County Jail every day are experiencing some kind of mental health or substance use crisis.
In recent years, the jail has increased funding for medical and mental health care services, but employees struggle to meet the demand.
"We're really hurt for space," Jason Ballenger, the jail's health service administrator, said during a recent tour.
The jail has six designated crisis cells for people on suicide watch or mental health observation, but Ballenger said they are almost always full. Disciplinary cells are used for overflow, and other spaces are reserved for step-down observation.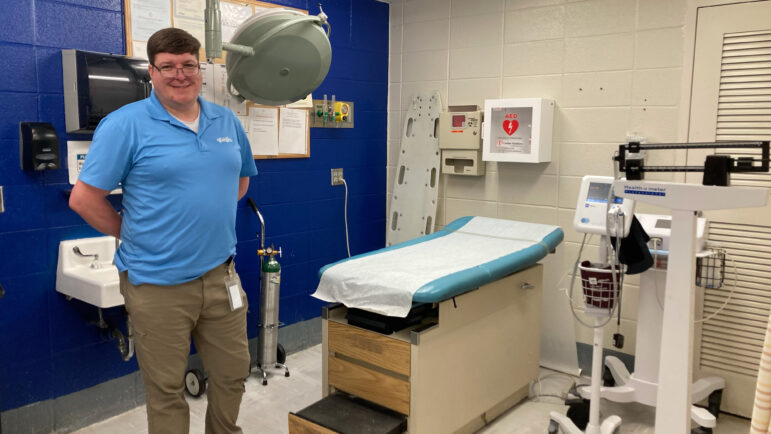 "We really strive to create therapeutic environments within a jail, which is difficult," said Amber Simpler, chief psychologist with NaphCare, the health care provider contracted by the Jefferson County Sheriff's Office. "If you think of the function of a jail setting, it is first and foremost safety and security."
Simpler said it's a threatening environment that can lead to additional psychological distress for people in crisis.
"You're being taken someplace against your will and being detained and accused," she said. "A lot of individuals in that situation, if they are disconnected from reality to begin with, are even more frightened and more paranoid."
Pearson still has nightmares about the time he was locked up during a manic episode years ago. He said he didn't follow directions from law enforcement — refusing to take off his shoelaces — and the situation escalated. He said he was held at the Birmingham City Jail for 18 hours in an isolation cell with no bed, just a toilet.
It was one of several encounters with the criminal justice system. Pearson said whenever he spiraled out of control, people called the police.
"That happens in circumstances all over the country with everybody in a mental health crisis," Pearson said. "Somebody sees that crisis, so their answer is, 'What do we do? We call the police.'"
And first responders, just like jail officials and medical providers, want more resources.
The Jefferson County Sheriff's Office is training deputies on crisis intervention strategies, like how to de-escalate tense situations and possibly prevent some people from ending up in jail.
They are also spreading the word about the new crisis care center.
'A huge responsibility'
The new facility will be open 24 hours a day, seven days a week to residents across central Alabama. Patients will be treated regardless of insurance coverage.
Jim Crego, executive director of the JBS Mental Health Authority, calls it a "no wrong door" facility.
"We're covering 20 counties right off the bat, which is a huge responsibility," he said. "Jefferson County alone is large enough to fill our 48 beds within the first two days."
Officials expect to get most referrals from local hospitals and jails, though individuals can also show up on their own.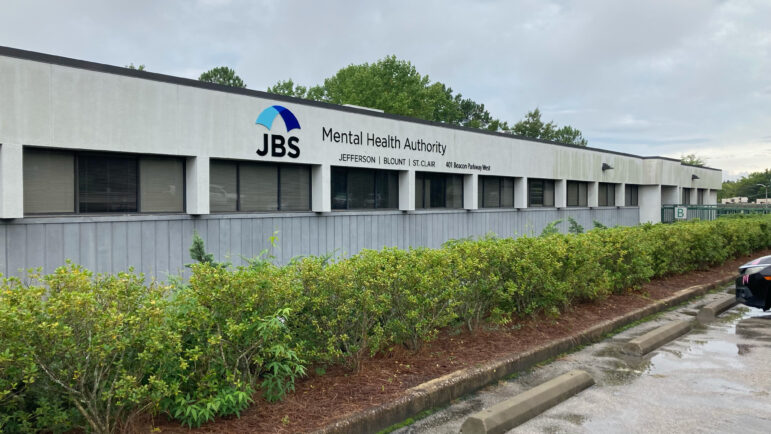 Facility leaders hope to turn over treatment space quickly to care for as many people as possible and address patient backlogs. The idea is to have most individuals in and out in less than 24 hours.
But that might not always be an option.
If someone is taken to the crisis center but refuses care, a judge could order them to be treated under an involuntary commitment order. Should that happen, the person would have to remain at the crisis center until a long-term bed becomes available at a hospital or state-run facility.
This is a common challenge for local hospital psychiatric departments, whose inpatient beds are sometimes occupied for months by people under commitment orders.
Crisis clinic leaders also continue to face staffing hurdles, a widespread issue throughout Alabama and across the country.
"It is really challenging, especially when you're talking about medical staff, registered nurses, and licensed practical nurses," said Scott. "We're having a really difficult time."
As of last week, officials still need to hire about 100 people, roughly two-thirds of all positions. The center will employ nurse practitioners around the clock, an on-staff psychiatrist, plus nurses and counselors. They're also hiring peer support specialists who have lived experiences with mental illness and substance use disorders, like Pearson.
About a decade ago, he found a treatment that's right for him and now works as a vocational peer support specialist with JBS.
"I love it," Pearson said. "It can be stressful dealing with other people's crises, but I can draw on my own experience in crisis to help. I can use my experience to make a difference in somebody else's life."
UAB holds WBHM's broadcast license, but our news and business departments operate independently.
This story was produced with assistance from the Public Media Journalists Association Editor Corps funded by the Corporation for Public Broadcasting, a private corporation funded by the American people.