New aviation high school in Bessemer aims to help students soar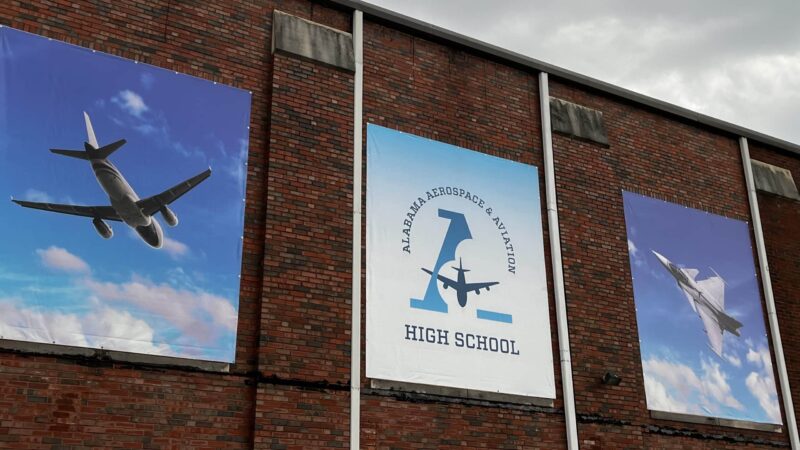 In the heart of Bessemer, a new public charter school is preparing students to reach for the skies, literally. The Alabama Aerospace and Aviation High School welcomes around 150 9th and 10th graders on Monday and it's a moment founder and Principal Ruben Morris has been looking forward to for years.
"There's so many different opportunities revolving around aviation outside of just being a pilot that people aren't aware of these high paying jobs with amazing benefits," Morris said. "And so the timing is now because of the need across the industry, but also the opportunity from an education standpoint."
The school is partnering with national and local organizations including Delta Air Lines, Auburn University and Tuskegee University among many others to teach students about aviation through curriculum support and internships.
It's one of the reasons incoming 9th grader Daniel White's family moved all the way from Los Angeles to Bessemer last month.
"Just for this. Literally, just for this," Daniel said. "I really enjoy it. Enjoy flying."
At the school's first open house earlier this week, while parents and teachers discussed curriculum and bus schedules, Daniel was tucked into a corner taking one of the school's flight simulators for a spin. He prepared the virtual plane for take off, did a barrel roll and landed with minimal difficulty. He's wanted to be a pilot or an astronaut since he was five. So when his mom, Tia Wilson heard about what this school had to offer, she decided to take a leap of faith and landed in Alabama.
"I think it's a great opportunity because a lot of our students don't have this type of opportunity at this young age," Wilson said. "But this school is set up for those that not only want to go to college, but those that may not be created for college, but they still have an opportunity to be successful and also have a stable career as well."
There are other aviation schools for young people in the country, but Wilson said she chose this school because of its holistic approach to education. Along with specialized classes in aviation, aerospace and computer science, students will have a variety of extra curriculars. Students will also be able to start careers in the industry immediately after graduation with career and technical engineering endorsements.
For history teacher Lisa Daniels this school is a unique opportunity for her to set students up for success.
"The sky is no longer the limit. I really want to make sure that students understand that they have great expectations and those great expectations should uplift them and elevate them to a higher level," Daniels said.
When he walks the halls, Principal Morris said he sees the next generation of pilots and high-flyers in the state. Part of the school's mission is to prepare more underrepresented students for careers in aviation and aerospace and he saw a need for a school like this in Alabama.
"It's no secret that we're not at the top educationally in math and science, but we are in terms of the automotive industry, the aviation industry, the defense industry," Morris said. "So this school is hoping to start a trend that will lead to closing that gap."
The Alabama Aerospace and Aviation High School will be at its current location for three to five years, while construction finishes on a new facility near the Bessmer airport. The school is still accepting applications for the new school year.
Kyra Miles is a Report for America corps member reporting on education for WBHM.