Judge hears testimony in challenge to Alabama's ban on gender-affirming care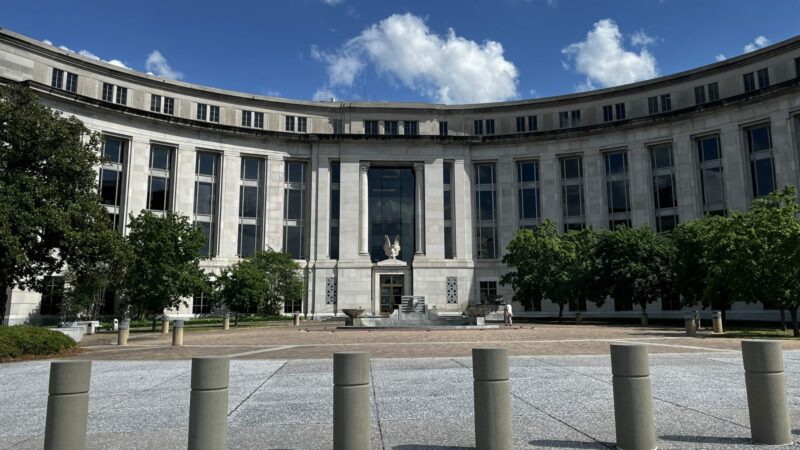 A small group of parents and young people gathered in front of the federal courthouse in Montgomery Thursday, the first day of a two-day court hearing in which a federal judge will consider whether to block Alabama's recently enacted law that would make it a felony to provide gender-affirming care to minors.
Evan Moreno, a senior at Vestavia Hills High School, has been watching the case closely. He's taken testosterone for two years.
"It's something that the individual chooses to make their life better, their life easier, to help them live confidently and comfortably," Moreno said. "It is something that has saved so many people regardless and has made my life so much easier and if that was taken away from me, I don't know what I would do."
Moreno said it feels like the state is bullying him and other young people who aren't yet eligible to vote.
Last month, four parents of transgender children, a group of medical professionals and a pastor filed a lawsuit against the state. In their motion, they argued the measure was unconstitutional by violating equal protection under the 14th Amendment They also contended it infringed on parents' rights to make decisions about their children's healthcare.
It's youth like Moreno that drive their final argument: this law would do irreparable harm to children.
Thursday's testimony
The first witness called by Melody Eagan, one of the plaintiff's attorneys, was Linda Hawkins — a mental health counselor who oversees gender and sexuality development at Children's Hospital of Philadelphia.
Hawkins explained gender-affirming care and how she assesses youth who might have gender dysphoria. She said it's only after years of rigorous assessment that a young person is diagnosed with gender dysphoria. After that they receive a referral to a medical professional to determine whether they might need puberty blockers or hormone therapy.
She recalled that before there was widespread access to gender-diverse care, providers were trying to keep kids alive until adulthood and that now she sees kids thrive and survive. She added her team now goes to more graduations than funerals.
If this law goes into effect, she said, it would put an immediate stop on any gender-affirming care currently being provided to youth in Alabama. Hawkins said that would be devastating to families because it would be like suddenly removing someone's cancer treatment and expecting them to be okay.
The next witness was Dr. Morissa Ladinsky, a primary care physician at UAB Hospital who also co-leads the only multidisciplinary gender health clinic in Alabama.
She said at her clinic medical treatment is never given to pre-pubescent youth and the conversation about puberty blockers only starts during the first stages of puberty. Ladinsky said most children are with her team for one to three years before there is any medical therapy recommendation.
In her experience, youth who received gender-affirming care exhibit fewer signs of anxiety, depression, suicidal ideation and self harm.
Hawkins and Ladinsky said no children they have provided gender-affirming treatment to have expressed regret or detransitioned.
The judge also heard private testimony from parents and transgender kids who wished to remain unnamed
The State's Response
Although Hawkins and Ladinsky testified they hadn't personally had any patients who detransitioned, the state's argument centered around the question of whether it's possible to assess if a young person who has had gender-affirming care would detransition once reaching adulthood.
Prior to the hearing, the state argued gender-affirming care for minors is child abuse, in part, because it could cause permanent changes to a young person's body.
Barrett Bowdre, Deputy Solicitor General for the Alabama Attorney General's Office, cited studies from the United Kingdom and Sweden that questioned the effectiveness of gender-affirming care in alleviating gender dysphoria.
He also cited a study showing only a quarter of patients who detransition ever tell their doctors and that it's possible detransition data could be skewed. It's not clear whether that data included people who've received gender-affirming care.
Bowdre also pointed out that gender-affirming treatments are allowed in Sweden only in exceptional circumstances for adolescents over 16.
Alabama's law has no exceptions.
Edmund LaCour, Solicitor General of Alabama, argued the risks for gender-affirming care outweigh the benefits. He brought up a lack in longitudinal studies on effects of puberty blockers and hormone treatments and the effects they have on fertility.
He said there is no standard of care that allows youth to get gender surgeries, but to get hormone treatments, children and parents must sign an informed consent form involving the risk of infertility among other issues. LaCour argued that if a child can't consent to vasectomy, how can they consent to hormones that take away their ability to have a child?
Ladinsky countered that the decision to start hormones is a long conversation with both parents and the child and that sperm banking is an option many youth take.
The final witness was Rev. Paul Eknes-Tucker, a pastor at Pilgrim Church in Birmingham. He testified that this law puts him at risk of a felony charge because he counsels families with transgender children and directs them to resources including medical care.
The state will present its witnesses Friday.
The Judge
The lawsuit currently in the court is not the first one. Days after the law passed, two lawsuits were filed in the Northern District of Alabama and assigned to U.S. District Court Judge Liles Burke. Later the cases were withdrawn and refiled in the Middle District of Alabama.
Court documents revealed Burke was concerned the lawyers might be "judge shopping," a practice where lawyers refile with a different judge in an attempt to have a more favorable ruling. He followed the case to Montgomery even though it was outside his jurisdiction.
Burke was nominated by President Trump to his current position in 2017.
Burke decided he will hear opening statements after testimony concludes. He did not say when he would rule on whether to put the law on hold while the challenge proceeds. The law is set to go into effect on Sunday, May 8.
Kyra Miles is a Report for America corps member reporting on education for WBHM.