Families with trans kids prepare for the ban on gender-affirming care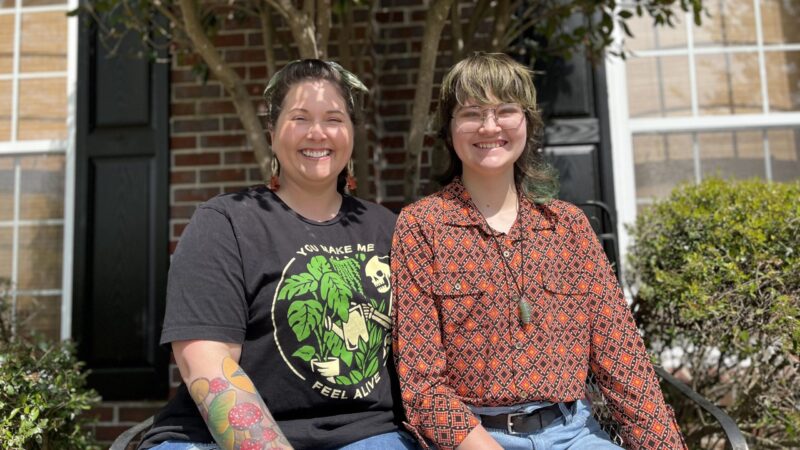 This story discusses topics related to self-harm and suicide
When you walk into Erin Georgia's house, you can tell she really loves her children. She's a self-identified "extreme ally" and there are rainbows everywhere. The walls of her house are filled with pride-themed artworks and rainbow-colored azalea bushes. Even the pots and pans are rainbow colored.
Ten years ago, Georgia and her husband decided to settle down in Trussville with their kids. Georgia said she loves having her kids grow up in a neighborhood with cul-de-sacs and local parks. She especially loves her backyard garden. It's special, because it's a memorial garden for her first-born, Jay.
"Unfortunately, our oldest child, Jay, died by suicide," Georgia said. "Jay was transgender."
Jay died five years ago this May at the age of 13. When Jay came out, Georgia said she was accepting. The family started using the right pronouns, got him binders and new clothes, but Georgia wasn't sure about hormone treatments.
"To be honest, I was one of those people that said, 'Well, let's wait awhile before we do any kind of hormone treatment' because I thought, 'You're just a kid. What do you know?" Georgia said.
But after Jay's death, her second child, Alex, also came out as transgender and nonbinary. This time, Erin said yes to hormone treatments.
"Jay didn't get the gender-affirming treatment," Georgia said. "But then you look at my other child that's had those gender-affirming treatments and it is night and day. So for somebody that can say I've seen both sides in a family, I feel like the message should be that gender-affirming treatment is 100 percent what these kids need."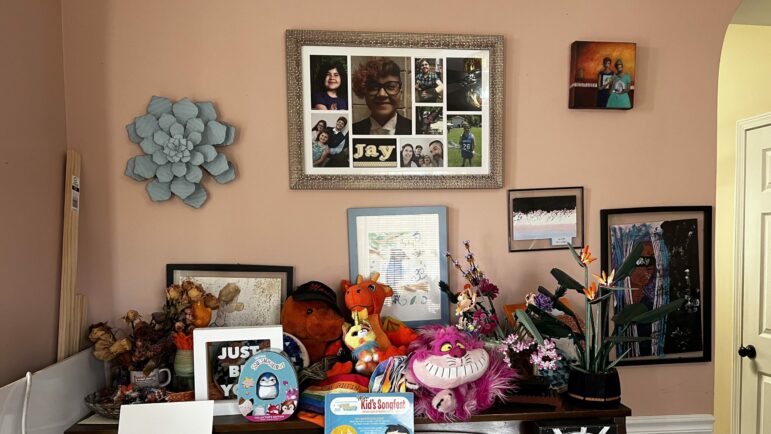 Alex was assigned female at birth, but came out as trans in sixth grade and after years of monitoring by pediatricians and psychologists they started hormone therapy.
"I've been on testosterone for two and a half months now, and it's going great. I'm very excited. I mean, it's been nothing but positives," Alex said with a laugh and smile.
But the shadow looming over Alex's excitement is a new law in Alabama that makes it illegal for Alex to receive those hormones. It also puts their doctors and parents at risk of a felony charge for providing gender-affirming treatments to transgender minors.
"I've definitely dealt with plenty of prejudice in the past just by being trans," Alex said. "But the fact that this is allowed to happen on a state level is so insane to me because it's not even helpful."
Doctors like Morissa Ladinsky believe gender-affirming treatments like puberty blockers or hormone therapy are lifesaving for the youth she sees in her clinic at UAB Hospital where she co-leads the multidisciplinary gender health team. She could face up to 10 years in prison and a $15,000 fine for continuing her work under this new law.
"This law literally puts physicians in the space to have to choose between their Hippocratic Oath to do no harm to not risk a felony conviction," Ladinsky said.
In addition to the patients she sees from referrals, her clinic also gets new patients through UAB's emergency psychiatric departments from youth who've attempted suicide. She said since legislators started discussing this law, the number of youth who've entered her clinic from suicide attempts has increased. She said if her clinic gets shut down, it won't just affect her patients in Birmingham.
"There is nowhere for an entire region of physicians to send their gender dysphoric youth," Ladinsky said.
Significant evidence shows that denying gender-affirming care does real harm. The LGBTQ advocacy group Trevor Project did a survey in 2020 that found 40% of transgender and nonbinary youth self-harm or seriously contemplate suicide in part due to gender dysphoria.
Other research from this year from Columbia University Psychiatry found that transgender and nonbinary teens who received gender-affirming treatments showed significantly fewer signs of anxiety and depression.
Still some Alabama politicians believe gender-affirming care for minors is child abuse. Gov. Kay Ivey declined interview requests but in a public appearance said this law is defending Alabama values.
"Our children are growing up at an age where the culture and lifestyles offer a lot of challenges and we need to protect our young people. And if the Good Lord makes you a boy when you're born, you're a boy," Gov. Ivey said.
Kaitlin Welborn, a staff attorney at the ACLU of Alabama, said it's more complicated than a personal belief from the governor.
"Best case scenario, people move and worst case scenario, children die," Welborn said.
The civil rights group filed a lawsuit to block the law saying the state's ban on trans care violates equal protection under the 14th Amendment.
"They are risking federal funding as a result of this. The legislature has known all of this," Welborn said. "They're well aware of exactly how illegal this bill is and they passed it anyway."
A judge will hear arguments in the case starting May 5 but Welborn said courts should block the law because it will do irreparable harm to children.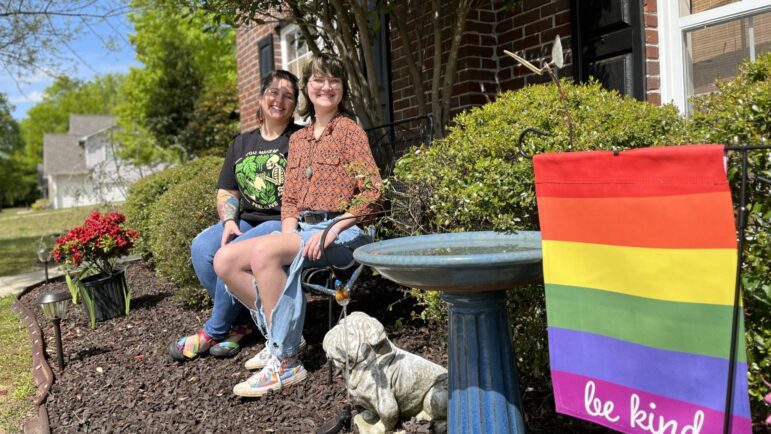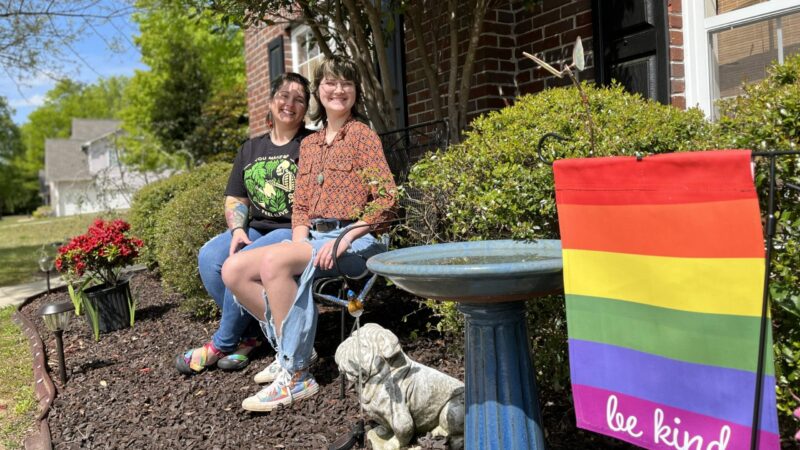 Children like Elliot, who is a transgender 17-year-old at the end of his junior year in Alabama's first LGBTQ-affirming charter school. He said at the Magic City Acceptance Academy he finally feels happy.
"I never really thought I would make it to 17 and here I am," Elliot said. "I'm just kind of taking it one day at a time. It's kind of hard when everything seems like it's throwing bricks at you."
Elliot isn't fully out yet and his mom is nervous about repercussions if this law goes into effect so they asked to only identify Elliot by his first name.
He said when heard the bill making gender-affirming treatments a felony passed, he burst out crying. Last year, Elliot got on the waiting list at a gender clinic to start testosterone. He was told he'd have to wait a year. But now he's not sure he'll still have that appointment.
"The hormones that I want to take, they're not for anybody but me," Elliot said. "It's not because she's (his mother) forcing me to. It's not because other trans people do it. It's because I want to feel like me.
His mom said she's heartbroken for her child.
"It just feels like such an attack from the state of Alabama. They say we're abusing them, but what we're really doing is what everybody should be doing. We're pouring love and effort and time into these kids," Elliot's mom said.
Elliot's mom said they just don't have the means to move and they don't want to. The same goes for Erin Georgia. She's watched her kids grow up in Trussville and loves her community.
"Look at my family. I've lost one son that died by suicide and I have another thriving transgender child … who would make my family suffer more after what we've been through?" Georgia said.
The family plans for Alex to continue treatments even if the law forces the family to move. But Georgia said she has hope that won't have to happen.
If you or someone you know may be considering suicide, contact the National Suicide Prevention Lifeline at 1-800-273-8255 (En Español: 1-888-628-9454; Deaf and Hard of Hearing: 1-800-799-4889) or the Crisis Text Line by texting HOME to 741741.

Kyra Miles is a Report for America corps member covering education for WBHM.