Civil rights attorney Fred Gray receives the nation's highest honor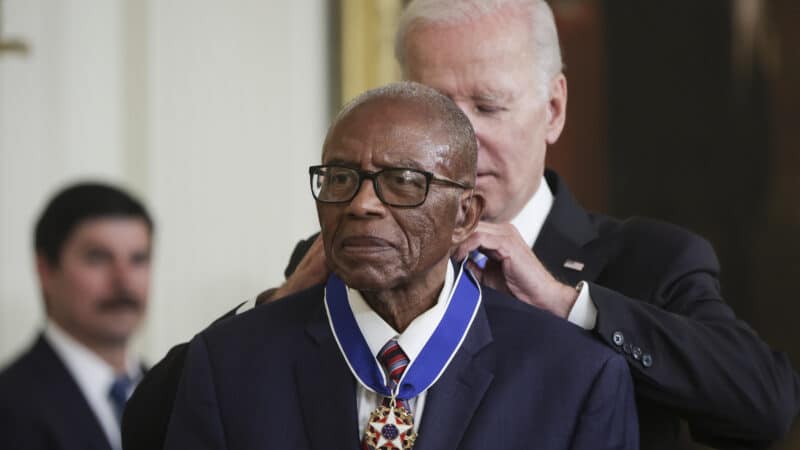 Fred Gray, an attorney behind major legal cases of the civil rights era, received the Presidential Medal of Freedom Thursday, the nation's highest civilian award.
"From the very beginning, I've known that there is no one more deserving of our nation's highest civilian honor than Attorney Gray whose trailblazing work helped end segregation and advance a more equitable future," said Alabama Congresswoman Terri Sewell.
Sewell has been advocating for Gray to receive the award.
Fred Gray was born in Montgomery and dedicated his life to seeking justice for Black people in the courtroom. He's most known for representing Martin Luther King Jr., Rosa Parks, NAACP and victims of the Tuskegee Syphilis study.
At age 91, Gray is still practicing law.
Among the 16 other recipients of the medal was civil rights activist Diane Nash. Nash was born in Chicago and is most known for co-founding the Student Nonviolent Coordinating Committee (SNCC). Through her leadership in SNCC, she helped lead the Freedom Rides, Selma Voting Rights Movement and lunch counter sit-ins.
King described her as "the driving spirit in the nonviolent assault on segregation at lunch counters."
"Unshakeable courage and leadership, Diane Nash, shapes some of the most important civil rights efforts in American history," said President Biden during the ceremony.
It wasn't until years after the civil rights era that Nash received recognition for her work.
Nash continues to be an advocate for nonviolent movements.