Birmingham leaders say decision to ban Russian athletes from the World Games 'a show of solidarity'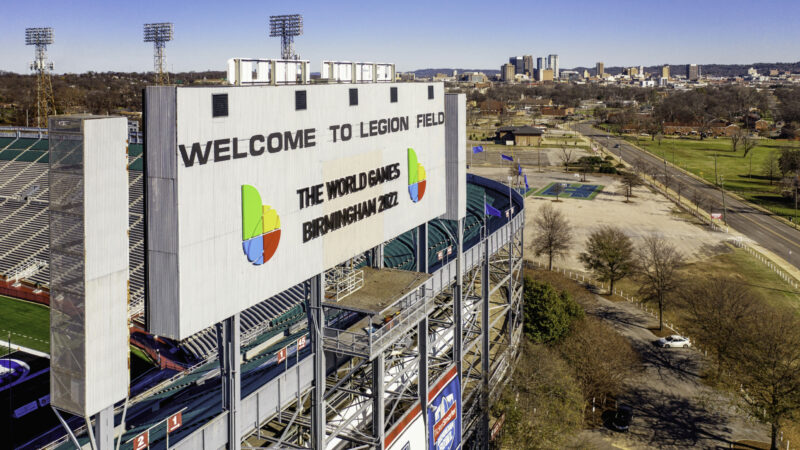 Birmingham Mayor Randall Woodfin said he took no joy in the decision to block Russian and Belarusian athletes from participating in the World Games, which Birmingham will host in July, but that allowing the athletes to compete would ignore Russian President Vladimir Putin's aggression against the people of Ukraine.
Those comments came Tuesday at the Birmingham Kiwanis Club, a day after the World Games board of directors voted to enact the ban in response to Russia's invasion of Ukraine.
"By daring to battle against the persecution of innocent people – that's our legacy that we stand proud on. That's the legacy that we look forward to showing the world," Woodfin said, referencing Birmingham's history of social justice and civil rights.
On February 24, Russia attacked Ukraine. Since then, many countries have enacted sanctions on Russia or made other moves to isolate the country. Belarus is an ally of Russia.
The World Games's ban followed a recommendation the same day from the International Olympic Committee executive board which said athletes from Russia and Belarus should be banned from worldwide competitions.
"We had to show our solidarity at this moment with the Olympic movement and the rest of the free world in supporting peace and opposing tyrannical behavior of Putin," World Games CEO Nick Sellers said.
At least 100 Russian and Belarusian athletes were expected to participate in this summer's World Games. As of now, over 50 Ukrainian athletes are scheduled to compete in 11 sports, although it's not clear if they will be able to attend when the games start on July 7 given the fighting in Ukraine.
Woodfin and Sellers both said it was not an easy decision to bar the athletes. Woodfin said he believes the World Games will be a unifying event.
"This decision is not meant to divide us. Instead, it is a show of solidarity for those who need it the most," Woodfin said.