Bill Clark has a knack for making comebacks. Will he make one more?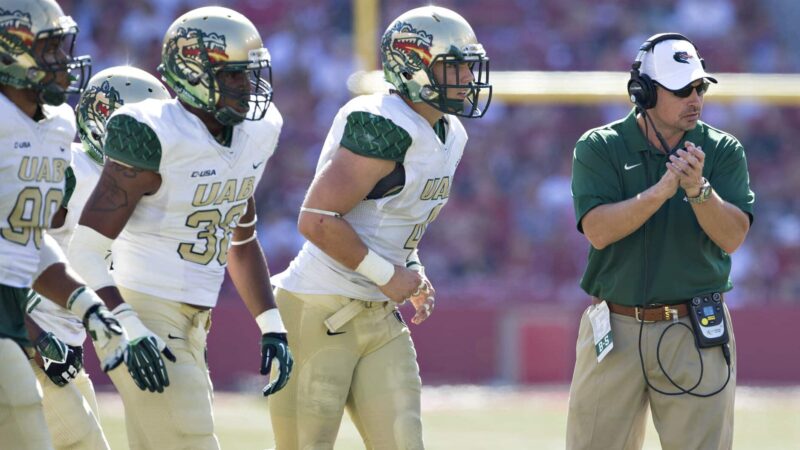 When Bill Clark got the nod as head coach of the UAB football team, he took on a program that had been floundering, having just won two games the year before. However, in 2014, Clark's first season, UAB went 6 and 6, and was bowl eligible for the first time in a decade. The Blazers would not, however, get to play in the postseason that year.
Football had been something of an afterthought at the university, by some accounts, since its introduction as an officially sanctioned team in 1991. But as Clark's debut season was coming to a close, rumors swirled that an actual shutdown was coming.
Then, just three days after the Blazers won their last regular-season game, UAB President Ray Watts announced the university would end the football program, mainly for budgetary reasons. Members of the Blazer nation were devastated, especially the players and coaches whose scholarships and paychecks were in jeopardy.
Many in the program started to look for greener pastures, or least fields where football was played. Clark, on the other hand, stayed and began work to revive UAB football. In large part because of his efforts, the university reversed course just six months later.
Comeback and turnaround
Watts and the rest of UAB leadership basically made a deal with the community: If they able to raise enough money to provide a solid foundation for football, the program would be resurrected.
Hatton Smith, the former CEO of the Birmingham-based business Royal Cup, was asked to lead the fundraising effort. In that role, as chair of the UAB Athletic Foundation, he worked closely with Clark and gives the former coach much of the credit for the comeback.
"He was the guy who was the architect of success," Smith said. "He stayed during the shutdown."
Smith went on to explain that Clark only had a few players who stayed with him. Otherwise, the coach had to reconstruct the UAB football program from scratch. But against the odds, Clark brought the team back from the dead, and managed to put together a winning program.
"When UAB football came back," said Smith, "we were winning and we started drawing crowds. I mean, all of a sudden, UAB football mattered."
In 2017, the first season after the comeback, the Blazers finished with an overall record of 8-5 and landed their first bowl appearance in 13 years. Although the Blazers lost in that game—the Bahamas Bowl—at least they actually got to play. That season Clark was named CBS Sports National Coach of the Year, as well as Conference USA Coach of the Year.
That success has continued through to the present. The Blazers have now compiled the most wins of any team in Conference USA since 2017, and they've competed in three Conference USA championships, winning in both 2018 and 2020.
He said outlandish things
In addition to his success on the field, Clark gets credit for helping give UAB–as well as Birmingham–something of an attitude adjustment. Two visible components of that morale boost can be seen on the Birmingham skyline.
A portion of the funds raised while the program was being revived were used to build a new practice facility for the team that stands over the UAB campus. The $22.5 million complex, which includes an operations center and practice fields—one of which is covered by a five-story-tall, 80,000-square-foot pavilion—was a dream of Clark's. When it was completed in 2017, the facility was considered by some to be the best in Conference USA and has, say many affiliated with the program, helped in recruitment.
Then, last year, the city opened Protective Stadium. In addition to serving as UAB football's new home field, the 45,000-seat, $188 million multi-purpose arena served as the main venue for both the 2022 World Games and the new USFL's debut season.
The idea of building a stadium to replace Birmingham's storied, but aging, Legion Field had been kicked around for more than three decades. Ironically, it was the death, then resurrection, of UAB football that finally served as the impetus to get it built, and Bill Clark played a central role.
Skip Craig is an alumnus of UAB, as well as a former employee, and he served on the university's National Alumni Society board of directors. He's also a big fan of UAB sports.
Craig said of Clark and his work on the stadium, "He's meant a great deal to the city, because he realized, in my opinion, that all of the entities—city government, county government, even the state government, and the university—would have to come together and work together to be able to build a new stadium."
One of the secrets to Clark's success, according to Craig, is that he rarely turned down an opportunity to connect. "He didn't work in a vacuum," Craig said. "He was always out there in the community talking to people."
Former Blazer Nick Vogel, now a kicker for the USFL's Houston Gamblers, said Clark's leadership abilities are something to behold.
"You have a guy," said Vogel, "that came and said almost outlandish things to a program like UAB. 'We're going to be a winning football program. We're going to do it the right way. We're going to build a new stadium.'"
Vogel said Clark's legacy is" he said all these things that some people may have laughed at, not believed in. But he did every single thing he said he was going to do."
That kind of success—on and off the field—became a sort of shot in the arm for the area.
"He was really a proponent for making UAB Birmingham's team," said Scott Scharding, a self-described UAB super-booster.
Scharding explained that Clark believed that, as "UAB Athletics and UAB football became a bigger deal [and] had more success, that would in turn benefit the city of Birmingham. And what we know now about Protective Stadium—it would probably never happened without [Clark's] vision and his just tireless work ethic, going out into the community and talking about … how great Birmingham is."
Kind of shocking
Clark's efforts did seem tireless to many who've followed his efforts. Clark, himself, also seemed unstoppable, no matter the obstacles in his path.
Tristan Henderson played for Clark at the time the program was shut down and stuck with him through the comeback. He's now on the Blazer's coaching staff, as a tight end analyst.
"To Coach Clark," Henderson said, "the adversity you go through, it is what it is. He's a guy who has an agenda and he wants to get it done…He just has this determination, this drive. It doesn't matter who or what is in his way."
It's that sort of power-through attitude that made Clark's decision to retire as coach this summer a surprise to many who know him. In late June, Clark announced he was stepping down for what he said were health reasons. A back injury he's had since high school was needing surgery and would require months of recovery afterwards. Clark didn't feel as if he could do both—coach and rehab—at the same time.
The news caught Henderson off guard. "It was kind of shocking," Henderson said. "You always look at coach Clark as the guy who's never going to quit. I told him when he left, I was like, man, 'Coach, I thought I was going to be dead and gone, and you were still going to be coaching here at UAB.'"
Sidney Wells, a senior right tackle, who has played for Clark the past three years, felt the same way about Clark's announcement. "I didn't see it coming, because talking to coach Clark and learning about what he's been through, he's always saying that he's been pushing through pain."
Wells, though, said don't count out Clark for a comeback. "If everything goes well in his recovery process, I feel the competitor in him will bring him back."
Craig agreed, "I think a whole lot of us have this funny feeling that he may come back, if he's able to heal."
Clark is not necessarily ruling it out. As he said during the press conference in which he announced his retirement…
"My mind, right now, is on this team and what I can do to help from the side." He then added about a comeback, "I'm just not going to say never."
Regardless of what Clark choses to do, he's earned high praise from many in the Birmingham area. Hatton Smith, the UAB Athletic Foundation chairman, called Clark a "folk hero," and went so far as to put Clark's name in the same sentence with another of Alabama's favorite sons.
"People still remember Bear Bryant," said Smith. "He's sort of the godfather of Alabama football. And Bill Clark, his legacy would be that he put UAB football on the map."
UAB holds WBHM's broadcast license, but the station's news and business departments operate independently.