Alabama's Hunting 101 workshops target newcomers — and conservation dollars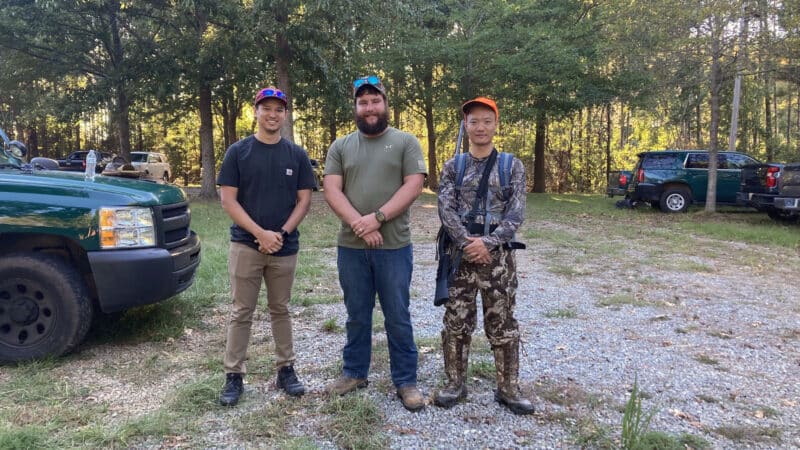 This story is part of a monthly series called Outdoor Connections, which features stories that explore the biodiversity of Alabama and how we depend on it.
Standing in a wooded area near Montevallo, Mary Phillips watched wildlife biologist Luke McCray kneel down and rub his shoulder against a tree, showing how a deer would rub its antlers and forehead to leave behind its scent.
"This is what you would call a scrape," McCray explained. "When a person does it, you call it a mock scrape."
McCray was one of several biologists and hunting experts teaching a Hunting 101 workshop to Phillips and two dozen other adults from across central Alabama.
"I have no idea how to hunt," Phillips said. "I'd really like to know how. I'm half Eskimo, and a lot of my ancestors knew how to hunt, know how to hunt."
Nearby, Christopher Carr, who's been trying to hunt on his own for about three years, listened to a presentation about safety rules and selecting the right gear.
"I really wanted to pick the minds of people that do this every day, that are involved in the conservation efforts," Carr said.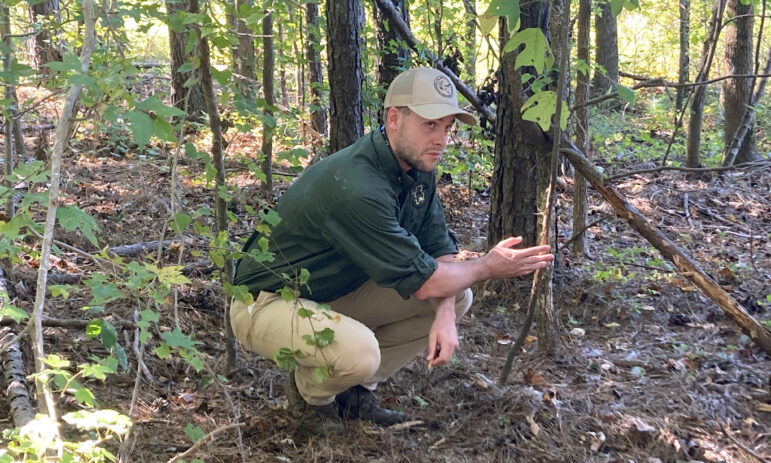 The day of classes and hands-on instruction offered an introduction to hunting for people of all backgrounds with little to no experience. It's part of the Adult Mentored Hunting Program, a recruitment effort hosted by the Alabama Department of Conservation and Natural Resources (ADCNR).
"Hunting is something that has traditionally been generational," said Justin Grider, R3 (Recruitment, Retention and Reactivation) coordinator with ADCNR. "If your family didn't hunt, there's a good chance that you probably never got into it. So this program creates an avenue for those people that are interested."
The program is also trying to reverse a decades-long trend away from the activity.
Rates of hunting participation have steadily declined across the United States since the 1980s. That's concerning for state conservation agencies, because they depend on the sale of hunting licenses to fund wildlife restoration projects.
"If you care about wildlife and you care about conservation, one of the best things you can do is purchase a hunting and fishing license, even if you don't hunt or fish," Grider said.
This funding model is based on a federal law known as the Pittman-Robertson Wildlife Restoration Act, which passed in 1937. It requires companies that make guns and hunting equipment to pay up to an 11% excise tax on those products. That money is divided among states to pay for wildlife conservation and hunting management. States get more of this money if they sell more hunting licenses.
Some critics of this funding structure argue it's not fair to gun manufacturers, while others say it creates an unhealthy dependence on hunting among conservation agencies.
For now, more hunting licenses mean more money to protect endangered salamanders, freshwater mussels and bats.
"It's an incredible opportunity to fund things that everybody cares about," Grider said. "But if there's not a user base, the funding model doesn't work."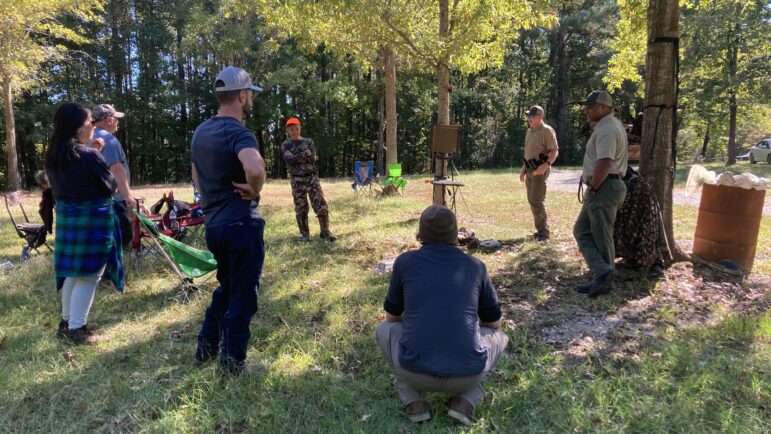 ADCNR started the Hunting 101 workshops in 2017, after recognizing a lack of training opportunities for adult learners. Grider said it's been successful, attracting hundreds of students from across Alabama.
Participants of the October workshop said it created a space to ask questions and learn from experts.
"Many of the people here have been hunting since they were six, seven years old," said Carr, from Anniston. "I didn't grow up in a household where my parents hunted, so this is very new, foreign territory."
Phillips, from Trussville, also left the day with important advice gained during target practice.
"I've been shooting for about a year now and I've just learned that I've been holding the gun the wrong way," she said.
Many participants said they want to start hunting to be more self-sufficient and better connect with their food source.
While white-tailed deer and wild turkey are the most popular game species in Alabama, workshop instructors also spread the word about small species, like pigeons, rabbits and squirrels.
For participant Tyler Luker of Sterrett, that brought back memories of eating squirrel dumplings as a kid.
"They're delicious," he said. "My grandma never cooked it because she said she can't eat rat. She thinks it's just a big old steroid-infested rat. But you don't taste the game. It's almost like chicken and dumplings. But when you pick it up, you will see the body and it does not look like a chicken."
For those who want to whip up their own dish, squirrel season ends March 5th.
Do you have an idea worth featuring as part of our Outdoor Connections series? Email maryscott@wbhm.org.