You're Right, It Has Been Raining More Than Usual This Summer In Birmingham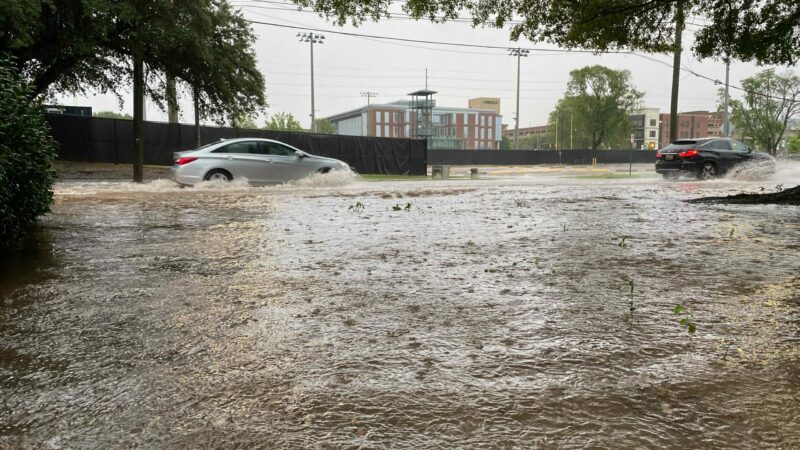 If you feel like it's raining a lot more than usual this summer, you're right.
"We're no stranger to showers and thunderstorms here during the summer months, but we have exceeded the normal rainfall across much of central Alabama," said Jason Holmes, a meteorologist at the National Weather Service (NWS) in Birmingham.
In Birmingham, the rainfall was 3.68 inches above normal at 8.46 inches in June. In July, it's been 3.24 inches above normal at 8.66 inches. Overall since the beginning of 2021, the rain has been 9.04 inches above normal at 44.87 inches.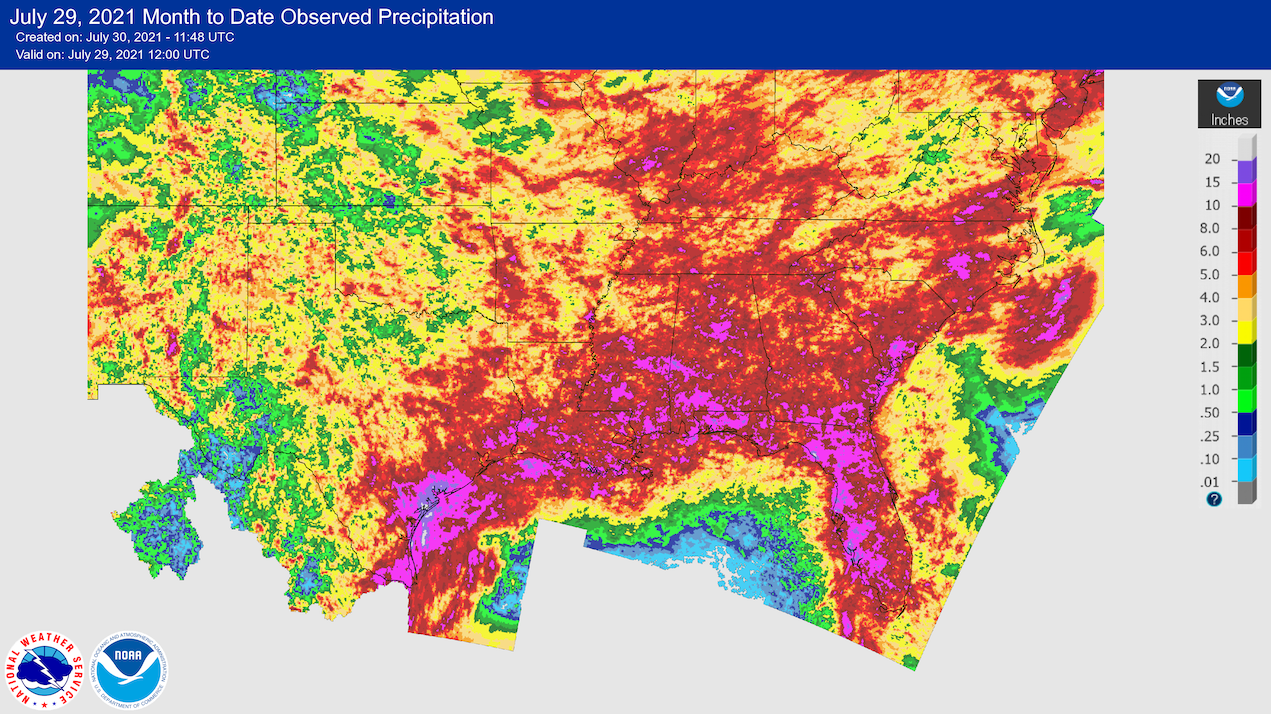 Rains from Tropical Storm Claudette, which passed through the region in June, contributed to the high numbers. A strong high-pressure system in the West is also a factor. While places like the northwest United States and southwest Canada are dealing with record high temperatures and wildfires, the opposite effect is happening here. As a result, central Alabama is experiencing lower temperatures and flash floods due to the high amounts of rain.
In fact, there were 29 flash flood warnings issued by the NWS in Birmingham since May 1. These warnings go out to 39 counties in central Alabama. By comparison, last year there were only four. Flash floods occur when there is more rain than the soil can absorb, causing run-off, and it's usually worse in urban areas.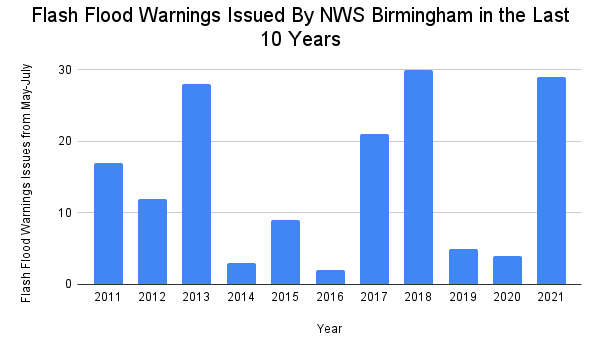 Tom Di Liberto, a climatologist at the National Oceanic and Atmospheric Administration's climate program, says this kind of weather is consistent with what scientists expect to see through the middle of the 21st century in terms of climate change. More moisture in the atmosphere leads to more heavy rainfall.
"Extreme rainfall events are increasing, and they're expected to increase even more across the southeast due to climate change," Di Liberto said.
Both Holmes and Di Liberto suggest staying prepared for heavy rainfall and flash floods: being aware of the areas near you that are likely to flood, knowing where to go if your house is prone to flooding, and getting flood insurance. The NWS calls this being a "weather-ready nation."
"That's basically being ready for these sorts of extremes because, you know, the science says that these extremes might happen more frequently," said Di Liberto.
Editor's Note: The headline of this story has been updated to change "You're Not Crazy…" to "You're Right…"