Why nearly $910 million meant to prevent evictions in Gulf States has been left unspent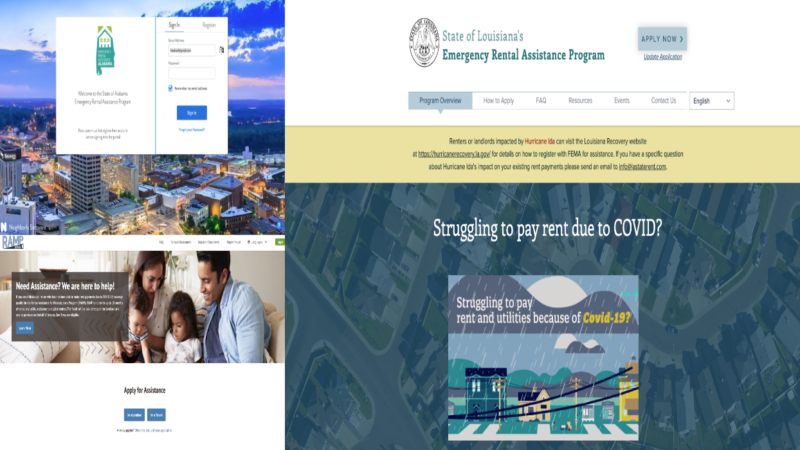 Mississippi, Alabama and Louisiana gave out about $45 million in federal funds in September to keep renters from being evicted, according to data from the U.S. Department of the Treasury.
These states, however, have another $910 million that still hasn't been spent, according to the data. In Alabama and Louisiana, nearly $24 million fewer dollars were spent last month when compared to August.
The delay in getting the money into the hands that need it is happening despite the Centers for Disease Control and Prevention's eviction moratorium being lifted at the start of September, putting more people at risk for eviction.
The relief money comes from the Emergency Rental Assistance Program, established by Congress on Dec. 27, providing up to $25 billion to help Americans at risk of eviction due to financial hardship caused by the coronavirus pandemic. Three months later, the American Rescue Plan Act added another $21.5 billion to the program.
But the money was put in the hands of states and local governments, which have been slow to actually spend the funds.
Legal aid offices in the three states said they've been receiving a slow and steady increase in calls from renters worrying about or being threatened with evictions. Many callers said they've applied for rental assistance programs, but have yet to get the funds. Some judges have been willing to halt eviction orders while renters wait on the states to deliver, according to Sam Buchanan, executive director of the Mississippi Center for Legal Services.
"Fortunately the courts are respecting, for a lack of a better word, the fact that they've applied," Buchanan said.
A lack of guidance from the Trump Administration for how to spend the funds in the early days created a slow start for the program. But each state and county housing authority had different levels and its own unique red tape to deal with — or in some cases create.
Housing authorities, especially those in southern states, often had little-to-no experience executing a large scale rental assistance program. When the Alabama Housing Finance Authority got its system up, it had to balance preventing fraud with getting the money out quickly.
During a legislative oversight hearing in late September, Alabama Senator Rodger Smitherman argued the state got the balance wrong — extensive documentation requirements and vetting kept federal dollars from getting to renters, Smitherman said.
"We more concerned about [fraud] than servicing these people," Smitherman said. "We strangling these people."
This concern over fraud has clogged the rental assistance pipelines in many states across the country, including in Mississippi and Louisiana.
In Louisiana, the federal moratorium received an indirect extension when the state created its own moratorium following Hurricane Ida. That moratorium, however, ended Sept. 24, leaving the southeastern part of the state to deal with two housing crises at once.
The destruction of homes in the region from Ida has driven up rent, according to housing experts. In New Orleans, at least 125 evictions were filed between Oct. 3 and 10, the highest number for the city in almost a year.
"When we are both failing to implement a moratorium on evictions and keep renters housed and failing to properly and quickly distribute emergency rental assistance we are not living up to the values we claim to have," said Cashauna Hill, the executive director of the Louisiana Fair Housing Action Center.
This story was produced by the Gulf States Newsroom, a collaboration between Mississippi Public Broadcasting, WBHM in Birmingham, Alabama, WWNO in New Orleans and NPR.