The stadium bid for Woodlawn High School is approved. It could be built by the fall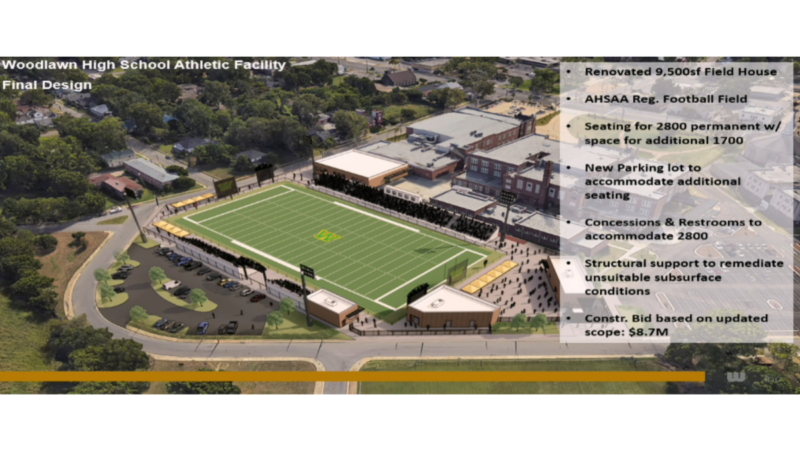 Karlos Dansby had one more reason to be thankful this Black Friday morning when he learned that the Birmingham Board of Education had accepted the bid to build a football stadium and fieldhouse on the campus of Woodlawn High School.
"Without a doubt, I'm thankful," said Dansby, a 2000 alumnus of Woodlawn who went on to play at Auburn University before playing in the National Football League. "Happy Thanksgiving to everybody, and I look forward to seeing this project come to life."
The board of education on Tuesday unanimously approved a bid of $8.7 million with Argo Building Company for a new stadium and fieldhouse at Woodlawn High. Work on the project is expected to be completed in fall 2022.
It initially rejected the bid in early November with five members voting no, two voting yes and two abstaining after the estimated base project cost more than doubled from the initial $4.2 million estimate. The architect said the board needed to increase stadium capacity to 2,800 with space for 1,700 additional seats to host playoff games, build a new parking lot to accommodate the added seating, increase concessions and restrooms and build structural support to remediate unsuitable subsurface conditions. The new board members at that time said they wanted to start over on the project and reconsider the options.
Superintendent Mark Sullivan said the new stadium will have a huge impact on Woodlawn High School and the community it serves.
"Woodlawn has a rich history of excellence in academics and athletics," Sullivan said. "We are pleased to have the support of the Board of Education on this project."
The previous school board broke ground on the Woodlawn stadium project this summer. The acceptance of the bid by the current board on Tuesday is the culmination of the process that will clear the way for construction.
Dansby was present for that ceremonial groundbreaking and is pleased ground will be broken in earnest to begin this project.
"It's much needed," he said. "It's gonna spark a lot of development in the community. It's much needed. I'm excited. Super excited. It's long overdue. I'm just happy that the board decided to move forward with this. It's a beautiful thing, a beautiful thing."