Survivors Continue To Cope 10 Years After Historic Tornado Outbreak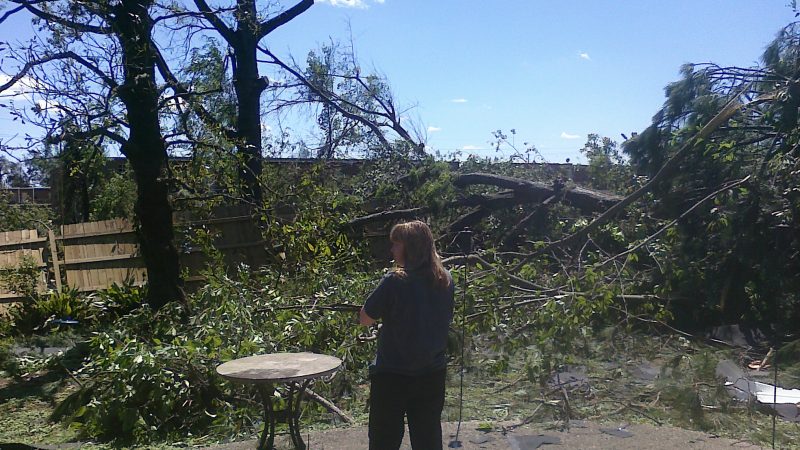 The First Baptist Church in Phil Campbell served as a storm shelter for several people ahead of the historic tornado outbreak on April 27, 2011. Tim Haney was the pastor then. He remembers the sounds as the tornado swept through the town.
"You could hear babies crying but you could hear a whole blanket of people praying," he said.  
The church was about 10 miles away from Hackleburg in northern Alabama. Nearly two dozen people died in the town that day.  Haney said it was the power of prayer that protected many others. 
"I went up the steps to the back of the building, opened it, looked out the glass doors and everything was gone except my home," he said. 
Downed trees, power lines, debris and carnage covered the ground. Haney called it a day he'll never forget. 
Meredith Cummings remembers that day much the same. She and her young daughter lived in a neighborhood known as "The Downs" in Tuscaloosa. Their home was destroyed. 
"It's difficult to reckon with because, in the moment, there's no one to get angry with," she said. "It's mother nature and you cannot argue with mother nature. She will win every time." 
Cummings said surviving that tornado has changed her in many ways. She prepared a will, just in case. She saves things that are important – like digitizing her photos. Cummings also suffers from post traumatic stress disorder or PTSD. She said she's not ashamed and she's not alone. 
"There's probably a mental health crisis in Alabama as a result of the 70 plus tornados that day," she said. "And I think that's going to or is a problem for us that's maybe not being addressed."
You are not alone. We have an entire city and state of people with mental health issues due to natural disasters. You are not alone. We will get through each one together. Tomorrow, too. 10/

— Meredith Cummings (@MereCummings) March 16, 2021
The day after the tornados, mental health professionals were dispatched to some of the hardest hit areas across the state. Joshua Klapow is a clinical psychologist and professor at the UAB School of Public Health. He worked with residents in Pleasant Grove to offer psychological first aid; a technique designed to reduce symptoms of PTSD. 
"It was a pretty traumatic experience to be in the midst of that much devastation and carnage. It was something that I had never experienced," he said. "I had worked with disaster victims before, but never quite in the middle, if you will, at ground zero."
Klapow said he saw things that he should not have seen. Dead pets. Injured people walking around lost, clinging to their most basic items. Anything to make them feel grounded. 
"You see people who are in a state of shock," he said. "They can feel emotionally numb, they can feel on edge, they can feel nervous or anxious. Their emotions can run high. I mean, these are normal coping mechanisms."
Coping with disaster, UAB's Josh Klapow on Weather Channel from UAB on Vimeo.
Klapow said most people's anxiety will settle down a month or so after a traumatic event. However, he said about five to 10 percent of people exposed to a disaster will continue those stress reactions, which makes it harder for them; including people like Meredith Cummings.
"I'm still not good at coping when bad weather is coming. If it's a thunderstorm, I'm fine. If I know that tornadoes might be possible, I sort of … I'm still working on that," she said.
Cummings is a professor and journalist who would rather write out her feelings. She's published several articles recollecting her experience 10 years ago and her recovery since. 
For Tim Haney, the former pastor of First Baptist Church, prayer was the number one coping mechanism for most people in his community. 
"You were able to see people's lives change as a result of the storm," he said. "And I baptized several people after the fact, because when something like this happens, it'll bring you face to face with your own mortality."
Thousands of people across the state survived a near death experience 10 years ago – something that changed many lives forever.