Schools Opening Short On Teachers Because Of An Increase In Retirements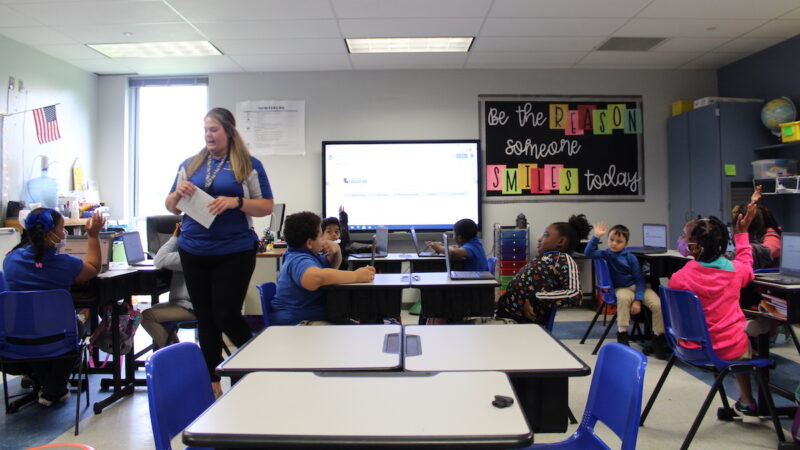 Beadie Bell has been a teacher in the Bessemer City School system for 20 years now. As a pre-school educator, she has seen many teachers come and go over the year but said she has seen a particularly "surprising" number of educators who have chosen to retire this past year.
According to the 2020-2021 numbers provided by Alabama's Teacher Retirement System, 3,515 employees retired during the school year, the highest number since the 2010 school year. It's a trend many school systems throughout the state have seen in the past year, and the number keeps growing.
That trend has left many school systems looking for new teachers, even as they begin opening their doors for the new school year.
Jefferson County's school system, for instance, has 63 open slots for certified teachers, counselors, and coaches posted on the Alabama Department of Education's site as the system nears its Aug. 10 opening date. Birmingham City Schools had 56 open teaching positions listed on the DOE site and 29 open sports coaching positions as schools started Tuesday.
Mountain Brook and Homewood schools have had more luck, with 11 open classified jobs, which are non-teaching or administrative positions.
The number of vacant classified positions in Bessemer City Schools is for 62 teachers and specialists. The system opens Aug. 12
"Hoover City Schools had a higher number of certified employees [such as teachers, administrators or librarians] retire at the end of the 2020-2021 school year, as compared to the past three years," said Mary Veal, the director of Human Resources for Hoover City Schools. "Tier 1 employees in the Teachers' Retirement Systems of Alabama can retire with 25 years of service and apply accumulated sick leave towards retirement service."
This year there were 28 certified employees in Hoover City Schools with 25+ years of service, compared to 23 in 2020 and 2019, and 19 in 2018.
Many teachers blamed the pandemic as they were leaving the profession last year, citing either health risks, technological changes, or a lack of appreciation for their extra efforts.
But Veal pointed out that those who retired were not required to provide a reason for their retirement.
"Very few provide reasons behind their decision," said Veal.
She said the combined service for the 28 certified employees totaled 786 years.
"There were additional employees [certified and classified] that were eligible to retire based on being vested in TRS for 10+ years and reaching a specific age," she said.
However, Hoover has filled many of the certified teacher slots and had five open positions posted on the DOE site this week.
Whit McGhee, head of public relations for Vestavia City Schools, said that while Vestavia has seen a high number of retirements, school leaders have been able to properly fill their staff with new hires in preparation for the upcoming school year.
"Earlier this week, we held our annual New Teacher Orientation in which we welcomed 79 new faculty members to our school system," McGhee said. "We're excited about welcoming these new staff members, many of whom already began working in their positions earlier in the summer to get a head start on the upcoming school year."
Vestavia Hills has 16 certified positions open, according to DOE's list. One of those jobs is as a sports coach and nine are listed as "anticipated openings."
John Huddleston, head of public information for Jefferson County Schools, said the system has had more vacancies than in previous years.
"A larger number of retirements is just one of the reasons. We are working diligently to fill all the vacancies and encourage anyone wanting to teach to apply at jefcoed.com," he said.
Complicated Decisions
According to Bell, pinpointing a singular reason for the high retirement rate is more complicated than people think. She personally credits the high numbers to a variety of reasons, mainly the increasing stresses of adapting teaching methods and teachers' personal/family health issues.
"A lot of teachers didn't choose to adjust. I'm not going to say 'couldn't,' but you know, they chose not to adjust as far as doing the virtual aspects of learning, and there were health reasons of their own and family members and spouses," Bell says. "I know in particular someone who retired because her daughter had illnesses, and she had the years and she wasn't ready to retire, but because of COVID she didn't hesitate to say, 'I'm out. My child's health is more important.'"
Bell said that if she had reached the maximum number of required years, she probably would have chosen to retire, as well.
"With the technology and the growing demand for us to pull double-duty, it was difficult because we were all on the frontlines, and now we have things we never thought would be the norm, like Zoom meetings and virtual classes; they are the norm now. I'm just glad I was able to adjust and keep up, but it was difficult," she said.
As the uncertainty of last year continued to grow, Bell said the rate at which teachers were expected to adapt became more than stressful.
"We're not only trying to keep the children safe, but now in addition to all these lockdown drills and other safety measures, it's like, 'I went to school to teach, not to bar the door,' but it's so serious what all we have to think of now versus before when all we had to worry about was tornado drills and fire drills," she said.
Elizabeth Smith, a fifth-grade teacher at Spring Valley School in the Birmingham city system, credits the high number of teachers leaving the profession to teachers feeling unappreciated and overworked. Smith frequents online message boards for teachers throughout the country, and she said she has seen a common trend in educators expressing frustration at the current state of the education system. According to Smith, educators went from being praised as essential workers to being deemed "selfish and not in it for our children because of teachers looking out for their own and their family's health."
"I believe that the way educators were villainized during the pandemic, mixed with the already horrendously low pay, general lack of respect from the country, especially those in charge of the [U.S.] Department of Education, and dropping parental involvement and support are the reason for the abnormally high teacher turnover rates that we are seeing across our country," Smith said.
The well-being of students is a concern all teachers have on their minds, according to Bell, and helping them remain calm during the past year has been a top priority.
"We don't even know where this thing is going, so we can only imagine how [students] are feeling … I think our school system is doing the best that they can among them all."
While losing so many talented teachers is unfortunate, Bell said she understands why they chose to retire.
"When you feel it's time to walk away, then it's time. Those who left, I wish them well. They freed up some space, and now we can get some new people in who have the energy to keep going and are ready to rock and roll. That's what we need now because things are constantly moving, and nothing will ever fully be like it was," she said.
Smith said educators who are choosing to stay in the field are "most definitely in it for the children." While she said her own institution has made sure to value its educators, she knows there are some school systems that are not as rewarding.
"Luckily for me, the school in which I work takes the time to make us educators feel valued, heard, and respected," she said. "The nature of a school's climate and its administration have a lot to do with the speed of teachers leaving the profession. Unfortunately, I have a feeling that if our country continues to view educators the way we have been over the past few decades, we will be seeing this trend continue."