Prison visits are back in the Gulf States. Many have not seen loved ones for nearly 2 years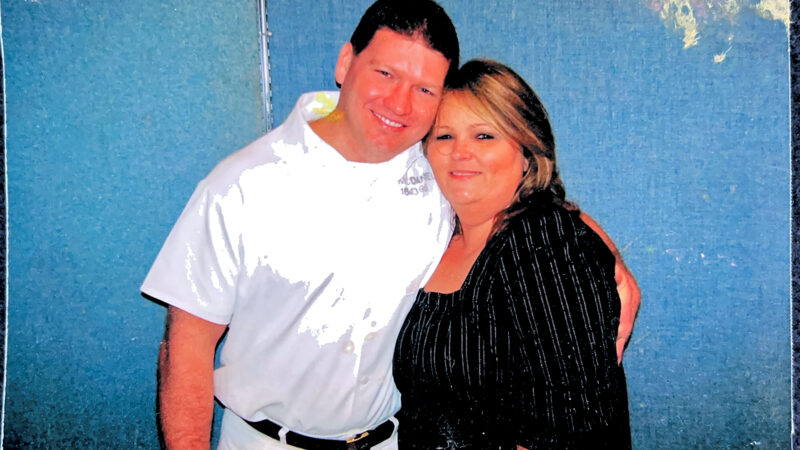 When COVID-19 hit the Gulf States region in March 2020, state officials were swift to react in order to prevent the spread of the virus. One of those actions taken was to shut down in-person prison visitation, limiting the number of people who come in contact with the incarcerated population.
For over a year, more than 70,000 people incarcerated in Alabama, Louisiana and Mississippi were not able to visit with their loved ones, impacting both the prisoners and their family members. The Alabama Department of Corrections was one of the last states in the country to reinstate in-person visitation for family and loved ones, holding off until Dec. 4. Louisiana and Mississippi began allowing family visits in October and November.
One of those impacted family members was Dothan, Alabama resident Virginia McDaniel. Her husband, Kenneth McDaniel, is incarcerated at the Easterling Correctional Facility in southeast Alabama. Before the pandemic, she said she'd make the hour-long drive every Sunday for the past five years to visit Kenneth. But for 20 consecutive months, the state department of corrections kept visitation closed to family members and Virginia and Kenneth were only able to communicate by phone and video visit.
"When you die, you're gone. You don't get to see him. Sometimes that's what it feels like. Like he's dead but he ain't dead," Virginia said.
A severe impact on mental health
Kenneth has been in prison since 2008. He's serving a 100-year sentence for a 2006 car accident that killed three of his passengers. He and Virginia met not too long after the accident and married in 2018 in the prison.
"You get to feel that happiness for three hours that we got to visit," Virginia said.
As months passed without in-person visits, Kenneth began to tell his wife how his mental health had been impacted without visitation, Virginia said.
"Being away from my wife has been hard already, but the last couple of years of not being able to put my arms around her or just hold her hands while we talk has really mentally drained me," Kenneth told Virginia in a letter he wrote recently, which Virginia shared with the Gulf States Newsroom. "I've been doing this for 14 years, and I will say that the last couple of years without our physical visits have really confused my mental state and disheartened my way of looking at life."
Over the past decades, studies have long shown that prison visitation has positive effects on incarcerated people's mental health, behavior and recidivism rates.
A 1987 study by the Justice Center at the University of Alaska at Anchorage found that visitation can positively affect a person's parole success, and they advised correctional institutions to maximize visiting opportunities. The Minnesota Department of Corrections published a study in 2011 that reported visitation can reduce recidivism by 13% to 25%.
Different routes to reinstating visitation
In the midst of the coronavirus pandemic, departments of corrections had to act quickly since prisons are prime settings for COVID-19 to spread. Visitation at most prisons in the Gulf States region remained closed until 2021 once vaccines were widely available and distributed, but Alabama prisons kept visitation closed well into the year, even after people were taking COVID-19 booster shots.
When the state allowed visitation again in December, several restrictions were put in place. During visits, everyone must wear face masks and only two people can be there at a time for just one hour. A plexiglass barrier separates the prisoner from their visitors, and they aren't allowed to touch.
"The Alabama Department of Corrections understands the importance of sustained connections with loved ones and continues to work toward its goal of lifting restrictions on the current, modified in-person visitation process," department spokesperson Kristi Simpson told the Gulf States Newsroom in an email.
In Mississippi, five people can visit a prisoner for up to four hours, and touching is allowed. Similar policies are in place in Louisiana, where up to six people can visit a prisoner for two to three hours, and contact visits are allowed for vaccinated prisoners. Both states require people to social distance and wear face masks to limit the spread of COVID-19.
"We use the masks, social distance, do the temperatures," said Mississippi Department of Corrections Commissioner Burl Cain. "People hadn't seen their children in a long time. Hadn't seen their relatives, so why not? It's good for the families' morale. It's good for the inmates' morale."
He said the Mississippi health department supports the policy.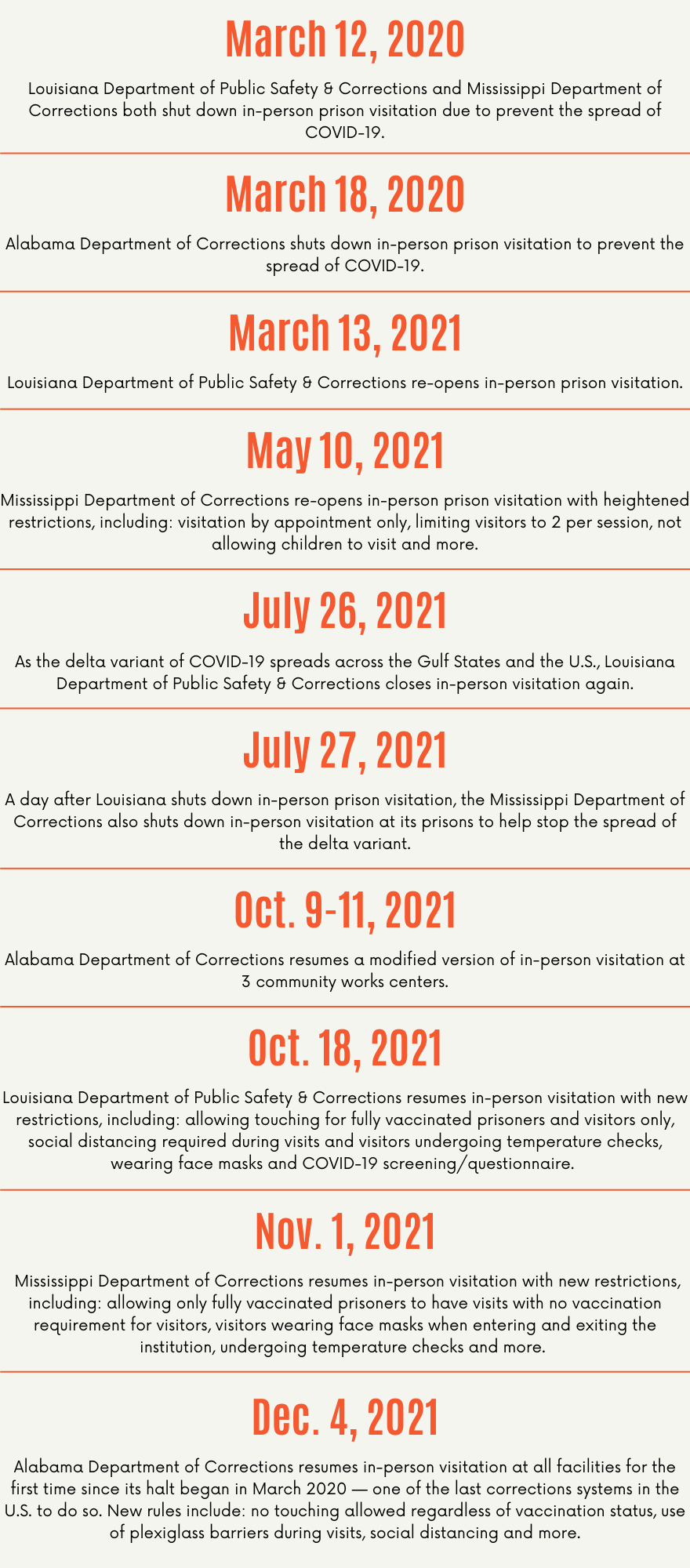 'What Alabama is doing does not actually make sense'
Laura Szeremi, a Florida resident whose best friend is in prison in Alabama, said she hopes Alabama will reconsider its visitation policy.
"What Alabama is doing does not actually make sense," she said. "Look at what Commissioner Cain is doing in Mississippi. It's common sense, and it makes sense to minimize the risk of COVID."
Szeremi is an Alabama native and produces a podcast about wrongful convictions in the South. She said the state's prison visitation policy feels like a penalty for the loved ones of the more than 24,000 people incarcerated in Alabama prisons.
"That's a lot of families," Szeremi said. "Visits are so important for family bonding. This has really been punishing families, and the families aren't in prison. And they shouldn't be punished."
However, the Alabama Department of Corrections remains confident in its approach to visitation.
"As we have been throughout the course of the COVID-19 pandemic, we will remain cautious and methodical in our approach to lifting restrictions at an appropriate and safe time to ensure the well-being of those who live and work inside our facilities," Simpson, a spokesperson, told the Gulf States Newsroom.
As for Virginia McDaniel, she was finally able to visit her husband, Kenneth, for one hour on December 12. As she made the hour-long drive from her home in Dothan to the prison in Clio, Alabama, she said she felt both nervous and excited. When she got to the prison, only three families were there to visit, with many families deciding to not make the trip for such a short visit.
"It was torture knowing that my husband was sitting across the table from me, and I couldn't touch him and hug him," she said. "I married him because I love him. And I'm gonna be here 'til the end."
This story was produced by the Gulf States Newsroom, a collaboration between Mississippi Public Broadcasting, WBHM in Birmingham, Alabama, WWNO in New Orleans and NPR.