NBA G League's Birmingham Squadron hosts home opener at Legacy Arena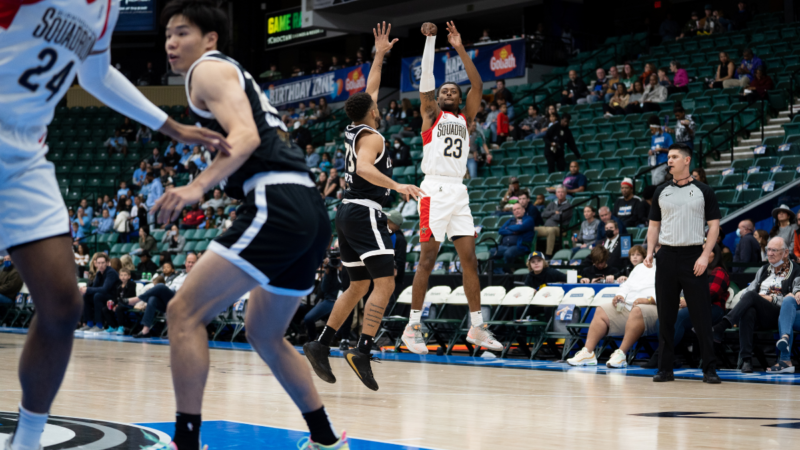 The Birmingham Squadron, the city's NBA G League team, will welcome the Mexico City Capitanes for its home opener at the newly renovated Legacy Arena Sunday, December 5.
The G League is the official minor league organization for the NBA with the Squadron as an affiliate of the New Orleans Pelicans.
"What makes this very special is the proximity of Birmingham to New Orleans," sportscaster Eli Gold said.
It is possible, if the Pelicans are down a man, due to injury or illness, they can contact a player from the Squadron to fill in.
"A player could ostensibly practice in New Orleans with the Pelicans in the morning, then either fly or drive to Birmingham and play a game that night or vice versa," Gold said.
Gold, known as the voice of the University of Alabama's Crimson Tide football team, will also be the voice of the Birmingham Squadron. He called the city's newest minor league team "something new and exciting for basketball fans."
David Lane is the general manager of business operations for the Birmingham Squadron. He and leaders with the Pelicans organization sought the city because of its sky-high ratings of NBA broadcasts.
"Birmingham is always in the top five of NBA viewership on television and radio," he said. "We also knew that there was a strong sense of urgency for a professional basketball team to be in Birmingham."
The team drafted guard John Petty Jr. earlier this year after his fourth season with the Alabama Crimson Tide's men's basketball team. A son of the state, Petty Jr. was excited to play this level of the game he loves.
"I never thought I would be here and be this close to my family and friends," he said. "It's a blessing to be able to put my home state on the map like this and to be able to do something special for the city."
The Squadron will host nearly two dozen games at the newly renovated Legacy Arena, a venue Petty knows well.
"I played there for high school state championships and I played a few games with Alabama there, so I'm pretty familiar," he said. "But the guys, they're going to love the gym. I just drive out to see it every day and I can't wait to get in there."
Petty and others who are familiar with the Legacy Arena will notice changes to the venue. The $125 million renovation includes additional club levels, new locker rooms, a lighting system, concession outlets and 15,000 new seats for fans.
"The fanbase here, they love sports," said Lane, the Squadron's GM of business operations. "Plus, if you create a fan-friendly atmosphere inside your arena or stadium, folks will have a great time and they'll want to keep coming back."
Lane said basketball fans will experience NBA quality on and off the court. But that's expected in a city that has maintained a minor league baseball, soccer and hockey team. Sportscaster Eli Gold said Birmingham does it best.
"All of those franchises, they do it well. They make it a fun event. It's family-friendly and ticket prices are very reasonable," he said.