Legislative Wrap-Up: Transgender Sports, Abortion, Riot Bills Advance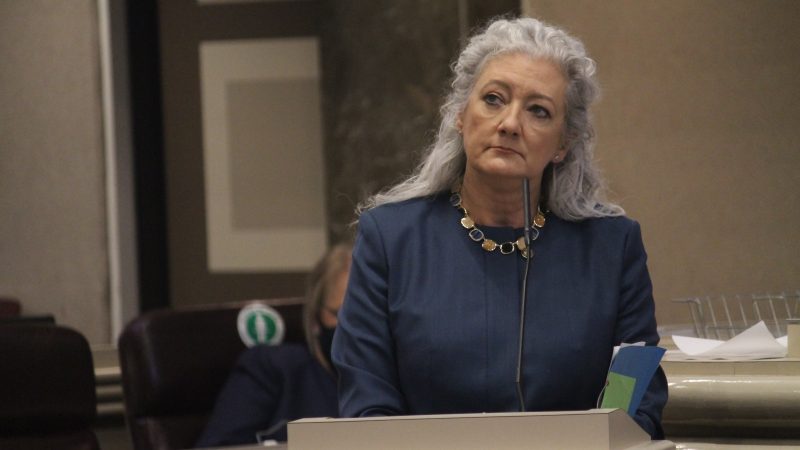 Alabama lawmakers plowed through a packed legislative agenda in the Alabama State House this week despite a tornado outbreak on Wednesday that lasted all day and well into the night. We checked in with Don Dailey, host of Alabama Public Television's Capitol Journal, for the week's highlights.
The House voted to ban transgender girls from playing on female sports teams. Tell us about this.
This is legislation sponsored by Rep. Scott Stadthagen from Hartselle in north Alabama, and he says it's always been about fairness to girls and women in athletics versus being anything against transgender athletes. As a longtime supporter of girls and women's sports. He says he's seen the strides that have been made in combating inequities and that he simply felt that allowing transgender girls and women to compete in sports that don't correspond with the gender on their birth certificate is just presenting an unfair advantage. There are obviously folks on the other side that contend that is discriminatory and part of a larger effort to push back on transgender rights this year, not only in the Alabama legislature, but in other state legislatures around the country. There are those who disagree with the contention that these transgender athletes would possess any more or any greater abilities than those they are competing against. It has brought out a lot of passionate debate.
Let's talk next about an abortion-related bill. House lawmakers passed a measure that says if a doctor tries to perform an abortion and that fails and the baby is born alive — that the doctor will offer the same care to keep the baby alive as a doctor would for any baby. Tell us what happened here.
This is what's called the Born Alive legislation and it's sponsored again this year by Rep. Ginny Shaver of Leesburg. It would institute criminal penalties against doctors who don't take those measures to save a baby's life who was born alive during an abortion or an attempted abortion. Now, Rep. Shaver has been pressed on whether this is an actual issue in Alabama. And she does say that while it is a rarity for this kind of situation to arise, it can happen. And she wants to have a law in to be codified here in Alabama that would guard against doctors who might not take every measure possible to save the baby's life if it were born alive during an abortion or an attempted abortion.
As some of the bill's critics pointed out, Alabama already has a ban on abortions at the point where this could happen – where a fetus could survive outside the womb – so what's the point of the bill?
Yes, and Rep. Shaver has answered a lot of those questions during this debate, but she says she goes back to the to the simple premise that if it happens, she wants to guard against the loss of a baby's life in instances like these.
The state Senate approved an education budget this week. What are the highlights?
It's a record $7.6 billion education budget. Some of the highlights include a 2% cost of living increase for teachers and all other education employees. There's more money in this budget to put more people into math and science teaching positions. We need to fill gaps, so to speak, where math and science teachers are concerned. We have teachers currently in some of these positions around the state who are not credentialed, so we need to do a better job of attracting more math and science teachers to the state. And money talks when you're looking at things like this.
A comprehensive gambling bill that would have added a lottery and several casinos around the state failed in the Legislature recently. But a lottery has come up again this week?
Yes indeed, a couple of new lottery-only bills were introduced and one of them was passed out of the Senate Tourism Committee this week. It's sponsored by Sen. Jim McClendon of Springville. The same committee also passed a couple of bills that contain what's called "enabling legislation" — the fine print that would go along with a lottery bill. And one of them was also enabling legislation for a gambling expansion bill. Sen. Del Marsh of Anniston, who sponsored the big expansion bill, says he's putting this enabling legislation back out there again in case there's renewed interest in this in the future. And he feels that there may very well be renewed interest in this. So he wants to be ready in case there is.
Other Highlights
State lawmakers approved a bill to stiffen penalties for participating in riots and traffic-blocking demonstrations. Black lawmakers and advocacy groups sharply criticized the legislation yesterday, saying they fear it will be used to silence and jail demonstrators. The Republican-dominated House voted 74-25 for the bill, which now moves to the Senate. The bill's sponsor, Rep. Allen Treadaway, who is a former Birmingham assistant police chief, says the measure is needed to crack down on violent behavior. Opponents have raised concerns about the vagueness of what could be considered a riot. 
The Alabama House approved a ban on curbside voting. Lawmakers voted along party lines 74-25 for the bill with support from Republicans. The measure now moves to the Senate.  Supporters say the bill is needed to protect election integrity. Opponents argue the state is cutting off an avenue that might make it easier for elderly and disabled people to vote. The legislation came after a court fight over the need to open up alternative methods to vote during the COVID-19 pandemic. 
With reporting from Andrew Yeager and The Associated Press.
Editor's Note: This interview was edited for clarity and length.