Legislative Wrap-Up: Medical Marijuana And Yoga Bills Pass, Gambling Bill Stalls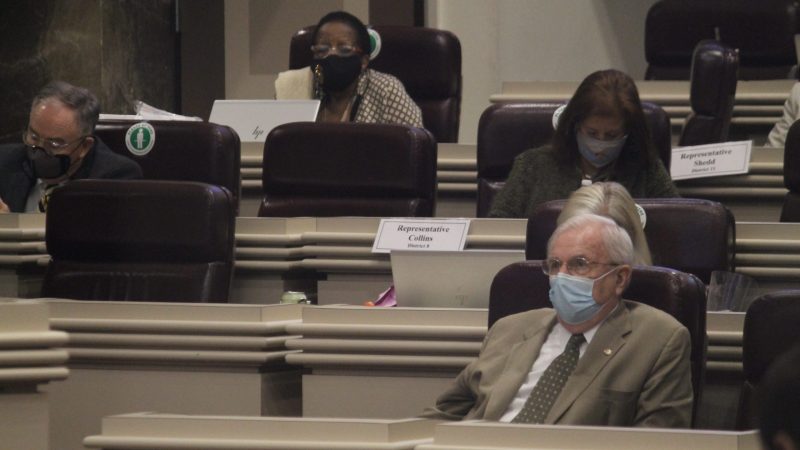 At one time, the idea of medical marijuana in Alabama was laughable.  In 2013, a medical marijuana proposal won the Shroud Award, a tongue-in-check distinction given by lawmakers for the "deadest" bill of a session. Yet a measure to allow medical marijuana is now before Gov. Kay Ivey as lawmakers gave the bill final passage Thursday. Alabama Public Television "Capitol Journal" host Don Daily spoke about that and other action in the Alabama legislature this week.
The biggest hurdle for this medical marijuana bill was making it through the House. It survived a filibuster and took two days of debate before passing. How did it overcome that obstacle?
In speaking with the champion of this legislation for the last three years, Sen. Tim Melson of Florence, he has said it has been a process of slowly but surely changing minds and hearts about this issue. And hearing a lot of personal stories from lawmakers about people they know either benefiting from use of the drug or having the potential of benefiting. He said it's been an educational process, that people have been won over during the process. He said some of those people that he ultimately won over were not people that he would have initially thought would have come over to his side.
The fate of the bill is now in Gov. Kay Ivey's hands. A spokeswoman for her office said the governor will give it diligent consideration. Assuming the bill does become law, how long before people could buy medical marijuana?
It will be some time. There is a lengthy process so it could be up to a year of establishing all the protocols, the safety measures that are outlined in the bill. Getting those up and going could take up to a year. But as Rep. Mike Ball of Madison said, who carried the bill in the House, at least we are there now or on the cusp of being there.
Backers of a lottery and casino bill don't have much to celebrate as the gambling bill stalled Thursday night. Hours of negotiations failed to produce a breakthrough resulting in finger-pointing and a last-minute new proposal. What happened?
There was a lot of behind-the-scenes maneuvering over the comprehensive gambling plan which would have set up a lottery, allow for casinos and sports betting in the state. The governor's office was involved in those negotiations and the leaders of both parties were also involved. They could not reach an agreement and the votes were not there for the comprehensive gambling plan as written. Late in the day, to get something out so that voters could ultimately decide the issue next year, a lottery-only bill was proposed. Many Democrats contended that they were locked out of the process of that lottery-only bill and were just seeing it as it was introduced on the House floor late Thursday night. It just didn't have enough time to get through the process before time expired because the legislative day ended at midnight.
There's one day left in the legislative session. What are the prospects for this lottery and casino proposal?
We don't know if it'll be a lottery-only bill that might be back before lawmakers on the final day on May 17. Speaker Mac McCutcheon said late Thursday that it's possible that they could get something out on the last day of the legislative session, but he also said it was doubtful.
After such an intense week in the legislature, you might need to relax. For some students they could have a new option. The Senate passed a bill yesterday to end the state's ban on yoga in public schools. It now goes back to the House. What does this bill say?
It's all about physical and mental well-being. Rep. Jeremy Gray of Opelika, who is a former professional football player, brought this bill three years running. He said it was all about the health of students. He wanted public school students in the state to have the opportunity to practice yoga like so many other people in the state already do. Public schools had banned the use of yoga over 20 years ago. It had a lot to do with concerns about its ties to Eastern religion. But here we are and Rep. Gray has said he's happy that after three years of trying to get this out, it was finally approved.
This interview has been edited for length and clarity.