Legislative Wrap-Up: Lighter Marijuana Penalties, Transgender Youth Therapies, Confederate Monuments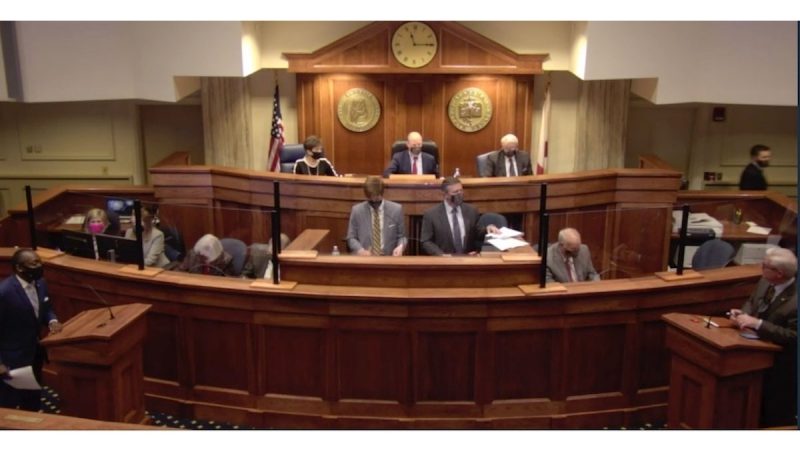 Certain medical therapies for transgender youth would be banned under a bill passed in the Alabama Senate this week over the objections of opponents who demonstrated outside the State House. Another measure that advanced would ease penalties for marijuana possession. That's part of this week's legislative wrap-up with Don Dailey, host of Alabama Public Television's Capitol Journal. Here are the highlights:
Lawmakers React to Mask Order Plans
Gov. Ivey extended the statewide mask order but only until April 9. She said she wanted to get through Easter and give more residents a chance to be vaccinated.
She's had support from the medical community, but she's also faced pressure as states like Mississippi and Texas have lifted mandatory mask orders. Dailey said the reaction from Republican leaders in Alabama has been mixed.
Lt. Gov. Will Ainsworth issued a statement earlier this week calling on Ivey to lift the mask order immediately, calling it a "Big Brother-style government mandate." The Senate this week also approved a Republican-backed resolution that called on Ivey to lift the mask mandate, saying it was time.
"She has her supporters at the State House, too, saying that she made the right decision and waiting one more month for a lot more people to get shots in the arm before she doesn't extend it any further," Dailey said.
Lighter Penalties for Marijuana Possession
This bill, sponsored by Senate Minority Leader Bobby Singleton, would make it so that people in possession of less than two ounces of marijuana would be charged with a violation rather than a misdemeanor. The violation would carry a fine of no more than $250. The charge could be expunged from an individual's record if no other crimes are committed.
Possession of two ounces or more would be a misdemeanor under Singleton's proposed legislation. Supporters in the Legislature see it as a way to reduce Alabama's severe prison overcrowding.
"There are lawmakers who feel that a lot of people end up in jail on minor drug offenses and that legislation like this might be the way to go," Dailey said.
The bill easily passed a Senate committee this week and now heads to the Senate floor. Proposed measures to reduce marijuana penalties have failed in Alabama in years past.
Banning Medical Therapies for Transgender Children
The Senate this week passed a measure that would make it a crime to treat transgender youth under age 19 with puberty blockers and hormone therapy. The bill moves to the House where a committee has approved a bill that is almost identical.
The proposed legislation would make it a felony to administer certain medical therapies and perform surgery to treat transgender minors. The punishment: up to 10 years in prison. Supporters of the bill say minors should wait until adulthood to make decisions about transgender therapies and procedures.
Demonstrators rallied outside the State House to oppose the measure, pointing out that transgender youth are at higher risk for suicide.
"Lots of transgender people, lots of transgender advocates, parents of transgender children all descended on the State House on Tuesday and, of course, were largely kept outside because of pandemic restrictions," Dailey said. "But nonetheless, their presence was felt around the State House as the Senate took up this bill."
A Birmingham physician who has several young transgender patients testified in the Senate that genital surgery is never performed on children. She also noted there's a lot of oversight whenever hormone therapy or puberty blockers are administered.
No Changes to Confederate Monument Bill
Lawmakers rejected a bill that would have offered options for municipalities wishing to remove unwanted Confederate monuments and put them elsewhere.
Rep. Juandalynn Givan of Birmingham sponsored the legislation. It would have revised the 2017 Memorial Preservation Act to allow cities and towns to move Confederate monuments to a local park or a state agency for preservation. Local governments would foot the bill for relocation.
The bill stipulated that "if they did [remove monuments], they could turn them over to the state, either to the Department of Archives and History or to the Alabama Historical Commission, which might find them future display locations," Dailey said.
Cities that have removed Confederate symbols face a $25,000 fine. One lawmaker proposed a measure this session that would increase that fine to $10,000 a day.
Givan told reporters the bill's failure is about racism. Opponents in the Legislature denied that.