Legislative Wrap-Up: Gambling Fails, Medical Marijuana, Anti-Riot Bills Face Hurdles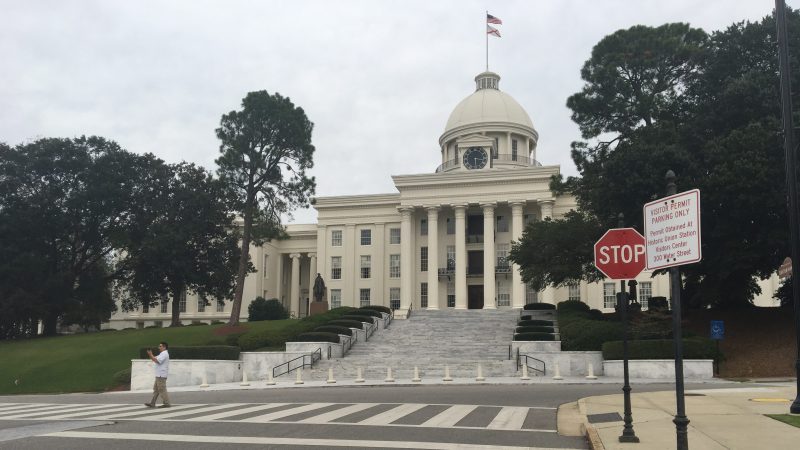 Two bills faced hurdles in the Alabama Legislature this week. One would legalize medical marijuana. The other would stiffen penalties for participating in violent protest situations. Those were some of the highlights in this week's legislative wrap-up with Don Dailey, host of Alabama Public Television's Capitol Journal. Here's the full recap:
A comprehensive gambling bill failed in the Senate this week. This was despite a delay by the bill's sponsor, Republican Sen. Del Marsh, to iron out some of the many sticking points around several proposed casino locations, among other things. Why did lawmakers ultimately reject this legislation?
It seemed to come down to the question of casinos with this particular bill. A lot of concerns were raised, a) with just casinos in general and b) there was continuing debate over where those casinos would be located. A lot of lawmakers said they would have voted for a simple lottery bill, but that they were hearing from constituents back home a lot of concern over the casino aspect of all of this. Sen. Marsh was quick to admit this week that he made what he called a rookie mistake in waiting to take a vote on this issue. He had said three weeks ago that he had the votes to pass it and he wishes he had brought it up for a vote at that time. As concerns mounted and more and more questions were asked, he said support among lawmakers was dwindling.
There was a lot of debate over an anti-riot bill that would expand the definition of rioting. This bill was inspired by protests that turned violent in Birmingham this summer following the death of George Floyd. Supporters say police need to be able to control volatile situations and opponents say the definition of rioting is too vague as the bill's written. Black lawmakers fear this will just be used as a tool to keep people from peacefully protesting. In the end it was delayed?
Yes, this has proven to be a very controversial piece of legislation. There was enough debate and enough questions raised that Rep. Allen Treadaway's rioting legislation was sent to a subcommittee for more work. It's not clear how quickly that work will be done. And this bill might be brought back before a committee for a vote. But key among the detractors was Rep. Chris England of Tuscaloosa, who's also the chairman of the state Democratic Party. He is worried about the definition of rioting. He's also worried about this squelching protests in general in the effort to clamp down on violent protests like those that we saw last summer.
A bill that would authorize use of medical marijuana for a number of health conditions passed very quickly in the Senate but it wasn't exactly smooth sailing in the House. Some of the opposition came from pediatricians worried about kids getting a hold of marijuana that had been prescribed for their parents. What happened?
This was the subject of a public hearing in a House committee this week, and you're right, this legislation usually runs into trouble in the House and of course, passed the Senate last year and has already passed the Senate this year. Pediatricians were among those who testified against the medical marijuana bill in committee this week. They are afraid that if adults are prescribed medical marijuana, that it might be easy to get to by underage kids in the house who might use it recreationally and it might lead to increased recreational use. Doctors are also worried about adults who might be prescribed medical marijuana. If it exceeds a certain THC level, it might affect their well-being, impair their driving, might lead to ultimately an increase in automobile accidents. So a lot of concerns were laid on the table. But Sen. Tim Melson of Florence, who's sponsoring this legislation, continues to press it, saying it could do a lot of good for a lot of people. Lawmakers heard all of the concerns in public hearing this week and it is expected to come up for a vote in the House Health committee next week.
The House earlier this week approved a $2.4 billion General Fund budget. Give us the highlights.
This was ironically the largest General Fund budget ever passed. That's saying something in the midst of a pandemic when our budget situation could have been a lot worse than it is. Our budget has weathered the economic storm that was the pandemic pretty well. There's a 2% cost of living increase for state employees in the General Fund budget. And there are a lot of increases for a lot of different agencies. For instance, the Alabama Law Enforcement Agency, the Alabama Department of Mental Health, among others, that would get an increase.