Kids age 5 and up can start getting vaccinated in Jefferson County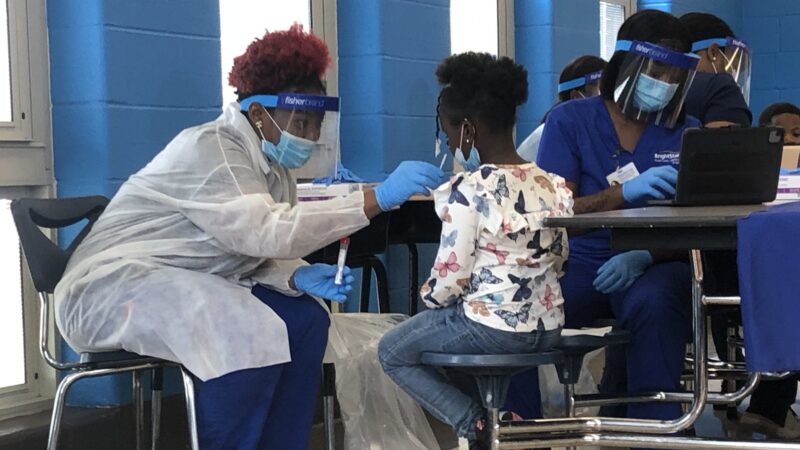 When school started this August in Hoover, Joshua Flores did everything he could to keep his kids safe. They wore masks to school and socially distanced. But when his 7-year-old son tested positive for COVID-19, Flores knew he needed another solution.
"When he tested positive for COVID, to see him so lethargic and just not wanting to move…It was really scary," Flores said. "And so, of course, if I can protect him from going through that again, I'm all for it."
Flores and his wife even decided to pull their son, Stark, out of Hoover City Schools because they were concerned there was no mask mandate. They've been homeschooling, but it's been a challenge.
"I wish the pandemic would come to an end," Stark said.
So, when Flores heard the Food and Drug Administration authorized the Pfizer vaccine for kids aged 5 through 11, he was ecstatic. Stark said he's also on board.
"I know that the vaccine trains your body to be ready to fight the virus if you get it," Stark said.
He is among the 58,000 children in Jefferson County aged 5 to 11 who are now eligible to receive Pfizer's low-dose vaccine for younger children. Last week, the FDA authorized the Pfizer vaccine for children aged 5 to 11 for emergency use. This week the Centers for Disease Control and Prevention approved the vaccine for use, triggering a nationwide rollout of kid-sized doses of the vaccine.
The Jefferson County Department of Public Health is preparing for vaccine rollout but told WBHM in a statement it is unsure how many doses they will receive. According to the Associated Press, it's estimated that Alabama will receive 140,000 doses of the Pfizer vaccine for kids.
Currently, 5 to 11 year-olds make up 7.7% of COVID cases in Alabama. It's also the eighth leading cause of death for children in the United States, according to Dr. David Kimberlin, co-director of the Division of Pediatric Infectious Diseases at UAB and Children's of Alabama
"While parents may say 'I think it's unlikely this is going to happen to my child,' you know, they're right. It is unlikely, but it's not impossible," said Kimberlin.
Jefferson County recently moved from having a substantial risk of infection to a moderate risk of infection. Despite this improvement, Kimberlin is still urging parents to get their kids vaccinated.
"Overall, it will help the state have a level of immunity that makes the next potential wave of this virus less likely to do the kind of devastating damage that the delta wave did to us in August and September," Kimberlin said.
This fall, the delta variant contributed to an explosion of COVID-19 cases across Alabama and the South, including increased infection rates in children. As schools and educators continue to grapple with staffing shortages and hybrid learning, health professionals predict this vaccine could help more kids safely return to the classroom.
"We want to keep students in school," said Birmingham City Schools Superintendent Mark Sullivan in a press conference. "So we're going to follow the guidance of the CDC. We're going to encourage vaccinations. We are going to provide education for our parents around what the vaccinations do, what they do not do."
Sullivan said they will survey parents and afterward, plan to start including elementary school students in their vaccination clinics in the next three to four weeks.
Since the FDA and CDC started the approval process for the vaccine for children, Nancy Smith in Hoover has been periodically checking in with her pediatrician and pharmacy websites to see if the vaccine is available yet for her 11-year-old son. Her son has autism and cerebral palsy and is at high risk for COVID-19. Smith said the vaccine means her family will have some of their freedom back.
"He's given up so much over the past two years, things he hasn't been able to do – like horseback riding and even going out," Smith said. "He uses a walker, so he likes to go out and walk around stores for exercise, and he just hasn't been able to do any of that stuff."
The road to vaccine authorization is rigorous. Pfizer conducted its own studies, then the FDA repeated those studies. After that agency voted and authorized the use for children, the CDC analyzed the study again and decided how the vaccine can be used. After multiple rounds of analysis of the benefits and risks of the vaccine, the CDC decided Pfizer's low-dose vaccine is safe and effective for kids.
The special shots for kids contain a third of the dose given to teens and adults. It has similar short-term side effects, including sore arms and fatigue. A Pfizer study reviewed by the FDA found the vaccine to be 91% effective at preventing symptomatic infection in children.
For Becky Patterson in Hoover, the benefits greatly outweigh the risks. She wants her 10-year-old daughter to be first in line to get a shot.
"The risk of her acquiring COVID and then having a complication from it far outweighs any minuscule risk associated with the vaccination itself," Patterson said. "Will she have a bad day? Maybe. I had a bad day when I had mine, but it's short and it pales in comparison to the risk associated with COVID."
She said her daughter is also eager to get the shot.
"This to her is as natural as wearing a seatbelt. She knows it's for her protection. No kid likes a shot, but she's willing to do it and understands that it's not just for her, but also to see her grandparents," Patterson said.
Shelby Riddle in Homewood also wants to protect her kids and her loved ones who are at high risk.
"We feel like because the vaccine has proven that it's effective and safe for kids, it's just another means to help our community and the public, for that matter," Riddle said.
Riddle's 11-year-old son, Quinton, caught COVID at school. The sixth-grader said the pandemic has been hard for him, and he's ready for the vaccine so he can hang out with friends again and go to the movies.
"I'm really excited. Finally, we can go places in person and hopefully be safe from COVID," he said.
Kyra Miles is a Report for America Corps Member reporting on education for WBHM.