It's fall break, but these Birmingham students are staying in school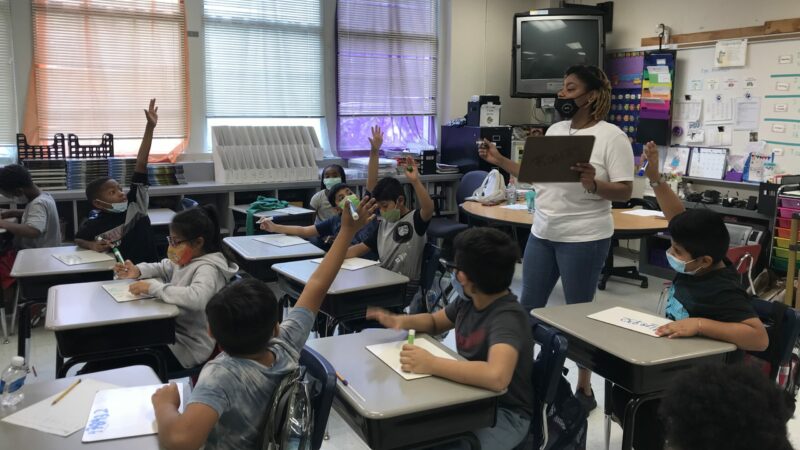 This week marks the first break of the school year in Birmingham City Schools. But this fall, students have a choice to rest at home or stay in school. And at Glen Iris Elementary, around 200 of the school's 700 students decided to stay for the week, like Ashley Hogan's class of fourth-graders.
"Some of the students are like, 'Can we stay? Do we have to go home?'" Hogan said.
Intersession is a new initiative the district launched for students to get extra academic support and enrichment after COVID-19 triggered a year of virtual learning. It's a part of Birmingham City Schools' plan for an extended school year. After every nine weeks, there is a week where students can spend half-days at school going to extracurricular classes like P.E. and music while also getting a chance to make up for missed work and get ahead academically.
"We are filling in those gaps that may have been missed from the previous year," Hogan said. "So for us to have intersession and to continue to do this, I think it's a great opportunity because now they're getting back familiar with the structure of being in school and learning hands-on."
Birmingham City Schools designed many solutions to combat learning loss and address new state guidelines, including summer literacy camps and after-school tutoring.
"We needed to do something different this year," Superintendent Mark Sullivan said in a statement. "The past 18 months have presented challenges that could impact our students for some time, if we do not take progressive steps to help raise academic achievement and enhance their preparation for success."
The district is putting $29.5 million of COVID-19 federal relief grants towards "learning loss" including intersession classes and other extra instruction. Glen Iris Principal Tronci Southall-Mason called these initiatives a promise to students.
"It is also important to just, I think, let the scholars know that we are all wanting them to succeed," Southall-Mason said. "And so that's what we're trying to do to make sure that we address and target those students who need that additional assistance or maybe just need that enrichment."
Birmingham City Schools is offering classes at all K-5 and K-8 schools and high school classes at select campuses. The biggest academic focus is reading skills to address new literacy guidelines from the state as well as improving math and critical-thinking skills for students.
All 25,000 students in Birmingham City Schools will go back to their regular school schedule next week.
Kyra Miles is a Report for America Corps Member reporting on education for WBHM.