Gulf State Schools Had Mask Mandates Last Fall. That Isn't The Case This Year.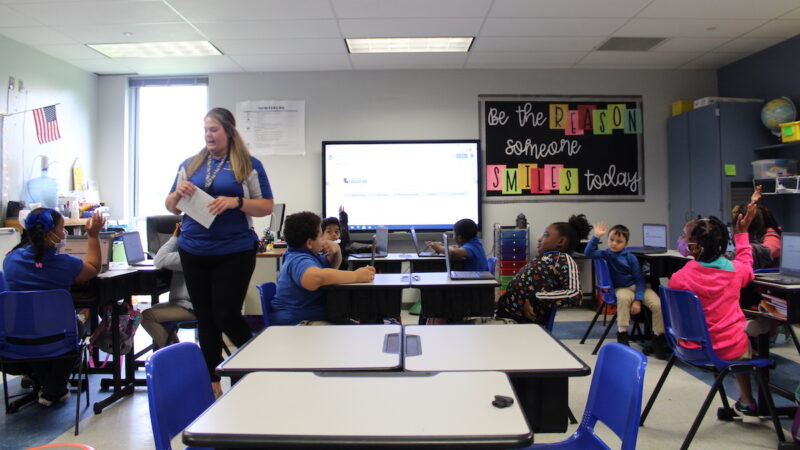 When schools started classes in Louisiana, Mississippi and Alabama last year amid the COVID-19 pandemic, students and teachers were required to wear masks to help stop the spread of the infectious disease. That is not the case this year.
In all three states, the governors have left the decision up to local districts, many of which are reluctant to weigh in on an issue that typically generates fierce debate. A small number of schools have already reopened in the Gulf South, while the majority of students are set to return to the classroom over the next two weeks.
This time last year, there was a lot of concern that schools were going to be superspreader sites. But now there is clear consensus that in-person learning is best for students and can be done safely as long as the proper measures, like masking, are in place.
Many districts in the region, including New Orleans, Birmingham and Jackson, are no longer offering families a virtual option. So what does the push for in-person learning mean for schools in states where COVID-19 cases are surging and mask use is no longer mandatory?
As of this week, both the American Academy of Pediatrics and the Centers for Disease Control and Prevention recommend that all K-12 staff and students wear masks inside school buildings regardless of vaccination status.
Experts say universal masking is especially important in regions like the Gulf South where the delta variant is spreading rapidly and vaccination rates are low.
"We find ourselves barreling toward the start of school without any policies in place to protect our communities," Erica Jones, president of the Mississippi Association of Educators, said in a video earlier this week.
The Mississippi Association of Educators asked the state's governor, Republican Tate Reeves, on Monday to enforce mask use in Mississippi schools immediately. Reeves, however, declined the organization's request. Through a spokesperson, he said he had "no intention" of issuing another school mask mandate.
Alabama's Republican Gov. Kay Ivey said last week that she also does not plan on issuing a school mask mandate. In an op-ed for the Washington Post published Tuesday, Ivey promoted vaccinations over masks and social distancing.
"Here is the truth: Closing businesses will not defeat COVID-19. Wearing masks will not defeat COVID-19. And keeping our students from in-classroom learning will not defeat COVID-19," Ivey wrote.
While a mandate is unlikely in Mississippi and Alabama, things could play out differently in the Pelican State. Louisiana Gov. John Bel Edwards, a Democrat, said he wants a mask guidance to be determined at the local level for now, but is not "taking anything off the table."
"We are at the beginning of the fourth surge. How do you take any tools out of the toolbox to address the surge before you know how bad it's going to get?" Edwards said at a press conference late last week.
Only a handful of districts in Louisiana, Mississippi and Alabama have said publicly that they plan to require masks for all staff and students. Among them are some of the states' larger urban districts.
New Orleans Public Schools had planned on requiring masks only for unvaccinated students and teachers this coming fall — partially as a vaccine incentive — but extended the mandate to everyone last week regardless of vaccine status.
Alabama's Birmingham City Schools aligned itself with the CDC's recommendation Tuesday shortly after it was released, according to Superintendent Mark Sullivan.
"We follow the science-based recommendations from medical and public health professionals," Sullivan said in a statement. "Our goal is to provide a safe and healthy environment for our students and our employees."
A mask mandate has always been a given for at least one Mississippi school district. Jackson has had a city-wide mandate since July 2020. It is the only municipality in the state where mask use is still enforced not just in schools but across all indoor spaces.
Jackson's Mayor Chokwe Antar Lumumba has repeatedly said he will not relax restrictions until a significant percentage of Jacksonians are vaccinated. Less than 40% of eligible adults and children in Hinds County, where Jackson is located, are fully vaccinated. The county has one of the highest vaccination rates in the state.
This story was produced by the Gulf States Newsroom, a collaboration between Mississippi Public Broadcasting, WBHM in Birmingham, Alabama, WWNO in New Orleans and NPR.