Counties At Very High Risk Of COVID Spread Quadruples In 2 Weeks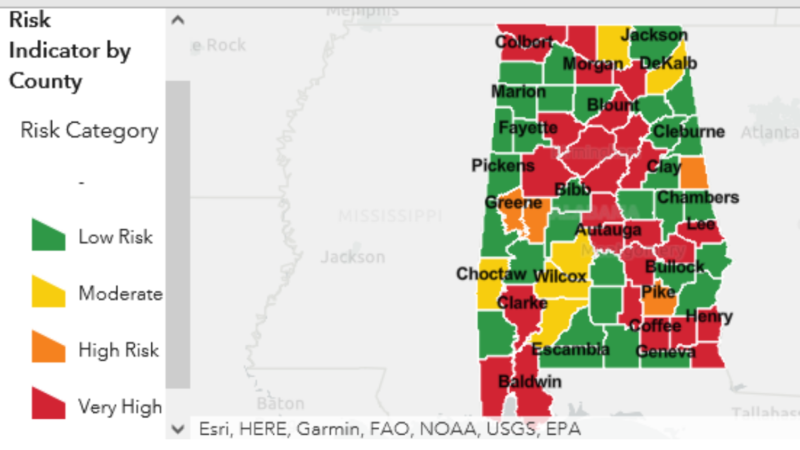 The number of Alabama counties listed as being at "very high risk" for the spread of COVID-19 has quadrupled in the past two weeks, the state Department of Public Health reported Thursday.
ADPH listed six counties at 'highest level of risk' in its weekly report on June 24, but that total rose to 21 on July 1 and to 26 this week. The listings are based on statistics for the week ending the previous Saturday.
A county's risk of COVID-19 spread is based on the number of new cases each day, calculated using the date of the onset of symptoms or the date a specimen was collected.
In addition to the counties listed as being at very high risk, four of the state's 67 counties were listed as being at high risk, six at moderate risk and 31 at low risk.
The high-risk counties, spread across the state, are: Autauga, Baldwin, Blount, Chilton, Clarke, Coffee, Colbert, Crenshaw, Dale, Elmore, Henry, Houston, Jefferson, Lauderdale, Lee, Limestone, Macon, Marshall, Mobile, Montgomery, Morgan, St. Clair, Shelby, Talladega, Tuscaloosa and Walker.
Greene, Hale, Pike and Randolph counties were considered to be high risk.
Those shown as at moderate risk are Choctaw, Dallas, DeKalb, Madison, Monroe and Wilcox.
The number of new cases of the disease has grown statewide in recent weeks, reaching a total of 552,911 in Wednesday's updated by ADPH. Alabama averaged 275 new cases a day over the past week, up from an average of 153 two weeks ago.