Birmingham VA Offers Vaccines To Eligible Veterans of All Ages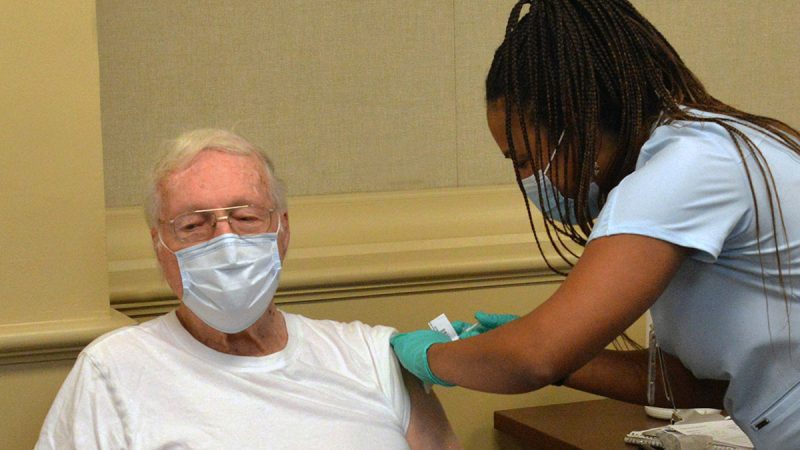 The Birmingham Veterans Affairs Health Care System is now vaccinating veterans of all ages at four COVID-19 vaccine clinics around the state. Birmingham VA officials announced the eligibility expansion on Wednesday.
Many VA health care sites around the country follow eligibility guidelines outlined by the Centers for Disease Control and Prevention, giving priority to veterans who are at least 75 years old or who have health problems that increase their risk of severe illness from COVID-19.
The four COVID-19 vaccine clinic locations are:
Birmingham: United Way Building, 3600 8th Avenue South, Birmingham, AL 35222
Guntersville CBOC, 100 Judy Smith Dr, Guntersville, AL 35976
Huntsville VA Clinic, 500 Markview Road Northwest, Huntsville, AL 35805
Shoals CBOC, 422 Cox Boulevard, Suite DD, Sheffield, AL 35660
Vaccinations are by appointment only and subject to available supply.
Here are the four ways to schedule an appointment:
Respond to the scheduling text message if you receive one
Schedule online by using a User ID and Password and sign into MyhealtheVet with your premium account at https://www.myhealth.va.gov/mhv-portal-web/home, click on the Appointment tab to schedule your appointment.
Contact the Birmingham VA Call Center at 1-866-487-4243, press 1
Contact your VA Community Based Outpatient Clinic below to schedule an appointment:
• Anniston/Oxford CBOC – 256-832-4141
• Bessemer CBOC – 205-428-3495
• Childersburg CBOC – 256-378-9026
• Gadsden CBOC – 256-413-7154
• Guntersville CBOC – 256-582-4033
• Huntsville CBOC – 256-533-8477
• Jasper CBOC – 205-221-7384
• Shoals Area CBOC – 256-381-9055
The Birmingham VA Health Care System includes one facility in the Southside area of Birmingham and nine community-based outpatient clinics throughout northern Alabama, serving more than 67,000 veterans a year.