Birmingham City Council Approves Incentives For HBCU Classic At Legion Field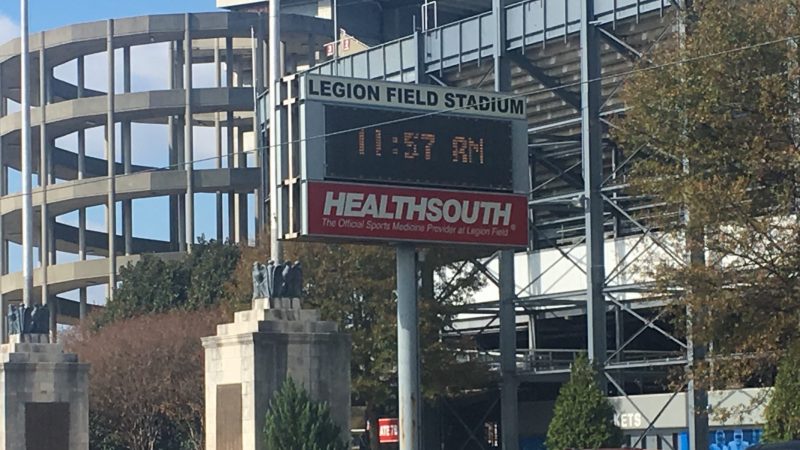 Legion Field is adding another HBCU football classic to its schedule.
The Birmingham City Council voted Tuesday to approve an agreement with Morehouse College and Tuskegee University to host their annual match-up for three years, starting this October.
The deal calls for the city to provide up to $500,000 per year in incentives and in-kind services to host the event.
The Tuskegee-Morehouse Classic previously has taken place in Columbus, Ga. — but Mayor Randall Woodfin, a Morehouse alumnus, told the council that organizers "have not felt the support they need" to stay there.
"The schools were looking for a better experience," he said. "They were out looking for another city to be in. We could either show them what Birmingham had to offer, or they could go to another city."
HBCU classics are annual football games between Historically Black Colleges and Universities, taking place during the season at a neutral site. Morehouse College is in Atlanta.
Bringing this match-up to Legion Field is part of an ongoing effort to boost the 94-year-old stadium, said Council President William Parker, particularly since UAB will soon be taking its football program to the under-construction Protective Stadium in the city's downtown area.
"The goal is really to have different football classics every weekend between Labor Day and Thanksgiving," Parker said.
District 8 Councilor Steven Hoyt expressed skepticism that the game would garner the same type of audience as the Magic City Classic, a game each year at Legion Field between Alabama State University of Montgomery and Alabama A&M University of Huntsville. Hoyt argued that Morehouse's football program wouldn't generate enough interest — though he acknowledged that Tuskegee's football team would.
"I'm just trying to see the projected economic impact of this game and why we're not offering other local colleges this same kind of package, i.e. Miles College, who has won championships for the last three years or so," Hoyt said. "
"There seems to be quite a momentum going with respect to that, and last time I checked, Morehouse wasn't winning that many games … It seems disingenuous to not go to Miles or Tuskegee or one of these other schools where we know in past history an excess of 40,000 or 50,000 attended those games."
Parker told Hoyt to "stay tuned" for new announcements about Miles College and Legion Field, which he said would be coming "very soon." Hoyt ended up voting with the rest of the council to approve the contract for the Tuskegee-Morehouse Classic, which is scheduled to take place Oct. 9.