As Supreme Court heard Mississippi abortion ban case, Gulf South demonstrators rallied in DC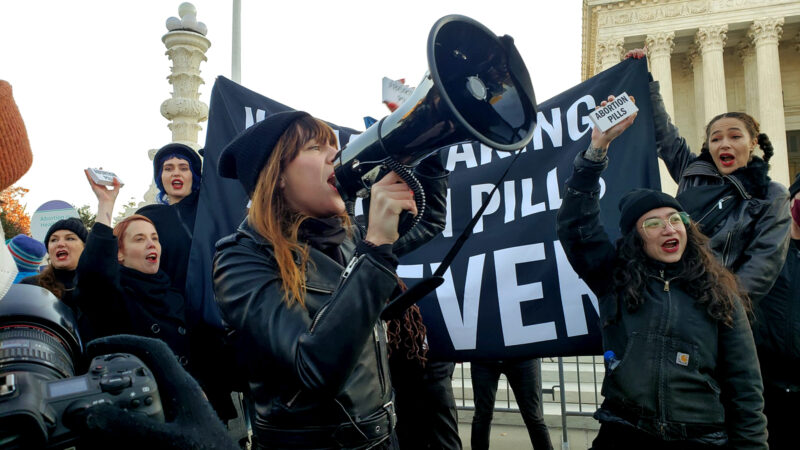 Hundreds of demonstrators for and against abortion rights protested in front of the U.S. Supreme Court steps in Washington D.C. as nine justices heard arguments for a Mississippi abortion ban case that could have monumental stakes for the Gulf South and the nation.
People on both sides of the contentious argument made it to the nation's capital from across the country, including from Louisiana, Mississippi and Texas — states where strict abortion bans would be cemented depending on the High Court's decision from Dobbs v. Jackson Women's Health Organization, a suit stemming from a 15-week abortion ban passed in Mississippi in 2018.
The live feed of the argument, streamed to the outside crowd of mostly young activists through speakers, barely filled the air as demonstrators took turns speaking and protesters chanted back and forth across police barricades to each side.
Shannon Brewer, director of the Jackson Women's Health Organization, made the trip to Washington D.C. for the hearing. In a speech outside the courthouse, Brewer told the crowd that seeing them there made her feel less alone.
"It gave me a newfound respect for the doctors, the staff, the escorts, the funders, everybody," Brewer said. "I'm realizing that even when you think you're doing this by yourself, there are so many people out here that are working with us and fighting with us and continuing to fight with us."
Nancy Northup stands with abortion clinic operators from Louisiana, Texas and on the right, Shannon Brewer of the Jackson Women's Health Organization pic.twitter.com/bETJlAxxZe

— Rosemary Westwood (@rosiewestwood) December 1, 2021
Kathaleen Pittman, from Shreveport, Louisiana, also made the trip to participate in the demonstration and give a speech before the hearing. She drew on her experience as the administrator for Hope Medical Group for Women abortion clinic to support her belief in abortion rights, citing the "almost insurmountable" hurdles some women have to endure to receive abortion care.
"Our ability to get an abortion should not depend on who we are, where we live or how much money we have," Pittman said. "Access to abortion is essential and it should be accessible for everyone. That is what is at stake now and at its core, this case is about our right to make the best decisions that we can to shape the course of our lives."
If the court upholds the Mississippi ban, advocates say those seeking an abortion, particularly those in the South and Midwest, would likely have to drive hundreds of miles to get the procedure.
Lack of access and its consequences are already being played out in Texas, where leaders barred abortions after about six weeks of pregnancy in early September. Under Texas' novel law, civilians can sue anyone who helps a woman get an abortion after embryonic heart tones are audible, usually around the six-week mark.
Clinics in Louisiana are packed with people from Texas, and one-quarter of the patients at Jackson Women's Health Organization are from the Lone Star State.
Jackson Women's Health Organization is the only abortion clinic in Mississippi. In the weeks leading up to the court arguments, the outside of the pink office was mostly met with anti-abortion protesters.
In Mississippi, Attorney General Lynn Fitch asked the nine Supreme Court justices to overturn Roe v. Wade, the 1973 decision that stated the right to liberty under the 14th amendment includes the right for women to control their reproductive lives, including accessing abortion, prior to Wednesday's hearing.
"Roe v. Wade is egregiously wrong and unworkable. Nothing in the Constitutional text, structure, history or tradition protects a right to an abortion," Fitch said in a statement to WWNO prior to the arguments.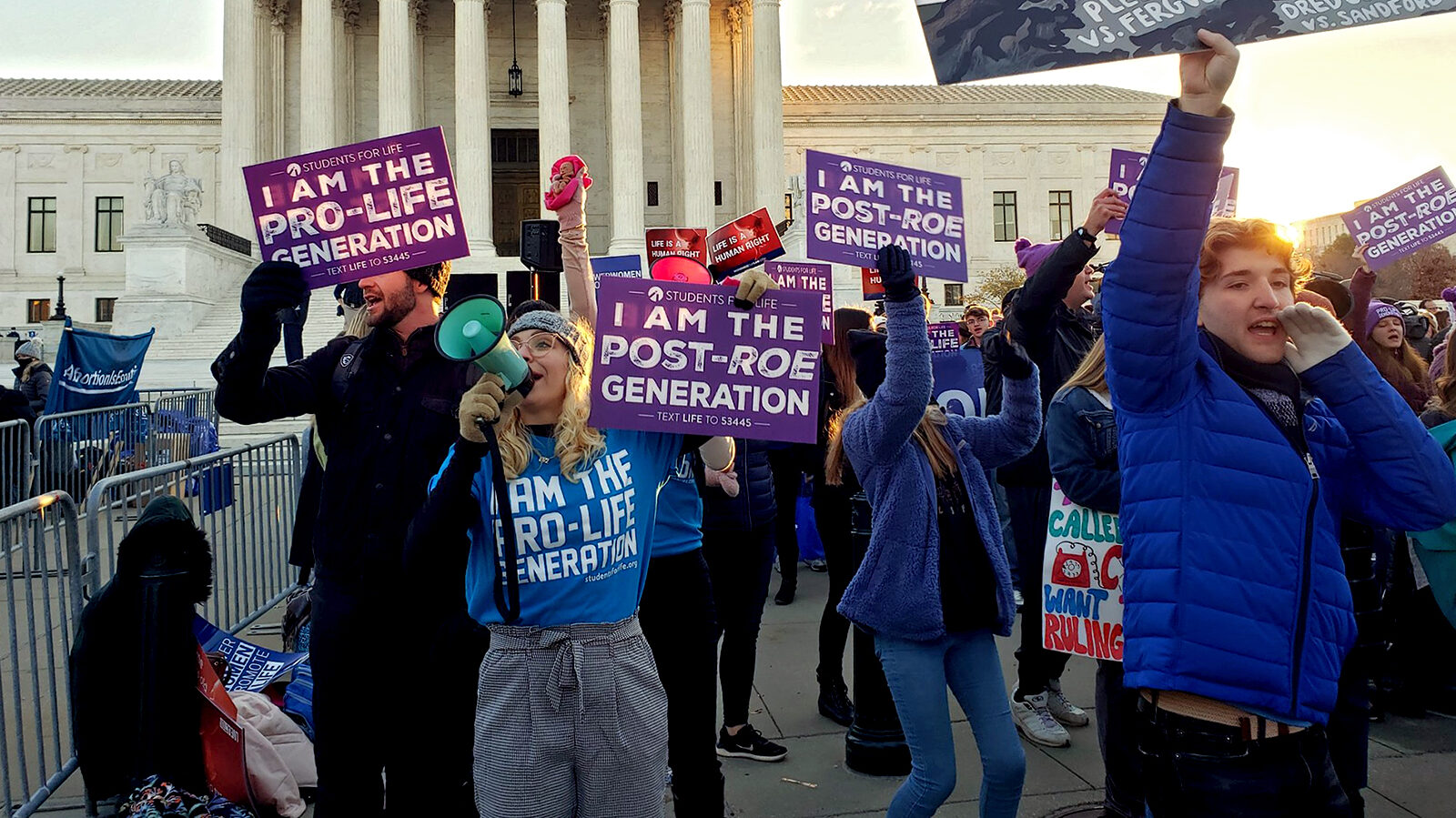 The crowd of anti-abortion protesters, which was much bigger and almost formed a wall around the group of abortion rights demonstrators, carried posters with them that read "I am the post-Roe generation" and quoted scripture.
TJ Burgess, from New Orleans, said he felt it was important to travel to D.C. for the hearing so that the Supreme Court justices could see the abundant support for the Mississippi law.
"For the Supreme Court to see that there are millions upon millions, possibly even billions of pro-life people across the globe in America and Louisiana and Mississippi that support this law," said Burgess, Louisiana Right to Life's director of events and founder of a group called Men For Life.
He said he was also there as a Louisianan to show support for what would happen in his state if the Mississippi ban is upheld.
These protests are packed with people from across the country, but here are two Louisianans: Krista Corbello is originally from Lafayette and TJ Burgess is from New Orleans, and is the director of events for Louisiana Right to Life and founder of Men For Life. pic.twitter.com/kIeecBC1dM

— Rosemary Westwood (@rosiewestwood) December 1, 2021
Months after Mississippi passed its 15-week ban in 2018, Louisiana passed a nearly identical ban, with one caveat: Louisiana's law would only take effect if a federal appeals court upheld Mississippi's.
For Louisiana lawmakers, it was a way to avoid a long and potentially costly legal battle. Because Mississippi's law has been blocked by lower federal courts, neither ban has taken effect.
Even if the Supreme Court attempts to only narrowly uphold Mississippi's ban, and not explicitly overturn Roe v. Wade, Louisiana's would also take effect.
Leaders from the Pelican State have spoken in support of the court upholding the case, including U.S. Sen. John Kennedy of Louisiana, who said on the Senate floor the day of the hearing that Roe v. Wade is "arbitrary" and abortion must return to being a states' rights issue.
"In Dobbs, the Supreme Court has the rare opportunity to de-federalize and de-constitutionalize abortion and return the issue to the states, where it was before Roe v. Wade," Kennedy said.
Protestors for and against abortion rights chant outside the US Supreme Court. "Abortion hurts women" and "I almost died giving birth twice" pic.twitter.com/YpGa2Kjuy5

— Rosemary Westwood (@rosiewestwood) December 1, 2021
Southern and Midwestern states have been angling to reduce and outlaw abortions for decades — Louisiana had passed 89 restrictions since Roe v. Wade as of 2020, by far the most of any state — but what makes this case different is timing.
In September of 2020, Justice Ruth Bader Ginsburg, the court's most famous defender of reproductive rights, died. She was replaced in the waning days before the 2020 election with Justice Amy Coney Barrett, a Louisiana native and a pick hailed by conservatives and anti-abortion activists.
That brought President Donald Trump's appointment on the bench to three, and entrenched a 6-3 conservative majority on the court.
Barrett's appointment has left activists on either side of the abortion debate with one conviction: Abortion law in America is about to change.
The crowd of protesters remained by the court throughout the day, even after the arguments wrapped up nearly two hours after they began. According to NPR, the conservative judges seemed in favor of upholding the Mississippi ban, though post-hearing analysis suggested that it may be harder to predict whether or not those same judges will strike down Roe v. Wade.
It will likely take months for a decision to be issued.
WWNO's Katelyn Umholtz and Orlando Flores Jr. contributed to this story.