As Demand Drops, Health Officials Look For Ways To Encourage Vaccinations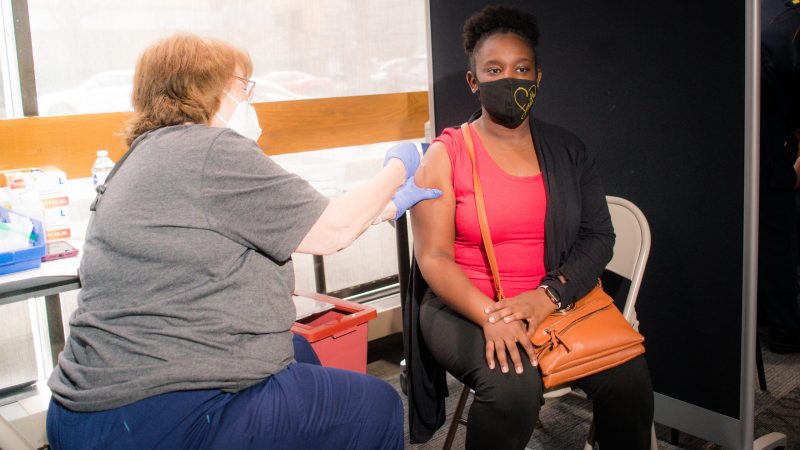 The decline of COVID-19 vaccinations being administered in many states has caused alarm among medical professionals.
According to the Alabama Department of Public Health, on April 8, Alabama reached its peak of daily doses given, at 44,171. That number as of May 10 had dropped to 13,514. The significant drop now has state health departments and the Centers for Disease Control and Prevention focusing on how to encourage the next wave of individuals set to get the vaccine.
Dr. David Hicks, the deputy health officer for the Jefferson County Department of Health, said the lower numbers are a sign the state has gotten most of the high-risk individuals vaccinated, and now it is shifting focus to persuade younger and more reluctant populations to get the shots.
"I think that initially, we had a high demand with limited supply, and I believe the people who were demanding the vaccine were the people who were at a higher risk and those who were really eager to get vaccinated," he said. "I think we've done a really great job at this point of vaccinating all those people, and we've now shifted to trying to target people who haven't strongly considered getting vaccinated … now it's the harder part of the population to engage with."
Now that the first wave of individuals is fully vaccinated, the next obstacle lies in getting skeptics and those apathetic to the vaccine to want the shots. The demographic shift, according to Hicks, has gone from more vulnerable individuals such as the elderly and public service professionals to a younger crowd that remains on the fence about getting the shot.
With Monday's approval for adolescents, ages 12 to 15, to get the Pfizer vaccine, the numbers involving children are sure to increase.
Maybe a Beer?
Nationally, medical professionals are debating ways they can encourage younger adults to get the shot. Hicks said there has been a rise in public and private health care sectors partnering to find incentives that will attract a younger crowd to get vaccinated, and they are getting creative.
"I just heard a report earlier this morning, in Buffalo, New York, where they are going to offer free beer after someone gets a vaccine shot, and that is actually a concept we have already been thinking about here," Hicks said. "Could we partner with local breweries and give them the opportunity to do a local contest or something? That's just one example of an incentive, and I think that needs to be coupled with going to places where people are comfortable."
In addition to working incentive angles, public health professionals are discussing ways to make getting the vaccine more convenient. Hicks said many vaccination sites are looking to increase their hours of operation, and the CDC and public health departments are looking at sending out teams of individuals to areas of the community where transportation may be difficult.
Social media has become a helpful tool as well. Any and all ideas for encouraging people to get vaccinated, Hicks said, are welcome.
The Realities of Politics
Hicks added that one component of the drop in vaccination numbers is the politicization of the pandemic.
"I think because of how the whole pandemic has been politicized, I think there is alignment with people's decisions based on how they view this in a political perspective. I think that has not been fully appreciated until now, and I think there are some people that may feel getting vaccinated reflects your overall political or philosophical feelings. I think that's a whole other component to why people are not getting vaccinated, and I think it needs to be addressed," he said.
In Jefferson County, roughly 46.07% of the population over the age of 16 has received the vaccine. However, as of Monday, out of the 417,101 doses administered in the county, only 188,818 individuals have been fully vaccinated.
Hicks said the counties with the highest percentage of vaccinations are the counties with the most vulnerable communities, such as a higher population of Blacks.
"The black belt counties are vaccinated more than anybody else because the state health department has been very intentional about providing vaccinations in more vulnerable parts of the state," he said.
According to Hicks, the CDC and the state health department consult the Social Vulnerability Index to determine which counties are the most vulnerable to COVID-19.
"Months ago, when there were limited doses of the vaccine and the state had to decide where they would push doses to hospitals and pharmacies, they were very intentional to make sure those areas were not left out. So, earlier on there were a lot of aggressive actions they took to protect those vulnerable communities," Hicks said.
Sites Could Close
If the numbers continue to drop, the state could see a decline in resources available. There is talk of many vaccination sites shutting down, primarily larger sites such as UAB's Hoover Met site and the Birmingham airport site.
"The plan was always to have [the airport site] open for 60 days with the option to extend, and we've already stated to our partners that we can't justify extending that site because there is less demand for first dose appointments there. The volume of first dose appointments have dropped so much we don't see why we would extend the site," said Hicks.
The national conversation has also shifted toward the reallocation of vaccine doses to states with higher demand. While it is ultimately a federal decision, according to Hicks, Alabama is at the top of the list to distribute excess vaccinations to states more in need.
"You have some states saying, 'Please give us more,' and you have other states that the population is not demanding it like they used to, so it makes logical sense to say, 'Give it where it is needed to end the pandemic.' So, yes, Alabama is absolutely at risk of getting vaccine allocation shifted to other places because we are not taking advantage of the vaccines like we were even a month or so ago," he said.
With the pandemic still alive, Hicks encourages everyone to get the vaccine, but he said he understands encouragement is really all medical professionals can do.
"Ultimately, we are Americans and we have choices," he said. "If we choose not to get it, then we don't get it, but what that means is Alabama, which we were initially complaining and begging to get the vaccine and now we've got it, and now we have an overabundance but not enough people getting it. So, if that keeps up, we will go back to having limited resources."