As COVID Rages On, Gulf States Hospitals And Their Staff Look For A Helping Hand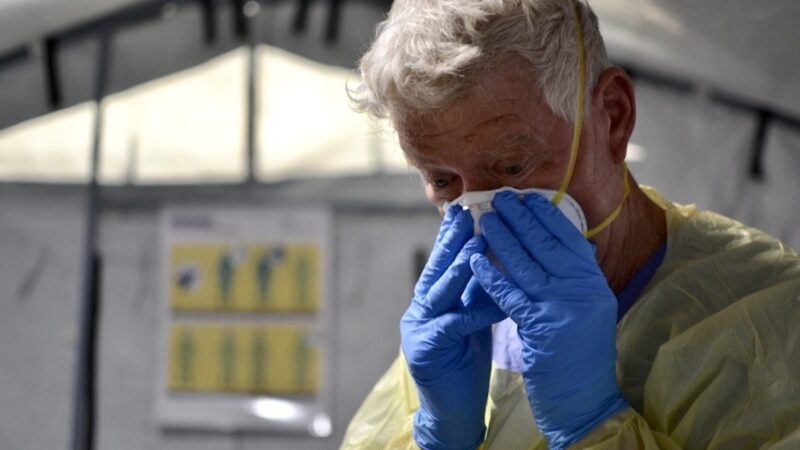 In mid-August, international disaster relief group Samaritan's Purse turned the parking garage at the University of Mississippi Medical Center in Jackson into a field hospital, with large white tents, ventilators, medical equipment, and fans to treat dozens of severely ill COVID-19 patients.
The makeshift hospital — one of several of its kind that popped up throughout Mississippi and nearby states like Louisiana — was set up to help the state handle the surge in COVID-19 cases from the highly transmissible delta variant.
Now, Samaritan's Purse is closing up shop after completing its month-long deployment.
Despite the closure, state health officials warn that COVID-19 isn't over as regular hospitals — and the nurses and doctors that work there — remain overwhelmed.
An Inside Look At Working In A Field Hospital
Nurse Kelly Sites is the team leader for the Samaritan's Purse deployment team in Mississippi, which was invited to the state by Mississippi Governor Tate Reeves in August to help UMMC reduce some of its intensive care unit patient load.
Over the past month, the field hospital was able to care for 65 critically ill COVID-19 patients. At the field hospital, doctors like Barb Zimmerman can be seen suiting up or "donning" with multiple layers of personal protective equipment from their heads to their toes before starting one of their shifts.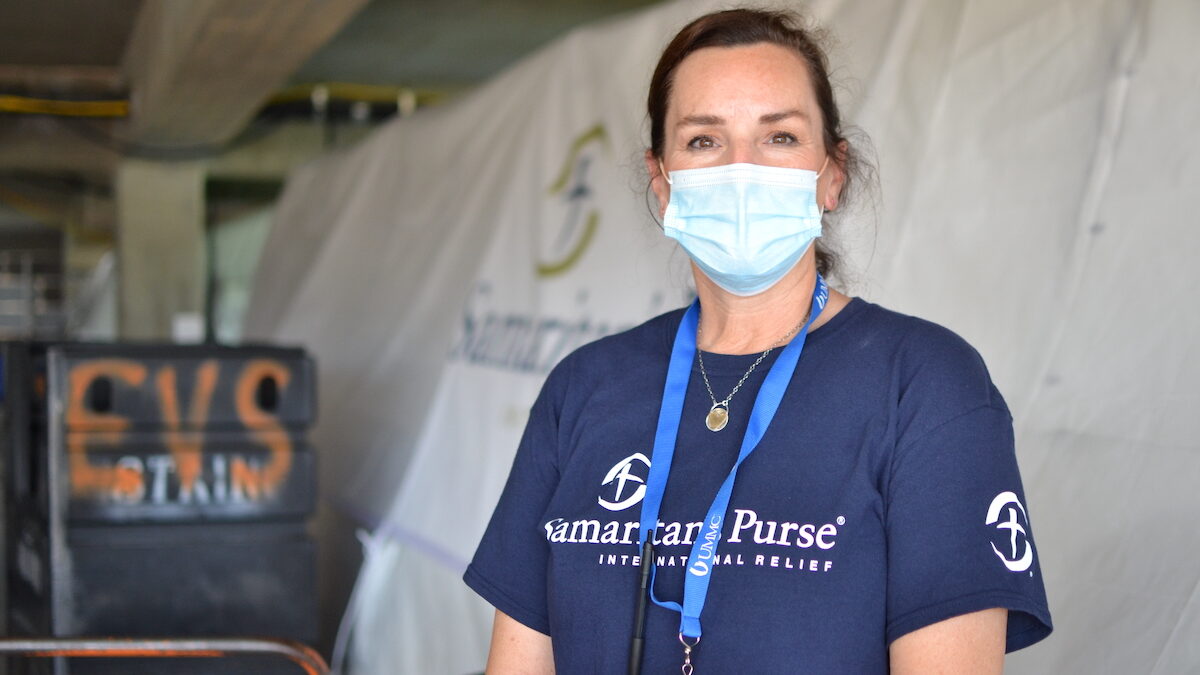 "First I put on the first pair of gloves. And then there is the lovely yellow plastic gown," said Zimmerman, who then put on another pair of gloves, a face mask and a face shield, among other items. "It's a lot. It's even more of a process to get it off in the correct fashion so that we don't contaminate ourselves."
Zimmerman is preparing to leave the part of the tent hospital called the cold zone, an area that's virus-free and clean, and enter into the hot zone, where they treat COVID-19 patients.
Doctors and nurses are often drenched in sweat once they leave the hot zone because of the physical demand of treating these intensive care unit patients around the clock with so many layers of gear on them.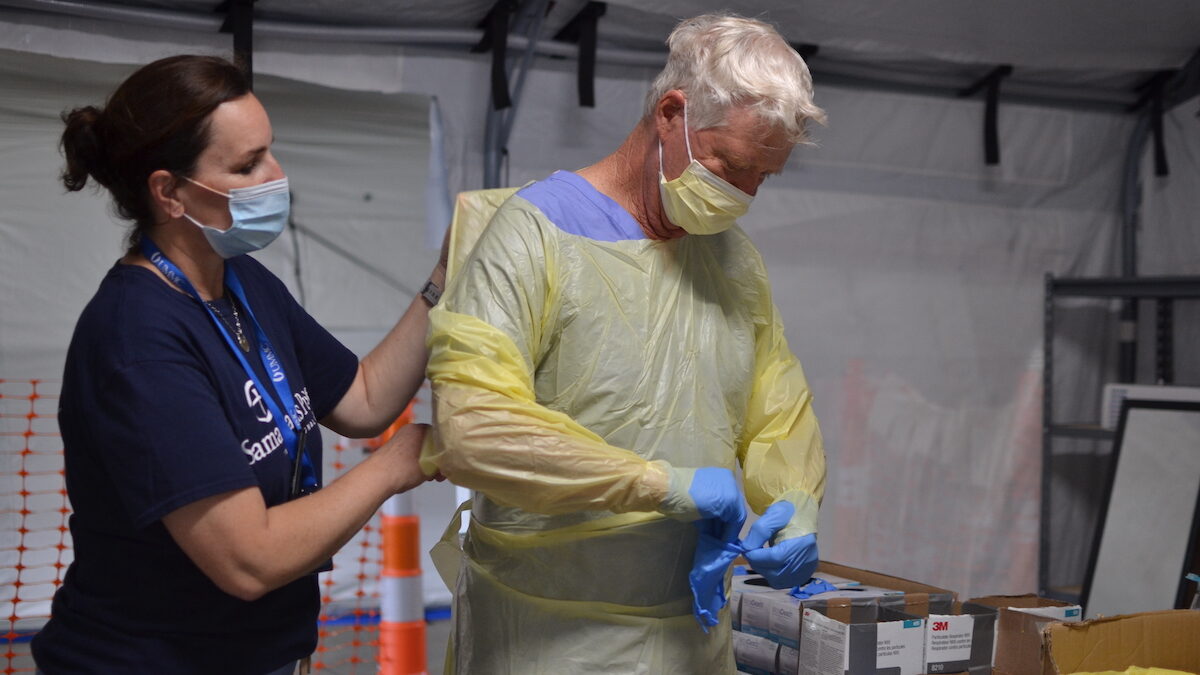 Not Out Of The Woods Yet
The overwhelming majority of COVID-19 patients that have died are unvaccinated. Mississippi and its nearby states Louisiana and Alabama still have some of the lowest vaccination rates in the country, with 43% or less of the population being fully vaccinated across all three states.
Mississippi health officials said in a press conference Wednesday, that the entire state only had 10 ICU beds available. A month ago, there were zero.
"They're being consumed by COVID-19," Sites said. "It just takes longer to be able to find beds and ventilators. Health care is stretched."
While the number of COVID-19 cases and hospitalizations has slightly declined, officials say we aren't out of the woods yet, especially because of the severity of the delta variant. Patients are younger, sicker and need more critical care, and at least eight pregnant women have died in the past few weeks in Mississippi.
"COVID killed over a thousand Mississippians in the month of August," Dr. Thomas Dobbs, the state health officer for Mississippi's State Department of Health, said at a Wednesday press conference. "Almost all of those people did not have to die."
Light at the end of the tunnel?

Please stay safe. Health system still overburdened. And sadly, many more will die unnecessarily. pic.twitter.com/UBefdnUu2W

— thomas dobbs (@TCBPubHealth) September 7, 2021
The grief and the strain from COVID-19 can be felt across the region. In Louisiana, Hurricane Ida temporarily shut down four larger hospitals. Dr. Joseph Kanter, Louisiana's state health officer, said the state's hospitalizations from the infectious disease is a bit fewer than 2,000 after a peak of about 3,000 in mid-August.
"In the past few weeks, since the governor [John Bel Edwards] reinstated the mask mandate, we've come down in our hospital COVID census by just over 35%," Kanter said. "We're still very high, and we're still above where we were for the majority of the pandemic, but no question [the storm] complicated things."
Kanter said on top of the four hospitals that are temporarily closed, hospitals that had to be evacuated due to Ida are also closed, putting Louisiana down about 300 ICU beds across the state and leaving health care resources less robust than before.
In Alabama, hospitalizations remain high at over 2,700. Though data from the state's official COVID-19 dashboard suggests hospitalizations are starting to experience a slight dip.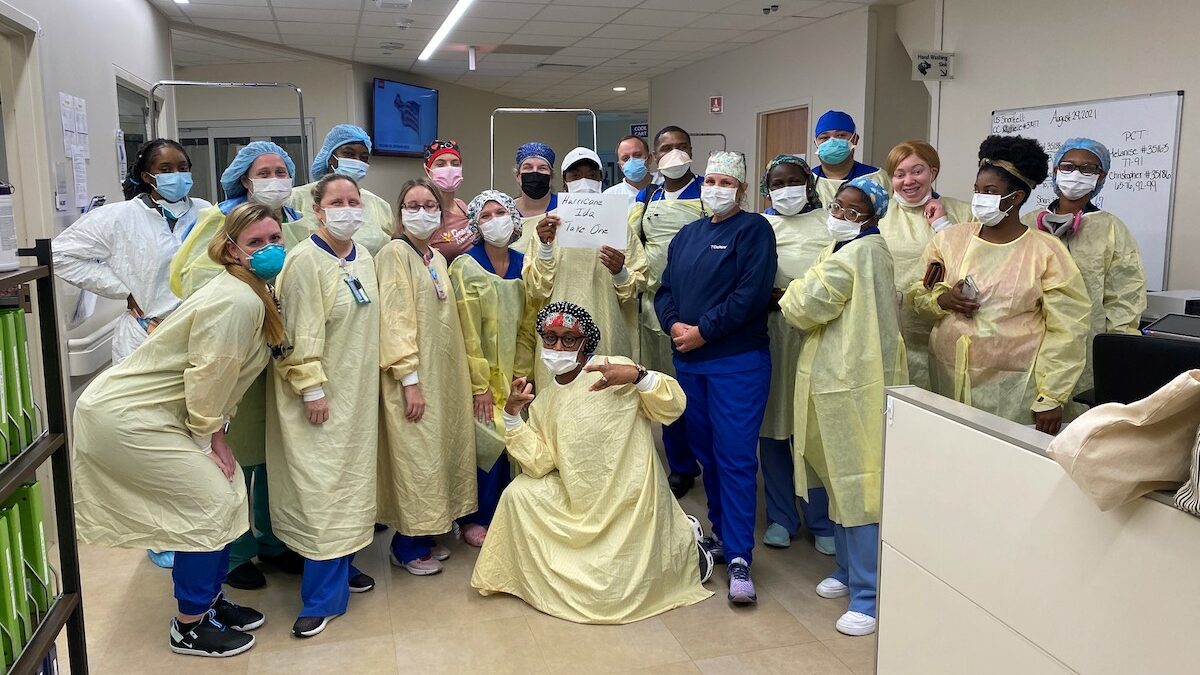 Health Care Staff Exhausted, Stretched Thin
For Sites, the Mississippi deployment is her third time working with COVID-19 patients in the U.S. for Samaritan's Purse. Sites said that normally health care professionals might work three or four full 12-hour shifts at their jobs before getting a break. When deployed, though, they do a month of 12-hour shifts with no breaks.
Sites says she can't believe the pandemic is still raging on.
"It's unbelievable that we're still doing this," Sites said. "No one saw that coming, really, but it's what we do and we're happy to help."
But, the exhaustion and emotional distress aren't just in the field hospital. It's also palpable upstairs in the University of Mississippi Medical Center's ICU.
"Emotionally, I'm going through an adrenaline phase and then sort of a depression phase and then an anger phase," said Dr. Andrew Wilhelm, a UMMC critical care pulmonologist. "Now I'm in a disappointment phase with a little bit of adrenaline to make sure people are taken care of."
Wilhelm said the team here has been caring for about 45 patients every day, with more than half having COVID-19. The ICU has had to perform at least five emergency C-sections for women that were critically ill as well.
"That's probably the most difficult population for us to emotionally deal with," he said. "Having a 20-year-old mom getting sick, coordinating life support and then baby gets sick. That's a tough one. We did not see this the first time around."
Wilhelm said he doesn't have the energy to think about a potential fifth wave.
"I'll be more optimistic when we talk about an increase in vaccinations that's more than a slight bump," he said.
Lindsey Harris, president of the Alabama State Nurses Association, said nurses in the state feel overworked, underpaid and so stressed that they've even held protests.
"In this crisis, with the increase in patient load and shortages in staffing, it definitely was a cry for help," she said.
On Sunday, Samaritan's Purse plans to fully leave its Mississippi site. But the state said it will continue to look for help by contracting health care staff from outside of the state to keep their systems afloat.
In Alabama, health officials are seeking help from the U.S. Navy to deploy medical teams that can assist overburdened hospitals. And in the wake of Hurricane Ida, Louisiana is even contracting out with private cruise ships to offer room and board to healthcare professionals they are inviting to the state to help with critical care.
This story was produced by the Gulf States Newsroom, a collaboration between WWNO in New Orleans, Mississippi Public Broadcasting, WBHM in Birmingham, Alabama and NPR. Support for health equity coverage comes from the Commonwealth Fund.