Alabama To Expand COVID Vaccine Eligibility March 22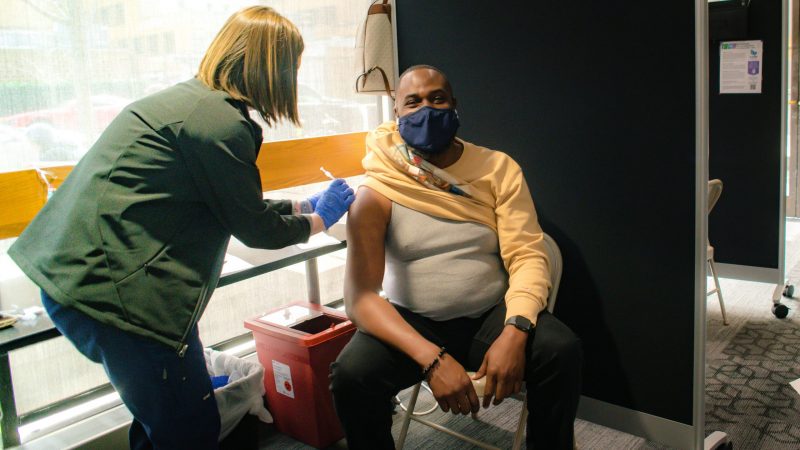 In less than two weeks, Alabama will roughly double the number of people eligible for a COVID-19 vaccine.
Beginning March 22, eligibility will expand to include people aged 55 and older, those with intellectual and developmental disabilities, and people aged 16 to 64 with high-risk medical conditions including:
Cancer 
Chronic kidney disease 
COPD 
Heart conditions
Solid organ transplant 
Obesity (BMI greater than 30) 
Pregnancy 
Sickle cell disease 
Smoking 
Type 1 and 2 diabetes 
Other medical conditions as determined by your medical provider
Eligibility will also expand to include critical workers in the following areas:
Transportation and logistics
Waste and wastewater
Food service (includes restaurant staff)
Shelter and housing (construction)
Finance (bank tellers)
Information technology and communication
Energy
Legal
Media
Public safety (engineers)
During a press conference Friday morning, Alabama Health Officer Dr. Scott Harris said health officials have faced public pressure to expand eligibility criteria following similar announcements in surrounding states.
"I recognize that there are a number of people in our currently eligible groups who are still having some difficulty finding vaccinations," Harris said. "And so I'm sure many of those folks are going to ask, 'Why would we expand at this time?' But we do believe that it's the right time."
Harris said Alabama currently receives 110,000-120,000 vaccine doses per week from the federal government and the state expects the supply to increase in coming weeks. He said the number of providers administering vaccine is also increasing, with help from federal programs operating in Walmart and CVS Pharmacies.
Harris said the state remains concerned about equity in vaccine distribution and is prioritizing the state's most vulnerable counties. As of this week, he said the top nine counties for vaccinations per capita are all in the Black Belt.
"They are the ones (counties) where we have spent the most effort trying to make sure we have access to shots," Harris said.
The expansion of eligibility criteria will coincide with the launch of National Guard mobile vaccination clinics that will rotate through 24 rural counties beginning March 23.