Alabama Senate Committee Passes Gambling Bill Before Break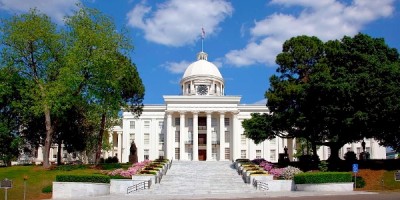 Lawmakers will hit pause next week to assess safety before continuing the legislative session amid the pandemic. Here's a look back at the week's highlights with Don Dailey, host of Alabama Public Television's Capitol Journal.
Lottery, Casinos and Sports Betting
The Senate Tourism Committee approved a comprehensive gambling proposal to authorize a lottery and five new casinos this week. Four of the five casinos would be at the state's dog tracks: the Birmingham Race Course, the Mobile Greyhound facility, VictoryLand in Macon County, and Greenetrack in Greene County. A fifth casino would be operated by the Poarch Band of Creek Indians in northeast Alabama. The bill would allow sports betting and games such as blackjack and slot machines.
Gambling revenue would be distributed in a variety of ways, Dailey said.
"The lottery proceeds, for instance, would benefit education scholarships with an emphasis on vocational training to help people get new and better jobs in the state," he said. "There would be a licensing fee and a 20 percent tax on the casinos, and those revenues would fund broadband expansion in the state."
The money would also help fund rural health care and mental health initiatives. Portions of the revenue would go to local cities and counties as well as the state's general fund.
The bill includes a compact with the Poarch Band of Creek Indians to allow for certain types of gambling in their casinos, including table games. Dailey said bingo amendments could be a sticking point when the Senate resumes debate after its one-week break.
"Counties like Macon County and Greene County have had existing bingo amendments for years and they want to make sure that their interests are protected," Dailey said.
One benefit of this new legislation is the casinos placement in existing dog tracks, which could pump a lot of money into a local economy, according to Dailey.
"So it all kind of washes and it might might mean more smooth sailing for this particular legislation," Dailey said.
If the Legislature approves the gambling bill, voters would have the final say.
Ban on Transgender Therapies Passes Committee
This bill was proposed last session and many of the same arguments were made, Dailey said. The bill's sponsor, Republican Sen. Shay Shelnutt of Trussville, argued transgender youth are too young to make permanent decisions about their lives they may later regret. Parents, physicians, and advocates opposed the bill, saying it would prevent transgender youth from receiving the best medical care.
Pediatrician Dr. Morissa Ladinsky told the Senate committee she has treated several transgender youth and that genital surgery is never performed on children. She said administering puberty blockers and hormonal therapy is a lengthy process with thorough oversight.
Dailey said once again, the bill is shaping up to be a divisive and controversial measure.
Softened Repeal of Confederate Monument Protections
This bill, sponsored by Birmingham Democratic Rep. Juandalynn Givan, was kicked back to a House subcommittee. It would repeal the Alabama Memorial Preservation Act to allow municipalities to move monuments without having to pay a $25,000 fine. This was an issue in a number of Alabama cities last year, including Birmingham.
Lawmakers in 2017 passed the Memorial Preservation Act to protect Confederate monuments from removal. Under the law, cities and counties are prohibited from moving monuments 40 years old or older on public property.
Givan pre-filed the bill last year, but she's since backed away from language that suggests repeal, Dailey said.
"It's sort of morphed, as she put it to me this week, into more of an effort to to amend the current law," Dailey said. "Specifically, she wants to give municipalities the flexibility to take down or move controversial monuments, statues and the like and turn them over to the state — either the Department of Archives and History or the state Historical Commission, who could then possibly display them in the future.
The bill was sent to a subcommittee for further study.
"Being sent to a subcommittee can often mean the death of a bill," Dailey said, "but since it's so early in the session, Representative Givan says she is fairly optimistic that it can come back up for a vote later."
COVID Liability Protections
State lawmakers this week approved legislation that would shield businesses, health care providers, and others from lawsuits related to COVID-19.
According to the Associated Press, the bill would also protect schools, churches and others from lawsuits over COVID-19 exposure and treatment unless a person could prove the entity was acting with reckless or intentional misconduct.
Remembering Lives Lost
The Alabama Senate passed a resolution to remember the 9,000 lives lost to COVID-19. It was the first time lawmakers acknowledged the death toll of the disease as a group.
"It was a pretty somber moment," Dailey said, "and of course, the Legislature is operating under totally extraordinary circumstances with the pandemic continuing to rage over the new session, with all the health and safety protocols that are going on, the limited access to the State House."
Several lawmakers have tested positive for the coronavirus over the last year, with some having been particularly sick.