Alabama Hospitals Hit Plateau With COVID Patients But Facilities Still In Crisis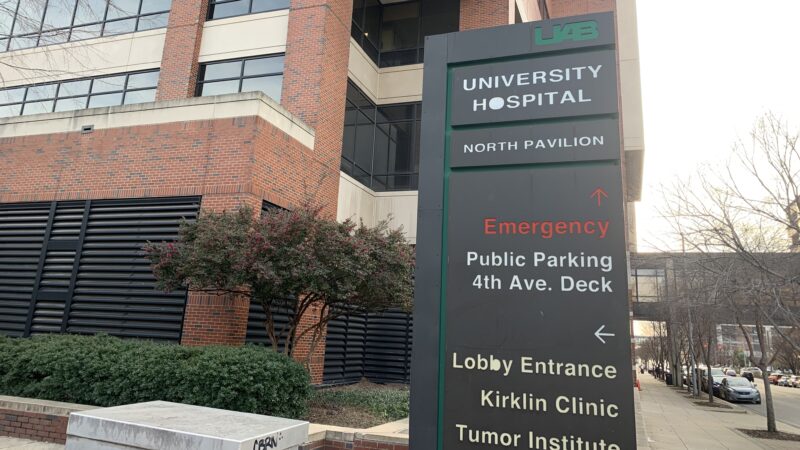 Hospitalizations for COVID-19 hit a plateau in Alabama, but hospitals are still in crisis, according to state health leaders. On Friday, the Alabama Department of Public Health reported more than 2,600 people were hospitalized statewide.
"I'm very thankful for that," State Health Officer Dr. Scott Harris said during a press conference. "The numbers aren't great, but the numbers at least have not continued to go up."
Alabama hit a pandemic high of just under 3,100 people hospitalized in January during a winter surge. The current surge has been fueled by the highly contagious delta variant. Harris could not say what accounted for the change in hospitalizations but noted both India and the United Kingdom saw a drop in cases a few months after the delta variant spread through those counties.
"I would just say that we're encouraged that numbers still aren't going up, and hopefully they'll go down," Harris said.
Pressure remains on the state's intensive care units. As of Thursday, there were 60 more ICU patients than staffed beds available. That means some patients were being treated in hallways, on gurneys, or in other makeshift spaces. About half of Alabama's ICU patients have tested positive for COVID-19.
A few hospitals in south Alabama have depended on federal teams to boost staffing. One team left a Baldwin County hospital this week while teams are still in place at facilities in Dothan and Ozark. Harris said five other hospitals are being evaluated and could receive federal staffing teams as well.
Alabama will also use $12.3 million in federal CARES Act funds to hire out-of-state travel nurses for hospitals. Officials will contract with Vizient, a Texas-based health care staffing company, which has placed nurses in other states. Harris did not know exactly how many nurses Alabama could expect, but it would be far less than needed. He says an incomplete survey of state hospitals found demand for at least 500 nurses.
The move is controversial since travel nurses can make much more money than nurses at local hospitals.
"We really don't know what else we can do to help our hospitals at this time. Staffing is at such a crucial level," Harris said.
Vaccination numbers have been higher in recent weeks after bottoming out in early July. According to Harris, Alabama is now ahead of eight states in terms of the percentage of people who have received a first dose. Alabama remains at the bottom for its rate of full vaccinations at roughly 37% of Alabamians. Vaccines are available to anyone age 12 and up.
"We need people to get vaccinated as quickly as they can," Harris said. "If you want to have a normal school semester or as close as we can, if you want to have a good holiday season with Thanksgiving and Christmas coming up, this is the way we do it. We get people vaccinated now so that two or three months from now we can try to get back more or less to normal."