Alabama Coal Workers Strike For Better Wages, Fair Treatment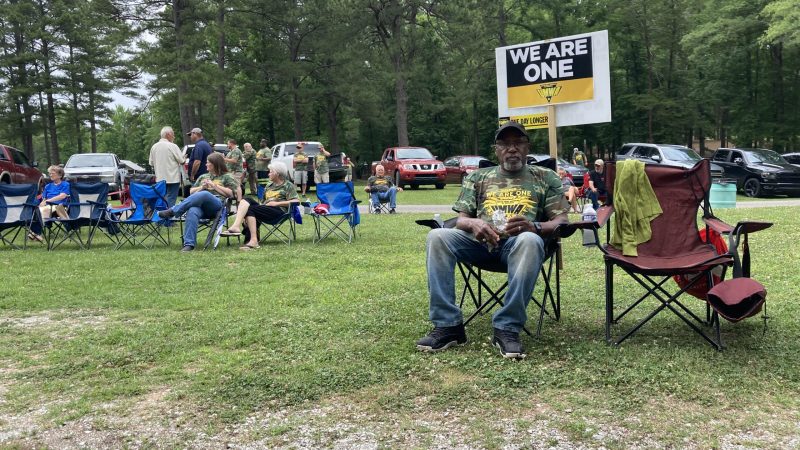 Alabama has not been friendly territory for unions. Earlier this year, workers at an Amazon warehouse in Bessemer voted more than two to one against forming a union. Yet since April 1, more than 1,100 miners with Warrior Met Coal, which has mines near Brookwood, Alabama, have taken shifts on the picket line.
"We want our pay and we want fair treatment. We want good insurance. But more than anything, we want to spend more breaths of that God-given air with our family," said Levi Allen, treasurer of the United Mine Workers.
According to the miners, they were only guaranteed time off for Thanksgiving, Christmas and Christmas Eve.
"[Pay] is mediocre now," said Courtney Finklea.
Finkela said coal mining was a premier job when he started 11 years ago. The change happened in 2016. Sinking coal prices led the mines' former owner to declare bankruptcy. Warrior Met Coal took over and workers agreed to cut their wages and benefits to keep the mines open. Employees said the company promised to restore some benefits after five years. Warrior's latest offer is about a 10% pay increase, but that doesn't cover what they lost.
"Oh it's a slap in the face," Finkela said. "All we wanted was a piece of the pie, and I guess the pie was never given to us."
Bankruptcies at coal companies in the United States have spiked since 2015, caused by the shift to renewable energy, new environmental regulations pegged to climate change and cheap natural gas. Often miners accepted smaller paychecks hoping it would help the company and their jobs survive. But that hasn't been a guarantee that mines could stay afloat.
"Sometimes those mines don't even have a buyer like Warrior, and they just shut down and that's that," said Lee Adler. He teaches at Cornell University and used to legally represent miners.
While many coal mines continue to struggle, Warrior Met Coal has not. That's because the coal it mines for is used to make steel, not energy. The company reported a net income of roughly half a billion dollars a year since 2017. It had a small loss last year because of the pandemic.
"I think right around the corner is a very, very nice payday for the company. Because they have very high-quality coal," Adler said.
Miners said their sacrifice paid off for Warrior, so the company should get them back to where they were five years ago. Warrior declined an interview request, but in an emailed statement said it offers some of Alabama's highest-paying jobs.
With the strike now past the two-month mark, miners are feeling the pressure. Miners and their supporters have set up a food bank to help those struggling without a regular paycheck.
Winning a labor fight is not easy in the anti-union South, but union members vow to endure "one day longer" than the company. Warrior Met Coal and the United Mine Workers are negotiating, but the union doesn't see the strike ending anytime soon.